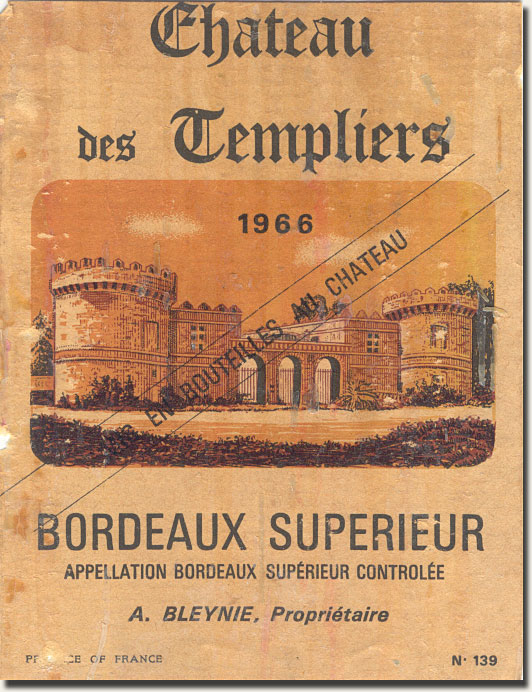 I was underage when I bought my first bottle of vintage dated wine back in 1971.  I had actually been able to buy alcohol legally for a short period before that, when the state of Michigan lowered the drinking age to 18, but the voters, in their infinite wisdom, rescinded that privilege through referendum, leaving me and my peers in alcohol limbo for several months.  Nonplussed, when I needed a dry red wine to go with grilled steaks I was serving to a hot date one evening , I paid a visit to Lemanski's Food Emporium, a delightful little gourmet food and wine shop in Bay City, Michigan that is sadly no longer in existence.  I stood in front of a wall of fine wine, all with mostly incomprehensible labels , and I eventually, and quite randomly, settled on a bottle of 1966 Chateau des Templiers Bordeaux Superieur, reasoning that two of the few things I knew about wine was that Bordeaux was a dry red and dry reds went well with steak.
The clerk didn't flinch when I took the bottle to the counter to pay for it.  In retrospect, I assume that he figured that if I was buying Bordeaux instead of Boone's Farm or Ripple, I MUST have been old enough to legally purchase it.  I seem to recall that it cost me around $7 or so, and as it turned out, the wine was quite good.  I got my first lesson in food and wine pairing, as it complemented the steaks very nicely.  My date was also impressed.
I bring this up because, while rummaging through the cellar a few weeks ago, I came upon our all-but-forgotten scrap books of wine labels that Kim and I collected in the late '70s and early '80s, and there was that particular label, along with dozens of others.  It's a proverbial "trip down memory lane" to look through those books again and remember what we were drinking back in those formative years. (Yes, we used to like "buttery" Chardonnay.  Oh, the horror…)
We went to great pains to remove labels from bottles, either buy steaming them off, or more often, soaking the bottles in boiling hot water, and if necessary, carefully scraping them off with a razor blade.  Sometimes, they simply wouldn't come off at all or would end up being destroyed in the attempt, but we amassed a nice little collection.  I've selected a representative group to display in the following four galleries for your viewing pleasure.  There were no labels with cute little animals on them back then; for the most part, what you see are clean, classic designs that, for me, represent the best of that era.
Reporting from Day-twah,
geo t.
Related posts:
11 Responses to "Hey Mabel, Wine Labels from the Good Ol' Days!"