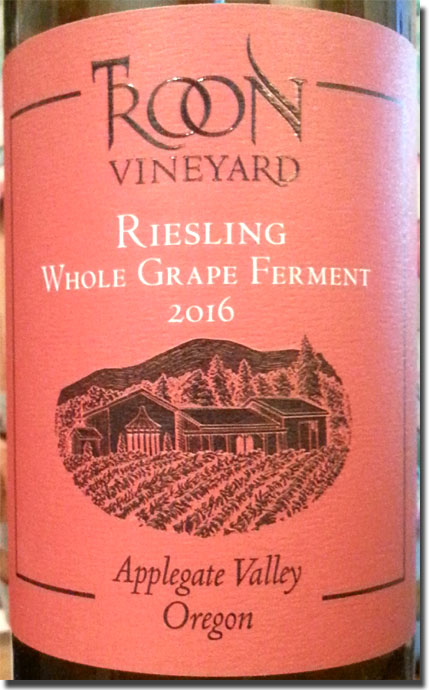 While several of our serious "wine geek" friends and acquaintances have been either extolling to virtues, or at least investigating, so-called "orange wines" for the last several years now, our experience with them has been extremely limited. They haven't flown completely under our radar, but we haven't exactly gone out of our way to seek them out, either.
For the uninitiated, orange wines are white varieties that are produced in the same manner as red wines. Whereas the vast majority of whites are made by removing skins and other solids early on in the winemaking process, those same skins and solids are left in contact throughout maceration and into the aging process. Troon Vineyard General Manager Craig Camp describes the process used for this particular wine thusly: "Produced essentially the same way as our red wines, this fruit was first crushed by foot, destemmed, then it was transferred to one-ton fermenters. The native yeast fermentation started after fourty-eight hours and completed in ten days. The fermenters were punched down by hand once a day. It was then pressed into neutral French Oak barrels for three months. That's it."
To be honest, the few orange wines I've tried previously did nothing whatsoever for me, but our impressions of Troon's offerings have been mostly very favorable, so I was more than a little curious as to how I'd react to sipping this one over a few hours.
2016 Troon Riesling, Whole Grape Ferment, Applegate Valley, 12% alc., SRP $20.00: Yes, this has something of an orange-gold color; it's not terribly expressive on the nose, but what's here, while a little hard to describe, is not unpleasant. It shows good intensity on the palate, and is unlike any Riesling I can remember tasting, offering a good dose of mineral, with zippy acids on a medium bodied frame. The closest I can come to describing the fruit here is something like star fruit with hints of orange and cinnamon. Despite its unusual character, this fairly rich, completely dry wine grows on me with each sip, and by the second glass, I find it to be quite pleasant, and very food friendly. Kim disagrees, and doesn't care for it at all. It's not for everyone, to be sure, but it's certainly not one of your "usual suspects," either. Find this wine
Camp recommends pairing this with tapas, "as it literally can be matched with almost any food as it's the white grape version of rosé combining a bright fruitiness with some structure." He also states that Troon will be adding a Vermentino to its "orange wine" program in 2017, so I'll be interested in seeing (tasting) what that one's all about.
Reporting from Day-twah,
Bastardo
Save
Save
Save
Save
Save