March 13th, 2014 |

Author:
George Heritier
I happened upon a couple of bottles of Vacqueyras of the good QPR (quality-price-ratio) variety in the last few weeks, from unlikely sources, no less. This link takes you to what may or may not be our very first report on the wines from this southern Rhône appellation, posted back in about '97 or '98; whatever the case, it demonstrates that we've been fans for a quite a while now. Unfortunately, many of the bottlings we loved so much back then have seen gradual price hikes over the years, so we don't buy them as often as we used to; Domaine le Sang des Cailloux comes to mind right away. These two new ones are by no means among the best Vacqueyras we've had, but they certainly are solid, well-made wines at reasonable prices that we'll be happy to drink now and over the next several years.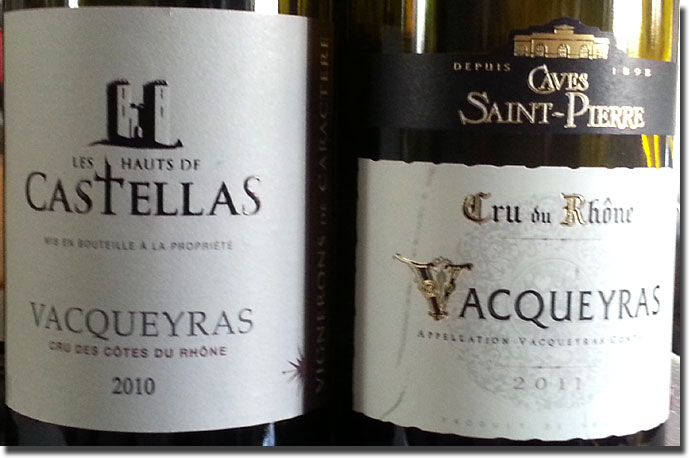 2010 Les Hauts de Castellas Vacqueyras, 70% Grenache, 25% Syrah, 5% Mourvedre, 14% alc., $13.59: Deep dark garnet color; faint nose initially, giving just a whiff of earthy, brambly black fruit, which echoes and expands on the palate with plenty more of the same. No international mess this, but a traditionally made Vacqueyras the way we like 'em. Brawny, full bodied and well-structured, yet balanced and not at all over-extracted, with tannins that clamp down some on the finish. It's a solid QPR value, and we picked up several more of these to put down for at least a few years, as it's at least a 10-year wine. We're getting this one at our local Costco. Find this wine
Imported by Fruit of the Vines, Inc., Long Island City, NY
2011 Caves Saint-Pierre Vacqueyras, 11-14% alc., $12.99: Clean, dark color, fading at the rim; the earthy, dusty black fruit nose fleshes out on the palate to reveal a nice core of black plum, blackberry and black currant-like character shaded with some iron and mineral. Full bodied and structured for at least 3-5 years of development, this performs yeoman's service and more, offering solid quality and good value for the price. It opens nicely with some air, but shows a little heat, suggesting that it's closer to the top than the bottom of the 11-14% abv listed on the back label. The best Rhône we've found in ages at our local Trader Joe's. Find this wine
Imported by Latitude Wines, Inc., Danville, CA
Reporting from Day-twah,
geo t.
Related posts:
2 Responses to "Two Well Priced Late Model Vacqueyras"