In my last Riesling report, I focused on four North American entries from such diverse territories as Washington, California, Ontario's Niagara Peninsula and Michigan. Unfortunately, there has been precious little in Day-twah to be had from another Riesling hotbed, New York's Finger Lakes, at least until I happened upon the first three noted below at, where else, Ferndale's Western Market. Jarred Gild is a Riesling freak, and he offers a number of selections from all over the world, and after a brief chat with him about these, I brought one of each home to try.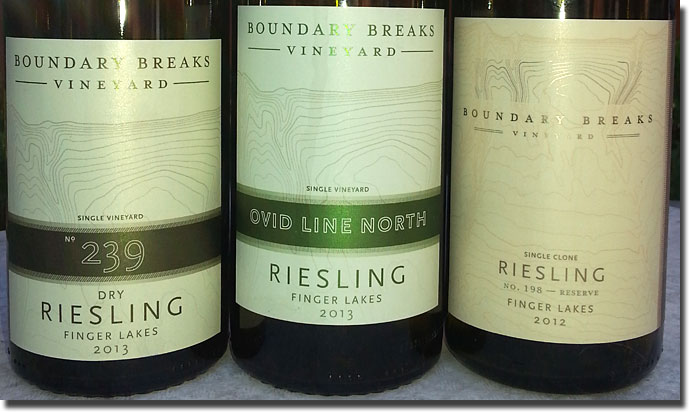 Located in Lodi, New York, on the eastern shore of Seneca Lake, Boundary Breaks produces only Riesling, focusing on four specific clones; Geisenheim clones 110, 98 and 239 (identified by Germany's Geisenheim Grape Breeding Institute), and clone 90 from from the Neustadt Research Institute in Germany. Labor-intensive vineyard practices include using the Scott Henry trellis system, early shoot-thinning, cluster-thinning, hedging and leaf removal and hand-picking all fruit, usually in three phases. Vines are planted on sloping ground, in calcareous soils which are ideal for aromatic white wines like Riesling. Boundary Breaks limits their activities to growing the grapes; the actual winemaking is done in collaboration with some of the best wineries in the area, producing small batches of single vineyard Rieslings. Based on what I tasted from these three selections, this arrangement seems to be working quite well.
2013 Boundary Breaks Finger Lakes Dry Riesling Single Vineyard No. 239, Residual Sugar: 0.9%, Alc. 11.6%, $19.99: Clean, medium color, with a dusty mineral nose that follows through on the palate, offering rich Riesling character. It's not bone dry, but it's close, being medium bodied, with zippy acids and good length on the finish. Not as "green" as many dry Rieslings, and faintly vegetal, though not necessarily in a bad way. The mineral sets the tone here, and a wee hint of something like petrol bodes well for more of the same as it develops with some age. A solid, if unspectacular entry into the the varieties of the Riesling experience. Find this wine


2013 Boundary Breaks Finger Lakes Riesling Single Vineyard Ovid Line North, Residual Sugar: 3.2%, Alc. 10.6%, $15.99: Pale in color, with a tartness to it that offsets the RS, striking a nice balance between the two. No lightweight this, but a fairly intense wine with some density to it, tart green apple and lime flavors, good acids, a lingering finish and underlying minerality that adds to the appeal. The only negative here is that it's stingy with the aromatics, even with some air, but otherwise, it's quite enjoyable. Perhaps ironically, this is my favorite of the three Boundary Breaks wines noted here, even though it's the least expensive, and I will be buying more of it.
Find this wine
2012 Boundary Breaks. Finger Lakes Reserve Riesling Single Clone, Residual Sugar 5.4%, Alc. 10.0%, $23.99: Clean, medium color; fairly sweet, but, like the Ovid Line North, offset nicely with tart green apple, lime, lots of acidity and undertones of gravelly mineral. Rich and intense, with a fairly long finish, and generous in all aspects except the nose, though it does grudgingly give a little more on the second evening. Still, I like it and might be inclined to drink it occasionally, especially with some spicy Asian food.
Find this wine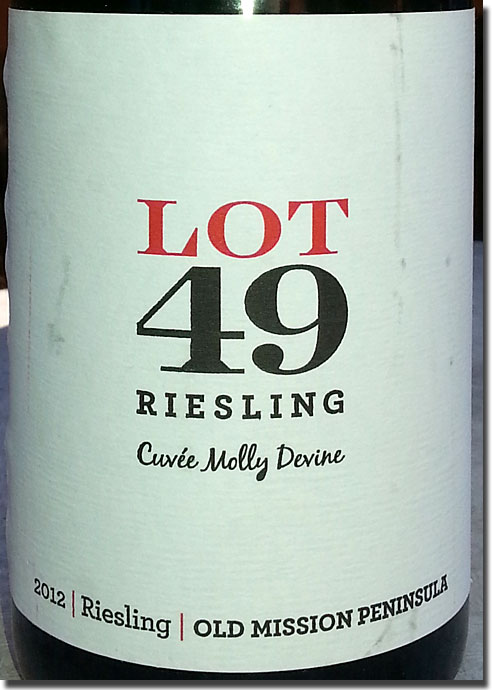 I've been a big fan of Chateau Grand Traverse Rieslings for years, but have only tried their Lot 49 once before, as I tend to mostly buy their Whole Cluster bottling. Last month, however, I found this one on closeout at a local Kroger store, of all places, and at this price (it's normally goes for $20 a bottle), it was an easy choice to bring one home, and I'm glad that I did.
2012 Chateau Grand Traverse Old Mission Peninsula Riesling Lot 49 Cuvee Molly Devine, $11.8% alc., $14.39: Clean, medium color; rich and intense, wow! Stony and steely, dense in body and texture, with excellent acids and more-than-good length; as it opens, it shows a subtle herbaceous shading that I really like. This is a fine example of just how good Michigan Riesling can be; the intense fruit and racy acids bode well for several more years in the cellar. One of the five best Rieslings from the Mitten State that I've had, and I ran right back to where I got it and grabbed the remaining five bottles. Find this wine
Reporting from Day-twah,
Bastardo
Related posts: