October 26th, 2009 |

Author:
George Heritier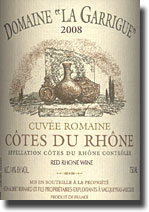 We kicked off our 12th season of Red Wings and Red Rhônes this past Saturday night with somewhat mixed results.  The Detroit Red Wings played hard and for the most part, played well, deserving a better fate than a 3-1 loss to the Colorado Avalanche, while the wine, a 2008 Domaine La Garrigue Côtes-du-Rhône Cuvée Romaine, was a solid performer in every way. 
The Wings lost somewhere in the neighborhood of 80 goals with players moving on to other teams in the off-season, and it's showing in their results, as they've stumbled to a 3-3-2 record at the start of the current campaign.  Losing Johan Franzen until at least February with a torn ACL only exacerbates matters, as Detroit continues to integrate a slew of new players into their system. 
 Domaine La Garrigue Côtes-du-Rhônes have been favorites of ours since the earliest days of Gang of Pour, and since we enjoyed the 2006 model so much last April, it was pretty much a no-brainer to give this one a try, especially at the nice price our friends at Royal Oak's Holiday Mkt. are selling it for.
2008 Domaine La Garrigue Côtes-du-Rhône Cuvée Romaine, 14% alc., $13.99: Showing clean, dark color, with earthy, old wood and black fruit aromatics that echo and expand on the palate.  Full bodied, well structured and funky in a way that I like, this should age effortlessly for 5 years or more.  As is so often the case, it opens nicely with air, losing much of the funk and accentuating the rich, earthy fruit.  Happily, this producer has turned away from the "international" style that they seemed to be flirting with in the 2003 version of this wine. Find this wine
Imported by European Cellars, Charlotte, NC
Reporting from Day-twah,
geo t.
5 Responses to "2008 Domaine La Garrigue Côtes-du-Rhône Cuvée Romaine"