Archive for the Flotsam Category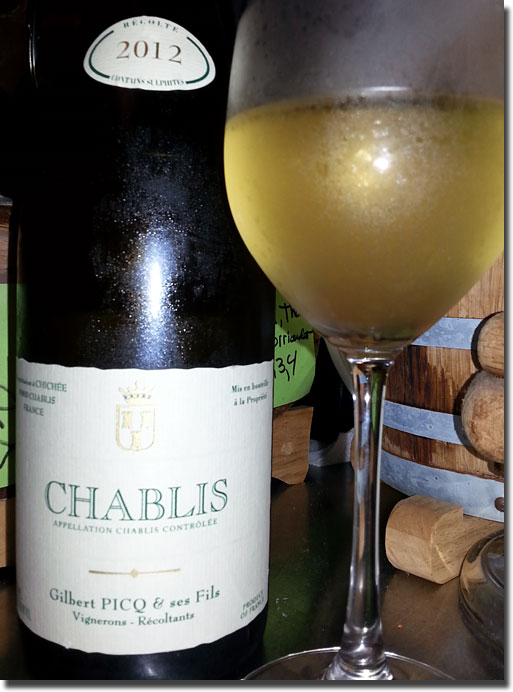 We've been celebrating the slightly oddball summer with some interesting, and mostly very good, wines of the pale and pink persuasions. June and July were all over the place, weather-wise, ranging from wet and unseasonably cool to the more usual oppressive hot-and-muggy that rears its sweaty head in Michigan this time of year, but we've stuck with our warm weather game plan throughout. Some of these are new vintages from old friends, and some we tried for the first time. Here are seven that we've encountered over the last four or five weeks, starting with the whites.
This first one had sat patiently in the cellar since early winter, waiting for just the right moment to pop its cork, and I found it a few days ago.
2012 Gilbert Picq Chablis, 12.5% alc., $23.99: Clean medium color; tart, yet rich and quite tasty, with mineral-driven green apple and quince flavors and aromas. Great presence and balance, full bodied without being heavy in any way, with racy acids and a nice long finish. An excellent food wine, but I chose to sip and savor it on its own after a week without wine, and it's a very fine choice indeed. It just gets better as it opens and warms a little in the glass. I want more of this one.
Imported by Vintage '59 Importers LLC, Washington, DC
Today I'm in Traverse City, and I'm really excited to be performing at Left Foot Charley Winery again, from 6-8:30 PM. I've been a big fan of LFC since before the doors of the winery/tasting room were even opened, and I had a great time playing there in June, so I'm really looking forward to doing this again! Fabulous Michigan wine and cider and homegrown Michigan music make a great pairing, so come on out and invite your friends!  I completed a fun interview on WNMC, 90.7 FM. Here's a stream of the interview on WNMC. Kim clipped the very beginning – sorry, and added a second stream of our pledge to the station (it's pledge drive) at the end.  It's a fun listen so she added it.  Hope you enjoy it.
I've never been shy when it came to shameless self-promotion for Gang of Pour, so why should things be any different, now that I'm playing and writing music after a ten-year hiatus? I started singing and playing in earnest again almost two years ago, largely through the inspiration provided by my daughter. It was tough at first, but the more I worked at it, the better things sounded. It's gotten to the point where music has suddenly become a full time job, with the release of my CD, "In My Element" a week ago, rehearsing for two gigs this coming weekend and really cranking up everything that ReverbNation has to offer as far as promotion of songs and gigs. Add to that some great jamming with really fine musicians, and the year is really getting off to a brilliant beginning!
"In My Element" is now available in both CD and individual track digital download from cdbaby; just click on the link below.
Reporting from Day-twah,
geo t. aka Don Coyote
If you're in the market for old-school styled Zinfandel, you would do well to check out the wares of Wine Guerrilla. WG head honcho Bruce Patch has made it his mission to source fruit from some of the best vineyards in Sonoma County and craft wines in a manner that allows them to express themselves nicely, without excess oak, extraction, residual sugar or other such atrocities that have too often plagued the grape. I first tasted Zinfandel in 1976, and I've been a big fan ever since. As was the case with the previous batch of Wine Guerrilla Zins that I reviewed, these three remind me of many of those from back in the day when I first gained an appreciation for the variety.
2010 WG Zinfandel Sonoma Monte Rosso Vineyard Sonoma Valley Block E44, $42.00: Deep, dark color, almost opaque; classic aromatics of spicy black raspberry with a judicious kiss of sweet oak, which follows through nicely on the palate, less sweet and ripe then the nose might promise, with more earth and hints of dark chocolate. That's all good in my book, since I don't care for the excessively ripe style. Sleek, full bodied and structured for several years in the cellar, with acids every bit as prominent as the tannins. A little prickly right now, so this needs some time in the bottle (please, no Jim Croce jokes, let the man rest in peace), or at very least, decant it for a while before drinking now. Almost reminds me of some of David Rafanelli's Zins back in the day, which also showed this kind of zippy acidity. 200 cases made. Find this wine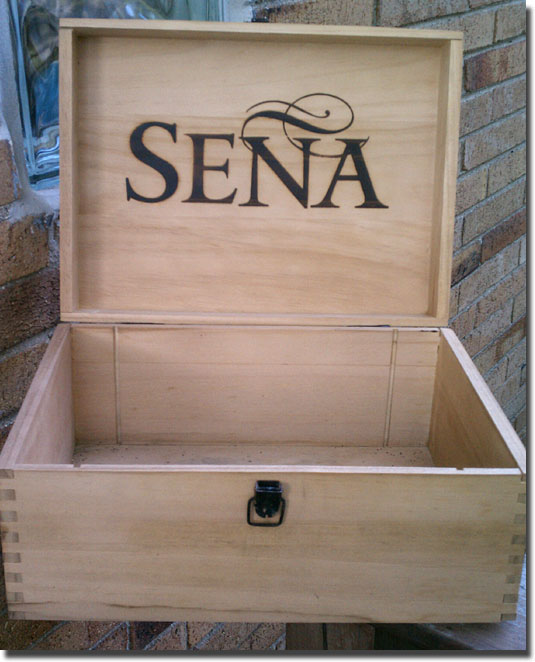 We've had a very odd, but interesting experience this week. The telling takes a few turns, but stick with me here, it'll all makes sense at the end, or will it…?
During the course having new water pipes installed in our basement, I had to empty out all the wine that we keep in our makeshift cellar, which is also the room where our water meter is. We now keep our wine in wooden cases or on racks, as we've graduated from those cardboard cases that used to populate "the cellar from hell." One of the cases was a 6-pack that carried a half dozen 1998 Sena Red Wines that we purchased well over 10 years ago. Those wines are long gone; we enjoyed them all, and never detected any kind of taint in any of them. Since the case itself was still functional, about three years ago, we put five bottles of red wine in it for safe storage from a producer who has sometimes been accused of producing corked wine.
As I was putting the cellar back together a few days ago, I noticed the unmistakable odor of TCA emanating from the box, so I took the five bottles out, put them on the wine rack and took the box outside. I let Kim take a whiff (she's even more sensitive to corked wine than I am), and she recoiled in disgust, as I knew she would. I put the box over by our shed about 50 feet from the back deck, and over the next few days, we both noticed that not only could we smell the taint when the wind was blowing in the right direction, but also that it seemed to get worse, just like corked wine that "opens" in the glass after it's poured.
Read the rest of this entry »
Michigan Wine Country Magazine 2011 is here!
From Michiganwines.com – This colorful, free magazine is published annually in April and contains information and informative articles about the wineries and wine regions of Michigan.
Request a printed copy or view it online.
Michigan Wine Showcase to Feature Local Wines
Master Sommelier Duo Teams to Celebrate Michigan Wine Month
Bloomfield Hills, MI — The Michigan Grape and Wine Industry Council is sponsoring the "Michigan Wine Showcase" on Monday, April 11, at the Radisson Bloomfield Hills, home of Northern Lakes Seafood Company. Two of Michigan's Master Sommeliers — Madeline Triffon and Claudia Tyagi — are closely involved with this project and are excited to celebrate Michigan Wine Month with this event.
Admission to the Showcase is $45 per person in advance, or $50 at the door. The gala will take place in the Grand Ballroom at the Radisson, from 6:00 to 8:30 p.m. Guests will enjoy a comprehensive selection of artisan wines from Michigan with lavish appetizers of local ingredients prepared by Chef Tim Budzinski, with the Matt Prentice Restaurant Group. Winemakers will be on hand to discuss their wines and provide additional information about their winery operations.
From 12:30 to 3:30 p.m., the Showcase will be open to restaurant, retailer and distributor staff. RSVP with your professional affiliation to Madeline Triffon at mtriffon@mattprenticerg.com.
The Michigan Grape and Wine Industry Council is pleased to highlight the event's tie-in with April as Michigan Wine Month, which honors the state's wide selection of quality wines and the wine industry's significant contribution to the economy. Michigan's 81 wineries welcome more than 1 million visitors to their tasting rooms each year, and Michigan's wine and grape industries contribute nearly $800 million to the state's economy annually.
The Radisson Bloomfield Hills is located at 39475 Woodward Ave., next to Northern Lakes Seafood Company, which is part of the Matt Prentice Restaurant Group. For more information about the Showcase event, visit www.michiganwines.com/showcase. To purchase discounted tickets in advance, contact the Michigan Grape and Wine Industry Council at 517-241-4468.
The Michigan Grape and Wine Industry Council is a 10-member panel that supports the growth of the grape and wine industry in Michigan. It is housed in the Michigan Department of Agriculture & Rural Development, which is the official state agency charged with serving, promoting and protecting the food, agriculture and agricultural economic interests of the people of the state of Michigan.
# # #
Editor's Note: Following is a partial list of wineries participating in this event. Members of the media are invited to attend any part of the Showcase at no charge.
The Michigan Wine Showcase will feature more than 20 Michigan wineries, including:
Bel Lago Vineyards
Black Star Farms
Bowers Harbor Vineyards
Brys Estate
Burgdorf's Winery
Chateau Aeronautique
Chateau Chantal
Chateau Fontaine
Chateau Grand Traverse
Cherry Creek Cellars
Circa Estate
Fenn Valley Vineyards
Forty-Five North
Founders Wine Cellar
Hickory Creek
L Mawby
Left Foot Charley
Sandhill Crane Vineyards
Shady Lane Cellars
Sleeping Bear Winery
St. Julian Wine Company

Snooth, "the world's largest and most comprehensive online wine destination, featuring millions of reviews and hundreds of thousands of wines," gave props to the Gang of Pour and two other wine blogs in their weekly "What We've Been Reading" column.  Subtitled "3 blogs bringing the wit as well as the wine," Snooth editor, Gregory Dal Piaz says this about the Gang – "Gang of Pour is another group effort, with five main contributing authors at this point. This is some fine wine writing — always with a bit of cheek, which makes it that much more interesting to read. Check 'em out and see if one of these guys, and gal, has a palate, and sense of humor, that matches yours."
The other two blogs are  Another Wine Blog and Suburban Wino.
Thanks, Gregory!