We had the pleasure of once again taking part in the Leelanau Peninsula Vintners Association (LPVA) Media Weekend this past April. It gave us the opportunity to taste with some old friends and new, and also, to spend some quality time with Detroit News wine columnist Sandra Silfven and our buddies Mike Brenton and his wife Deb. The Leelanau Peninsula wine industry has grown such over the last several years that there are now three "wine loop trails," and participants broke out into the Grand Traverse Bay, Northern and Sleeping Bear Loops. Kim, Sandy, Mike, Deb and I were all on the bus that hit Sleeping Bear, and we had a fine day indeed. One of the stops took us to Chateau Fontaine, where we visited with Dan and Lucie Matthies. We always enjoy our visits to this excellent French Road operation, and we've never had anything close to a bad wine from these fine folks.
During my musical road trip to the Traverse/Leelanau region in June, I got to spend some time with Shawn Walters, who makes the wines at Chateau Fontaine, and he sent me home with the three in this report. We had only tasted the 2012 Gruner Veltliner in April, so we had two new wines to try, and plenty of time to spend with all three. Little did Shawn know at the time, one of these, the Pinot Blanc, would score big at the 2013 Michigan Wine Competition, held on August 8, at the Kellogg Hotel & Conference Center in East Lansing. The other two didn't do too shabby either.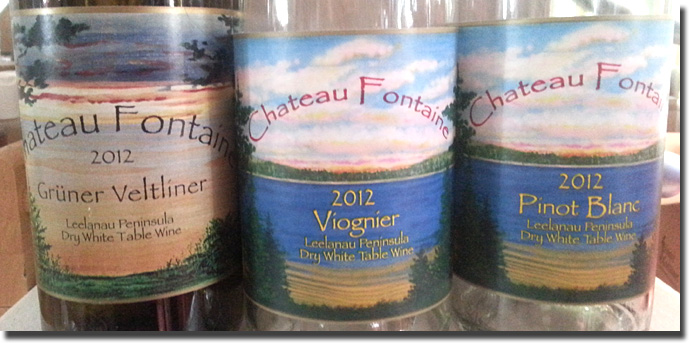 2012 Chateau Fontaine Leelanau Peninsula Gruner Veltliner, $22: Dan told us in April that the fruit for this wine came from 2-year old vines, which is very impressive indeed. Clean, medium color, with green apple and grapefruit flavors and aromas (more apple than citrus); not quite as intense or as mineral driven as the 2011 Chateau Grand Traverse Gruner Veltliner "Laika" we enjoyed last February, but rounder and a little brighter. In April, Dan added impressions of "white pepper and a little licorice on the backside." Medium bodied, with good acids and length. A solid Leelanau white that will serve well in a variety of settings, and I would expect that, as the vines age, future vintages will offer more of that minerality that will add another dimension. 1/2 of the fruit came from Walters' Twyris Vineyard, while the other 1/2 was sourced from Matthies' vineyard. Silver Medal, 2013 Michigan Wine Competition. Find this wine
2012 Chateau Fontaine Leelanau Peninsula Viognier, $22: Clean pale-to-medium color; only a hint of the characteristic honeysuckle adorns the ripe, yet somewhat tart green apple flavor, but subtle mineral and herbaceous notes add interest and appeal. Excellent intensity, on a medium bodied frame, with good acids and length. This doesn't exactly scream Viognier with the upfront floral character that so many Californian models do; in a way, it's more like some from southern France that we've had that express more mineral and less flowery aspects. Still, you can taste some varietal character here, and it's quite tasty on its own terms. I like this wine a lot. Silver Medal, 2013 Michigan Wine Competition. Find this wine
2012 Chateau Fontaine Leelanau Peninsula Pinot Blanc, $22: I've already made my thoughts known (and shared those of others as well) about Pinot Blanc and its potential to be a standard bearer (if not THE standard bearer) for the Michigan wine industry in the world-at-large. Here's another great case to base that claim upon. Clean, pale-to-medium color, and fairly ripe, with green melon and green apple flavors and aromas shaded with a nice stony minerality. Medium bodied, with excellent acids and very good length and intensity. This is a fine, satisfying and harmonious Michigan white, and it hit three home runs with Double Gold and Best of Class at the 2013 Michigan Wine Competition. Find this wine
A hearty congratulations to the Matthies family and Shawn Walters! I would be proud to serve these three wines to any and all guests to demonstrate the great strides that the Michigan wine industry has made in the last decade. I would also love to sit down and taste the 2012 Chateau Fontaine Pinot Blanc along with the same from Left Foot Charley, Verterra, Bowers Harbor and a few other producers who are doing interesting things with this under-rated grape variety. Let me work on that and see what I can come up with.
Reporting from Day-twah,
geo t.
Related posts: