We got together not too long ago with our partner in crime, Alan Kerr aka Canadian Zinfan, to indulge in our favorite collective activity, that being eating and drinking great food and wine. We invaded Chez Kerr with four bottles sent to us for review from our friends at Cornerstone Cellars; we opened the two Cabs on the first night of our visit, and the Sauvignon and Bordeaux Blend on the second. We were joined by our old MoCool buddy Howie Hart and his friend Mary Jo Giambelluca on night one. Alan created a terrific dinner around a leg of lamb, which paired beautifully with the two Cabs. (Click images to enlarge.)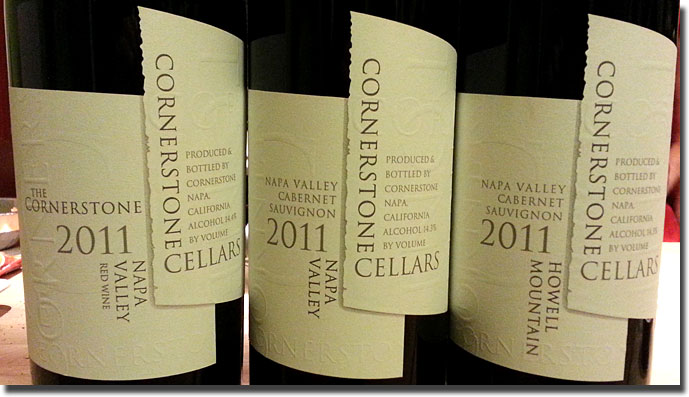 2011 Cornerstone Cellars Napa Valley Cabernet Sauvignon, 88% Cabernet Sauvignon (Kairos Vineyard, Oak Knoll District, Oakville Station, Ink Grade Vineyard, Howell Mountain), 12% Merlot Oakville Station, 14.3% alc., $65.00: Clean dark garnet in color, not at all dense or opaque; very much in the house style, being ripe, but not over-ripe, with a perfect kiss of sweet oak. Spicy nuances from the oak over pretty cassis, black currant and a hint of black cherry, with subtle earth underneath. Delicious right out of the bottle, with no aeration; full bodied, beautifully balanced, and voluptuous in texture and flavor, yet structured for 10 years or more in the cellar, with a long, lingering finish. Alan added impressions of "chalky mineral, mixed black fruit, little floral notes, nice viscosity and a little spice and anise." An absolutely lovely wine. (Harvested early to late October, 2011; 22 months in French Bordeaux oak barrels, 65% new. Bottling Date: July 15th;, 2013; Cases Produced: 806 cases of 12 x 750mL, 30 bottles of 1.5 L.) Find this wine
2011 Cornerstone Cellars Napa Valley Cabernet Sauvignon Howell Mountain, 95% Cabernet Sauvignon (Ink Grade Vineyard, Howell Mountain), 4% Merlot (Ink Grade Vineyard, Howell Mountain), 1% Cabernet Franc (Carrefour Vineyard, Coombsville Appellation), 14.5% alc., $80.00: Not much darker than the Napa bottling, with very clean color; Howie observed "some earthy, dusty black cherry on the nose," while Chef Kerr remarked that "it's a little heavier, a little more muscular (than the Napa), (with) a little iron." This is more seriously in the black fruit spectrum than the previous selection noted above, yet unmistakably in the same house style, and the tannin management seems better than in some previous vintages, as it's quite accessible right out of the bottle. Full bodied, well balanced and structured for many years in the cellar. Delicious stuff here. (Harvested early to late October, 2011; 22 months in French Bordeaux oak barrels, 75% new. Bottling Date: July 15th, 2013; Cases Produced: 513 cases of 12 x 750 ml 30 bottles of 1.5 L.) Find this wine
Cornerstone really has it's Cab program down; these wines are both brilliant. Alan says he likes everything about them but the price. More about that below.*
On night two, it was just the Zinfan, Kim and this taster. After tasting at Tawse Winery and Kew Vineyards, we returned to Alan's, where he prepared some tasty salt and pepper squid, which we enjoyed with the following wine. We're very familiar with previous vintages of Cornerstone's Sauvignon, and the late model version is every bit as impressive as previous efforts.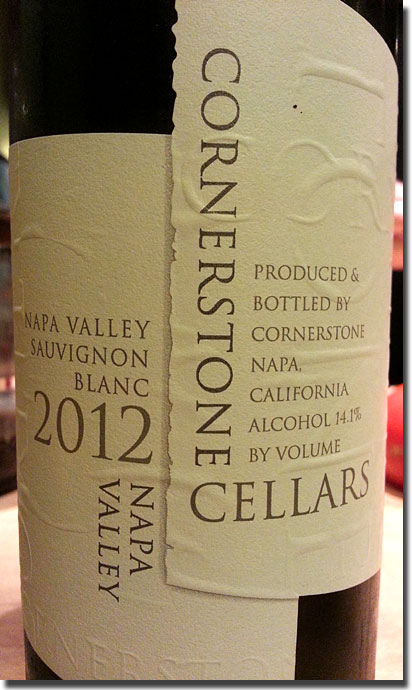 2012 Cornerstone Cellars Napa Valley Sauvignon Blanc, 100% Sauvignon Blanc (Ink Grade Vineyard, Howell Mountain; Talcott Vineyard, St. Helena), 14.1% alc., $30.00: Clean, medium straw color, with a subtle note of oak on the nose that follows through on the palate to grace the slightly grassy grapefruit and green apple flavors, all shaded with nice minerality underneath. Bone dry, not quite austere and quite tasty for all of that. Medium-to-medium-full bodied, with excellent acids and good length. A solid bottle of Napa Sauvignon. (Each of the vineyards was harvested September 13th, 2012, in perfect conditions. Very cool and gradual fermentation in stainless steel; 5 months in mature French oak barrels, lees stirred (sur-lie) every 2 weeks. Bottling Date: March 11th., 2013; Cases Produced: 853 cases of 12 x 750 mL, 30 bottles of 1.5 L.) Find this wine
The final selection was not paired with a meal per se, but was enjoyed with bread, cheese and charcuterie.
2011 Cornerstone Cellars Napa Valley 'The Cornerstone', 85% Cabernet Sauvignon, 10% Merlot, 5% Cabernet Franc Oakville Station Vineyard, Oakville, 14.4% alc., $150.00: Clean, dark color, with the signature Cornerstone personality in flavor and aroma, but not nearly as intense as the two Cabs tasted on the previous evening. Having said that, it's a pretty wine that offers a nice mélange of red and black fruit, being smooth, balanced, structured for at least 5 years in the cellar and quite enjoyable. Kim observed that it's "kind of subdued," and I would agree; it's rather less expressive than I remember the 2009 being. (Harvested early to late October; 22 months in French Bordeaux oak barrels, 100% new. Bottling Date: July 16th, 2013. Cases Produced: 104 cases of 12 x 750mL, 30 bottles of 1.5L.) Find this wine
*Bastardo's Bloody Pulpit (with apologies to Tom Hill): As mentioned above, Alan is of the opinion that the Napa and Howell Mountain Cabs are over-priced; oddly, we never broached the subject of the cost of "The Cornerstone," but I'll do that here. I don't often make judgments regarding prices in this blog. For the most part, I figure that if there are people out there who'll pay a premium, or even exorbitant, tariff for a bottle or a case of wine (the ridiculously priced high-end Bordeauxs come to mind, there, I've said it), the producers have the right to charge whatever they want.
Having said that, some of our favorite wines have been priced out of the range that we're willing to spend. We haven't bought Domaine du Pegau is several years; the same goes for Thackrey Orion and Ridge Monte Bello. There was a time when we bought Monte Bello at futures pricing, but even those have exceeded a line we don't cross. I'm not saying the wines aren't worth the money, just that we've chosen not to spend that much; there're still far too many very fine bottles out there that give lots of pleasure and go for considerably less.
With regard to these three reds from Cornerstone, it's interesting to note that prices of the Napa and Howell Mountain Cabs were actually lowered after we first tried them back in October of 2009, especially in the case of the Howell Mountain, which dropped from $100 to $75. The Napa, after staying $5 lower for a few vintages, is back up to $65, while the HM is holding at $80. I feel that, given the quality of these two wines over the course of the 6 vintages that we've tasted, these are not unfair prices. I'd feel differently if the Howell Mountain was still at $100, and having said that, I can't justify the $150 price of the '11 'The Cornerstone' at all. Given what we tasted, I'd like this priced in the same neighborhood as the Napa bottling, select barrels or no. Frankly, reading the effusive descriptors of this on the Cornerstone website makes me wonder if we had an off bottle.
That's my story, and I'm stickin' to it.
Reporting from Day-twah,
geo t.
Related posts:
2 Responses to "A Cornerstone Quartet"