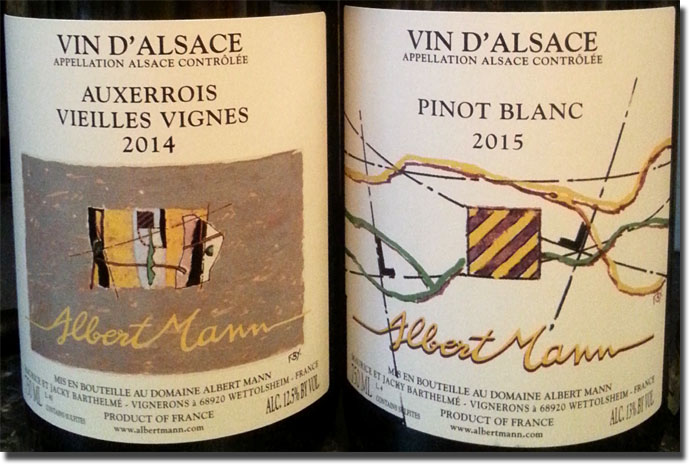 After filing my last report, I decided to see what else I could find in the way of Alsatian wines that are available in and around Day-twah, and, perhaps surprisingly, I found more than I expected in fairly short order. Selections from the Weygandt-Metzler portfolio are reasonably well-represented here, and after trying six of those, I was able to find a couple of other tantalizing tidbits too. I started my survey with a grape variety that is hardly a household name, but it's one that I'm quite fond of, thanks to a version that we produce right here in Michigan.
2014 Albert Mann Auxerrois Alsace, 12.5% alc., $18.99: Clean medium color, with river stones, green apple, quince and lime in both flavor and aroma; fairly rich and intense, with a somewhat oily texture on a medium-bodied frame, driven by ample acids right on through the lingering finish. More of the mineral character emerges as the wine opens and warms in the glass, and while it will certainly pair with a wide variety of the usual fish and fowl suspects, I'd like to try it with sushi, keeping the wasabi at moderate levels. It would also be interesting to try this alongside Bel Lago's version from here in Michigan for comparison's sake. Find this wine
2015 Albert Mann Pinot Blanc Alsace, 13% alc., $17.99: Clean medium straw color, with a fragrant green apple citrus nose that leads into fairly rich and intense mineral-laced green apple and lime; more and more gravelly character emerges as it opens in the glass. Medium bodied, with active acidity and good length, this is very food friendly, and I've already gone back for more. Find this wine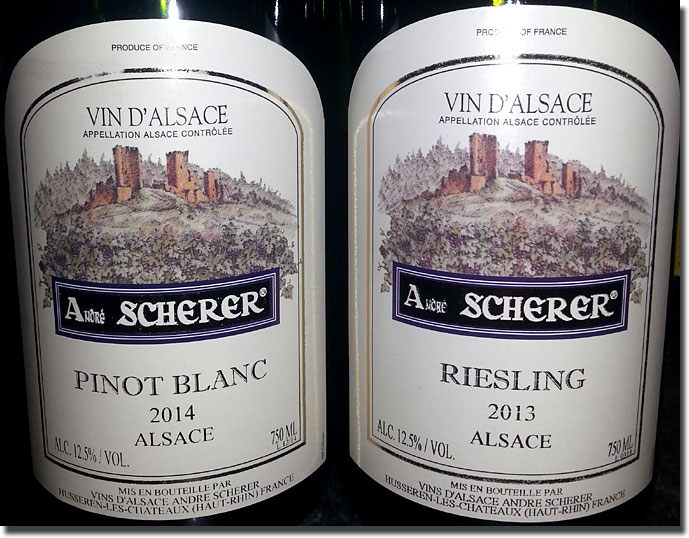 2014 A. Scherer Pinot Blanc Alsace, 12.5% alc., $13.99: Clean, pale gold color, with a grudging nose with a little Golden Gelicious apple and apricot; flavors generally echo with a bit more enthusiasm, but not much complexity. There's also an ever-so-slightly sherried, oxidized shade to it that I find a little off-putting. Some mineral would add character and interest here, but it's nowhere to be found. As it is, it's a middleweight pretender, with good acids and decent length that would probably serve as a decent summer picnic wine, but for my tastes, it's a disappointing, somewhat one-dimensional white. Frankly, my dear, I'd much rather drink one of our Michigan Pinot Blancs from Left Foot Charley. Find this wine
2013 A. Scherer Riesling Alsace, 12.5% alc., $19.99: Pale gold color; hints of mineral and petrol vie with something like varnish on the nose, while, on the palate, this has even more of the oxidized character than the Pinot Blanc, not to mention similar Golden Delicious and apricot characteristics, despite the obvious Riesling varietal personality. In fact, the similarities make me wonder if this might be a "house style," which would not be one I favor, but, happily, the following two wines would indicate otherwise. Medium bodied, moderately ripe, with zippy acids and good length. Not necessarily a "bad" wine by any means, but not one I'd buy again, to be sure. Find this wine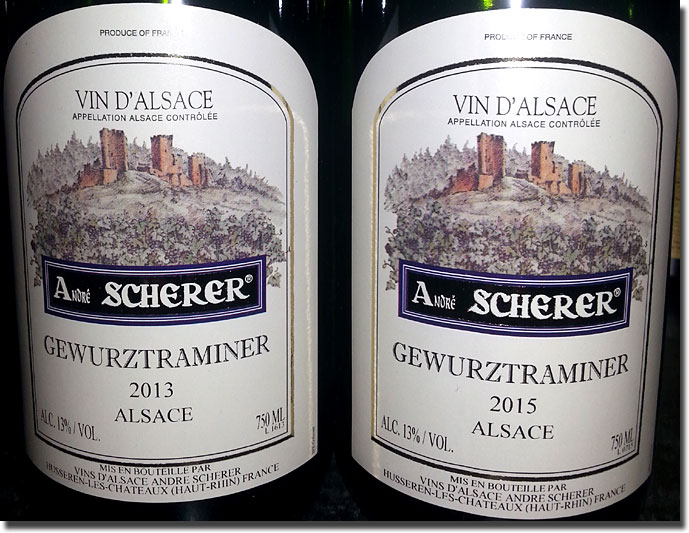 2015 A. Scherer Gewurztraminer Alsace, 13% alc., $17.99: Pale-to-medium gold color; not exactly effusive litchi and rosewater follow through much more forcefully on the palate, gaining a hint of apricot. Bright on entry and through the mid-palate, turning very dry on the finish with some mineral making itself known. Rich and flavorful, with (happily) none of the oxidized character noted in the PB and Riesling, this is a solid Gewurztraminer, slightly oily, with zippy acids and good length. Find this wine
2013 A. Scherer Gewurztraminer Alsace, 13% alc., $16.99: Pale gold in color, slightly lighter than the 2015, but, like that one, not giving much on the nose at first. Nor is it quite as generous on the palate, but it's unmistakably Gewurz, with equal parts litchi and rosewater, along with just a hint o' mineral. Balanced and harmonious, this is very pleasing to my taste buds, and though it's not quite as oily as the '15, it's close. I'll be drinking plenty more of these and put some of the 2015s down for a few years. Both of these offer very good QPR, and are making me "Ga-ga for Gewurz" all over again. Find this wine
Albert Mann & A. Scherer wines imported by Weygandt-Metzler, Unionville, PA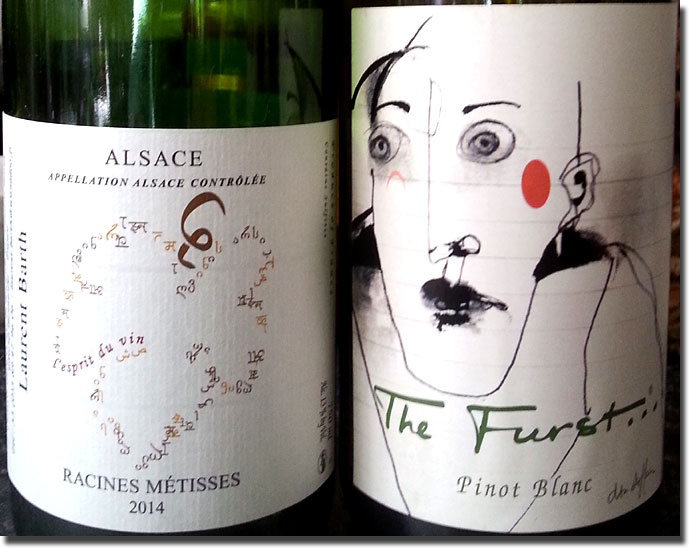 I've tasted several selections from the Kaysersberg consortium The Furst in the past, and used to sell a fair amount of them in a previous life in wine retail. This next selection more than lived up to my recollection of them offering good bang for the buck across the board.
2013 The Furst Pinot Blanc Alsace, 12.5% alc., $12.99: Clean pale-to-medium color, with a pleasant green apple-citrus nose; intense flavors echo with gusto, gaining some stony mineral and lime. Medium bodied, with good length and zippy acids, there's plenty to like here, and the QPR (quality-price-ratio) is terrific. I like this so well, I just had to have a second glass, holding off from the two open reds that I also needed to taste for another report. Find this wine
Imported by Eagle Eye Brands, Chicago, IL
Finally, this curiosity caught my eye while I was browsing in the wine aisle at Western Market in Ferndale, one of my go-to places for finding things that are anything but your usual suspects. The fact that it is from the Louis-Dressner portfolio was enough to pique my interest and pick one up to try. Laurent Barth is another of the natural winemaking practitioners that LDM Wines specialize in offering.
2014 Laurent Barth Cuvée "Racines Métisses" Alsace, 13% alc., $17.99: Clean medium color, with stony mineral, quince and under-ripe green apple in both flavor and aroma. This really opens as it warms in the glass, gaining intensity and character. Medium bodied, slightly oily, excellent "nervosity" and good length on the finish. Delicious now, and I'm thinking it will be even better with a few years in the bottle, and I have purchased more to test that theory. A blend of Pinot Blanc, Sylvaner, Pinot Gris and Auxerrois.
Find this wine
Imported by LDM Wines, Inc., New York, NY
Reporting from Day-twah,
Bastardo
Save
Save