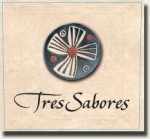 I first became aware of Julie Johnson's Tres Sabores label back during Zap 2003. At that time, they were making quite a splash by operating on the novel model of producing three Zinfandels made by three different winemakers (Karen Culler, Ken Bernards and Rudy Zuidema ), all from the same fruit source. The wines were, by all accounts, quite good, and also quite distinct from each other.
Tres Sabores then fell off my radar for a few years after that, only to reappear as one of the producers who were wiped out by the 2005 wine storage facility arson fire in Vallejo, California in 2005. Fortunately, they had insured their inventory (unlike a few of their neighbors), and soldiered on replenishing their inventory through succeeding vintages. (Avoiding a complete loss from the fire, some of the cooked Zinfandel was salvaged and used to make Tres Sabores' Porque No Fire Roasted Zinfandel Marinade & Grilling Glaze, which is actually quite tasty.)
Then, this past March, I happened to taste the 2007 Tres Sabores Sauvignon Blanc Sonoma Mountain with the Brown Bag Irregulars, liked what was in the bottle, and when our friend Michelle DeHayes of AHD Vintners (Tres Sabores' local distributor) strongly urged us to visit them during our Left Coast sojourn, we made arrangements to do just that.
Owner/winemaker Julie Johnson came to the property at the end of Whitehall Lane back in 1987. Her accomplishments previous to Tres Sabores (which means three flavors in Spanish) include founding Frog's Leap with her ex-husband John Williams and partner Larry Turley in 1981 and "Women for Wine Sense" with Michaela Rodeno in the late '80s. Located in an idyllic setting near the top of the Rutherford bench, at the base of the Mayacamas mountain range, the estate is so unlike most other Napa properties that it could be located in another county, if not another world; Sonoma comes immediately to mind, and Eden might not be far off either. There's no facade of glitz or glamor here, just an honest, hard working certified organic farming operation run by Johnson and husband Jon Engelskirger that produces not only Zinfandel, Cabernet, Petite Syrah and Petit Verdot grapes, but also olives, Meyer lemons and pomegranates. Goats and guinea hens can also be found grazing and pecking their way through various parts of the property throughout the day.
We arrived early in the afternoon, and were met by Business Manager Cyndy Davis, who poured us glasses of the current vintage of their Sauvignon Blanc; we were joined shortly thereafter by Ms. Johnson, and tasted through most of the Tres Sabores lineup while touring the property and sitting on the patio with a few other guests. Here are my impressions of the wines: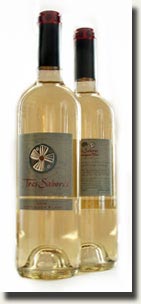 2008 Tres Sabores Sonoma Mountain Sauvignon Blanc Farina Vineyard: Clean, medium color; exudes a fragrant bouquet of pretty grapefruit accented with overtones of honeysuckle, from the inclusion of 1% Viognier; flavors echo nicely, with racy acidity and excellent intensity. The grapes that go into this wine are purchased row by row. Find this wine
2007 Tres Sabores Napa Zinfandel Rutherford: Clean garnet color; lovely aromatics follow through on the palate, offering a rich intensity of spicy raspberry and cherry, finishing with a peppery note. Medium-full bodied, and almost Pinot-esque. From 41 year old vines, with roots that reach down 40 feet into the earth in which they're grown. Find this wine
2007 Tres Sabores Porque No, 76% Zinfandel, 12% Cabernet Sauvignon, with the remainder made up of Petite Sirah and Petit Verdot: Clean, medium dark color; not quite as aromatic as the Zinfandel, with pretty black raspberry and black cherry flavors graced with a kiss of oak. Medium-full-to-full bodied, with good structure and length. Eminently drinkable, which explains its popularity as a party, picnic and restaurant pour around the country. Find this wine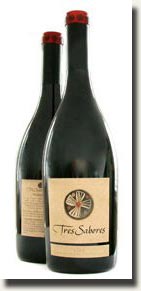 2006 Tres Sabores Napa Petite Sirah Calistoga Joe's Vineyard: Clean, dark color, with long legs; deep, dark plum and berry flavors and aromas. Nicely balanced and structured, not too ripe, nor too tannic, with a creamy texture in the mouth. Very pretty, so drink now and over the next five years. Find this wine
2006 Tres Sabores Napa Cabernet Sauvignon (6 ½ barrels from a Howell Mtn. vineyard located at 1,900 feet and 1 ½ barrels from Oakville and Rutherford): Clean, dark color, with gorgeous, almost floral aromatics; flavors and aromas of subtle chocolate and a kiss of oak over black currant and blackberry. Sleek, sexy and silky smooth; drink now and over the next five years. Find this wine
We are so impressed with what Tres Sabores is all about, not only with regard to the excellent wines that they're producing, but also with the ambience of the estate itself. It's hard to imagine a better place to live and work. Yes, you can see Highway 29 off in the distance, but one gets the sense of being far removed from the seemingly ubiquitous congestion and rampant commercialism there. Many, many thanks to Julie Johnson and Cyndy Davis for their most gracious hospitality, and also to Michelle DeHayes for her emphatic recommendation that we visit there.
3 Responses to "A Visit to Tres Sabores"