So, here's how it all went down.
We decided we wanted to grill a leg o' lamb for Super Bowl Sunday, and enjoy it with some nice wine. Kim put a post on Facebook inviting interested parties to join us and our good friends Martha and Gary Shea, Shar Douglas, Ken Hebenstriet and Gang of Pour Charter Member Scott "The Geek" Tobias took us up on the offer. Shar and Ken offered a short menu of wines from their cellar that they were willing to bring over and share, and as soon as I saw Mr. Ridge mentioned, I suggested we go with some of those. They brought three bottles, and we added an '01 Monte Bello to compare to their 2000. Scott contributed a late model Napa Cab and Martha and Gary added some great homemade hummus, pita chips and scintillating conversation. (Click images to enlarge)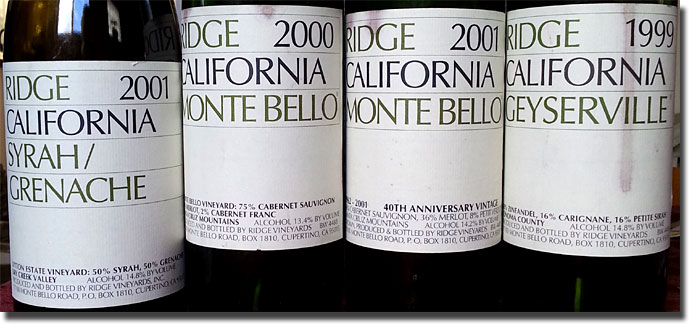 We got things started with a couple of sparklers that I've reviewed here previously, an L. Mawby Leelanau Peninsula Tradition Brut NV and a Schramsberg Mirabelle Brut Rosé California NV. Both performed much as they had previously and were well received by all.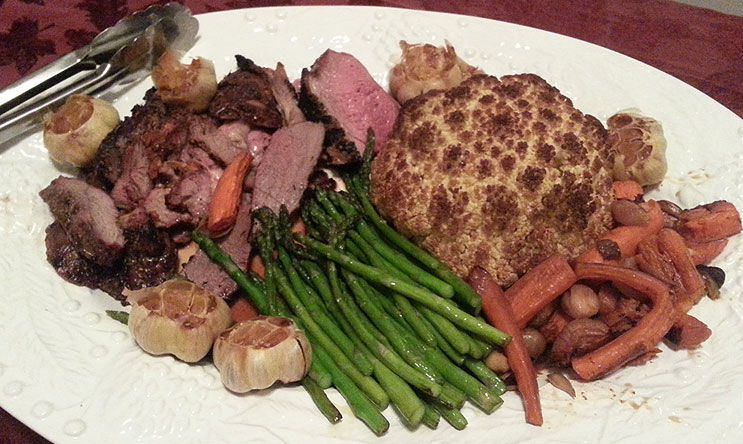 About the time we were finishing the last of the bubbly, dinner was served. Besides the grilled lamb, Kim had also prepared one of her delicious potato gratins and an assortment of roasted veggies. The wines were tasted in the following order.
2001 Ridge Dry Creek Valley Syrah/Grenache Lytton Estate, 50% Syrah, 50% Grenache, 14.8%: Shar immediately commented on the "great aromatics and spice," and there is indeed plenty of "Draper perfume" present here, with some forest floor lurking underneath it all; Martha added impressions of "coffee and leather." The flavors echo beautifully, and I love the contrast between the bright red fruit and the earthier elements. There're still years of development left in this one, perhaps a decade or more, so while it was my favorite of the four Ridges (and all the other wines enjoyed on this occasion), it's going to get better, so don't be in a hurry to open yours if you have any. Find this wine
2000 Ridge Monte Bello Santa Cruz Mountains Proprietary Red, 75% Cabernet Sauvignon, 23% Merlot, 2% Cabernet Franc, 13.4% alc.: This one is still a youngster, a little tight and a little lean, with an ever-so-slight green streak. I find it especially interesting that a bottle of the same that we opened almost exactly two years ago for another gathering at which the Super Bowl was background noise seemed to show better than this one, but both tastings indicated that this is a wine that needs several more years in the cellar before it comes close to its prime drinking window. Find this wine
March 5th, 2014
2001 Ridge Monte Bello Santa Cruz Mountains Proprietary Red (40th Anniversary Vintage), 56% Cabernet Sauvignon, 36% Merlot, 8% Petit Verdot, 14.2% alc.: I pulled this one from our cellar to open and compare to the 2000, and while the big, rich aromatics seem to have a bit more to show right now than the previous vintage, it too is still lean and primary. We went on to other wines and left both of the Monte Bellos alone for an hour and a half, and neither showed that much change, so, again, let them rest and evolve if you have them. Find this wine

1999 Ridge Geyserville Sonoma County, 68% Zinfandel, 16% Carignane, 16% Petite Sirah: As far as I can remember, this is the first time we've tried this in more than five years. Both it and the '99 Lytton Springs were monsters upon release; of the two, this was slightly less monolithic then, and it's still not close to its peak. Deep, dark, rich, and hugely tannic, with big earthy blackberry and black raspberry fruit underscored with a little forest floor; both Shar and Gary noted some raisin character, and it adds, rather than detracts to the appeal here. Find this wine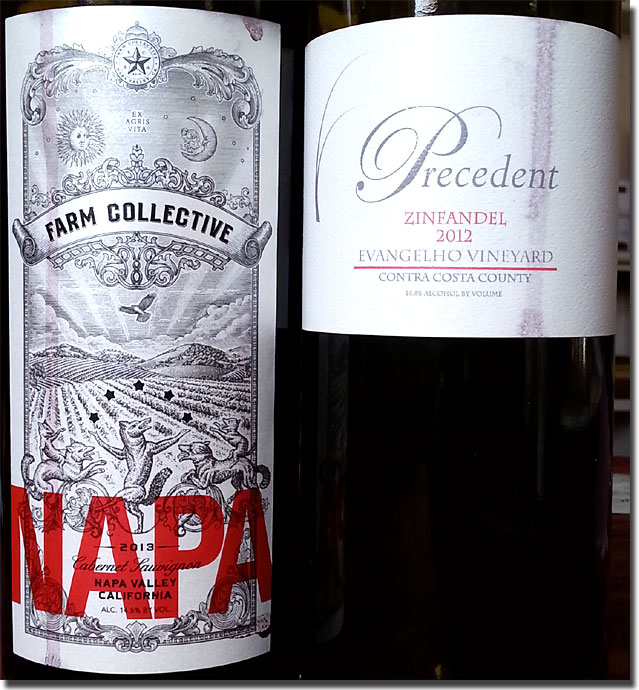 With regard to these four, Scott remarked, "I might have admired the Syrah/Grenache the most, but I loved the Geyserville the most." He says things like that a lot, which is just one of many reasons that we keep letting him come over. Another is because he always brings something interesting to open; he said that he told the guy at Cloverleaf he needed something to stand up to some Ridges, and this is what was recommended. Go figure…
2013 Farm Collective Cabernet Sauvignon Napa Valley, 80% Cabernet Sauvignon, 15% Merlot, 5% Zinfandel, 14.5% alc.: Kim says that this smells like crème brulee, which is not exactly what we want from our Cabernet. It comes in a stupid heavy bottle, and it's all big charred oak, huge ripe earthy fruit and big tannins. It's not horribly expensive at around $30, and while nothing about what I taste here would cause me to go out and buy any, I would, out of sheer curiosity, like to try it again in 5-8 years or so, just to see if it turns into anything good. Find this wine
(This was the first time I had heard of Farm Collective; here's what I found on their web site: "Farm Collective is both the name of our portfolio of small Napa wineries as well as our state of the art wine making facility located in south Napa Valley. The 15,000 square feet of production space allows for grape sorting, crushing, fermenting and aging of 80,000 gallons of wine. Farm Collective also manages grapes under long-term lease in Napa, Sonoma and Solano Counties. This unique portfolio and winery allows us to produce many exceptional wines under one roof." Other brands in the portfolio include Fortnight, James Cole Winery, Regusci Winery, Tank Garage Winery and T-Vine Winery.)
I picked up this final wine of the evening a few days earlier, because I was familiar with some Evangelho Vineyard bottlings from Ridge, and I wanted to see how they handled their own fruit.
2012 Precedent Contra Costa County Zinfandel Evangelho Vineyard, 14.8% alc., $31.99: Creamy berries on the nose; a big, young, ripe, earthy fruit bomb with a slight green streak and a note of cola, according to The Geek. (He also said that if Faygo had a wine division, this would be it.) This will age well with five years or more in the cellar, and would interesting to try again sometime down the road, or maybe even the next time Alan Kerr visits, because, he is, after all, Canadian Zinfan. Find this wine
It was a fun evening. We did watch the big game, more or less, but no one seemed too concerned with who won or lost, and the commercials were not particularly entertaining. It was really about the good food, good wine and good friendships, and in that regard, we were all winners.
Reporting from Day-twah,
Bastardo
Related posts:
3 Responses to "A Ridge Dinner On Super Bowl Sunday"