April 14th, 2014 |

Author:
George Heritier
When I purchased the 2011 Caves Saint-Pierre Vacqueyras that I reported on in my last blog entry, I had actually opted to try the least expensive of four wines from Caves Saint-Pierre that are available at our friendly neighborhood Trader Joe's. Having enjoyed that selection, I decided the other three were probably worth trying as well, so I picked them up during my next two shopping trips. While they varied some in quality, all three provided solid red Rhône mojo for my beloved Detroit Red Wings late season surge that has seen them clinch a 23rd straight berth in the NHL Stanley Cup Playoffs, despite a rash of injuries throughout the campaign that would leave lesser teams mired in the cellar with nothing but bitter wine.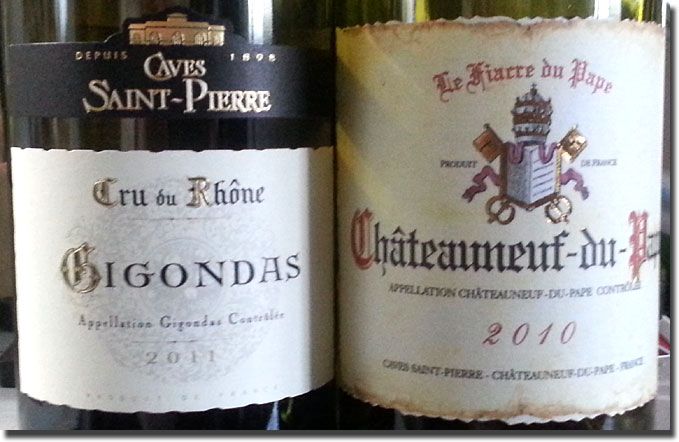 2011 Caves Saint-Pierre Gigondas, 11-14% alc., $13.99: Deep, dark color; an earthy black fruit and mineral nose leads into earthy, briary black plum, black currant and mineral flavors. This might be even more earthy and mineral-driven than the Vacqueyras. Big, brawny and structured for years of cellaring, probably a decade or more, this is just a baby that needs lots of time to develop, but it seems to have the stuffing to evolve into a solid wine down the road. It does open pretty well by the second day, so a few hours in a decanter can't hurt if you just have to open one now, but we put a couple down and we'll try to keep hands off until at least 2018. Find this wine
2010 Caves Saint-Pierre Chateauneuf du Pape Le Fiacre du Pape, 60% Grenache, 15% Mourvedre, 15% Cinsault, 10 % Syrah, 14% alc., $19.99: Deep, dark garnet color, with a big, earthy black fruit and iron nose, and plenty more of the same on the palate, along with a streak of green briar-bramble. Another big, brawny wine with a decade or more ahead of it, but the green rubs me wrong the more I taste it. Kim added impressions of "a little sour, and it's short." It might be interesting to put a few down and see what develops by 2020, but, based on what I've tasted here, I'm thinking both the Vacqueyras and Gigondas are better wines for less money. That's my story, and I'm stickin' to it. Find this wine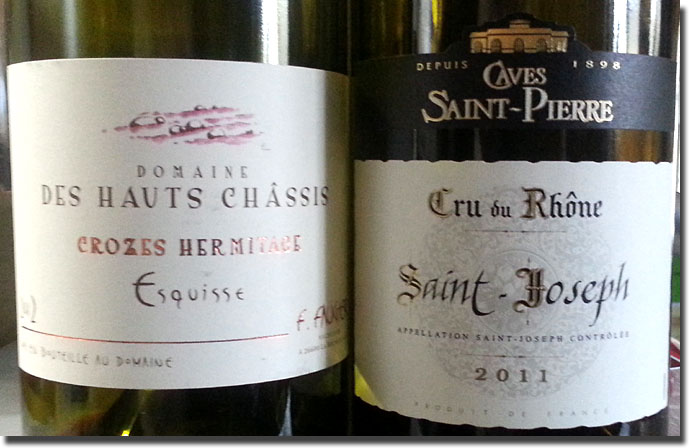 2011 Caves Saint-Pierre Saint-Joseph, 14% alc., $14.99: One whiff of this deep, dark wine and there's no mistaking it for anything but a northern Rhône Syrah; it's all about earthy, bone dry black plum and black currant, shaded with notes of black olive, bramble, briar and mineral. Full bodied, with good structure and length, this is very primary, but has the goods to develop over the next five years and beyond. Another solid QPR selection here; we'll have to pick up a few for the cellar. Find this wine
Caves Saint-Pierre Wines Imported by Latitude Wines, Inc., Danville, CA
The following selection was one that I first tasted in early February, and I liked it well enough to pick up a few more in late March.
2012 Domaine des Hauts Chassis Crozes-Hermitage Esquisse, 13% alc., $21.99: Deep, dark garnet color, and all garrigue, all the time, setting the tone over a solid core of rich, fairly ripe black plum and berry fruit. Full bodied, with good structure and length, this will age well for at least five years or more, but it's drinking really well already. This pushes the envelope for ripeness, but falls short of going over the top, which is probably why it showed so well at the trade tasting where I discovered it for the first time. Find this wine
Imported by A.H.D. Vintners, Warren, MI
Reporting from Day-twah,
geo t.
Related posts:
One Response to "Red Wings and Red Rhônes from Caves Saint-Pierre"