We received a selection of review samples from our friends at Bonny Doon Vineyards last month, and after giving them the requisite two weeks to rest from their cross-country journey, we were looking for the earliest opportunity to break into them and see what these latest bottlings had to offer. Happily, just such an opportunity reared its pointy little head with a visit from our partner-in-crime, Alan Kerr aka Canadian Zinfan. The three of us have some history with the Le Cigare range of Doon, so we knew exactly which bottles to select to welcome his arrival.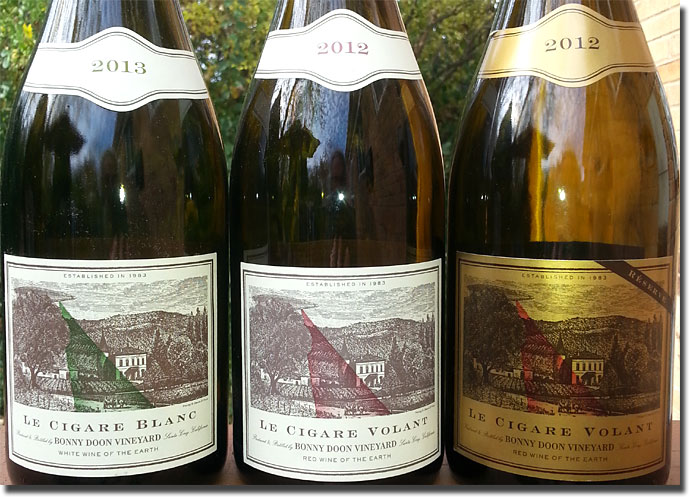 2013 Bonny Doon Vineyards Le Cigare Blanc Arroyo Seco Beeswax Vineyard, 57% Grenache Blanc, 27% Roussanne, 16% Picpoul, 14.5% alc., $28.00: Bright medium straw in color; classic Le Cigare Blanc character of white tree fruit and lanolin, rich, fairly ripe and mineral driven. Full bodied, with excellent acids and nice length. As we reported recently, these are quite cellar worthy, so while it's delicious and very food friendly now, it'll only get better over the next several years.
Randall Grahm: "A bit of a richer style than the lean, taut '11, this is nevertheless a superb gastronomy wine, with excellent ageing potential." Find this wine
2012 Bonny Doon Vineyards Le Cigare Volant "normale" Central Coast, 39% Mourvedre, 33% Grenache, 26% Syrah, 2% Cinsault, 13.5% alc., $45.00: Chef Kerr's initial comment upon sipping this was, "Oh my God, juicy!" Showing clean, dark color, it exudes aromatics of sea air, seaweed, black fruit and fennel. The earthy black plum and berry flavors are very primary, yet quite approachable, especially with the organic bison burgers and roasted root vegetables. It gets better and better with extended air, showing lots of earth and mineral on the finish. A 10-year wine and then some, this totally lives up to the name "Le Cigare Volant."
RG: "A bit of a stylistic departure from recent more Grenache-centric vintages; the Mourvèdre character of the cuvée in this instance is quite pronounced and expressive. Elevage in puncheon and 10,000 liter wood tank." Find this wine
2012 Bonny Doon Vineyards Le Cigare Volant Réserve "en bonbonne" Central Coast, 39% Mourvèdre, 33% Grenache, 26% Syrah, 2% Cinsault, 13.5% alc., $60.00: Deep and dark in color, with essentially a little bit more of everything found in the regular bottling, and, if anything, even more approachable. I'm almost tempted to drink this near term and lay the "normale" down, it's that good right now, but to be fair, this is every bit as age-worthy as the other, so it might be wisest to just be patient with this one as well.
RG: "Again, precisely the same wine as the '12 Le Cigare Volant (normale), but texturally quite different, and with possibly a bit more depth and complexity. Like all of the Réserve wines, these are perhaps more "meditation" than food wines, if you will."
Find this wine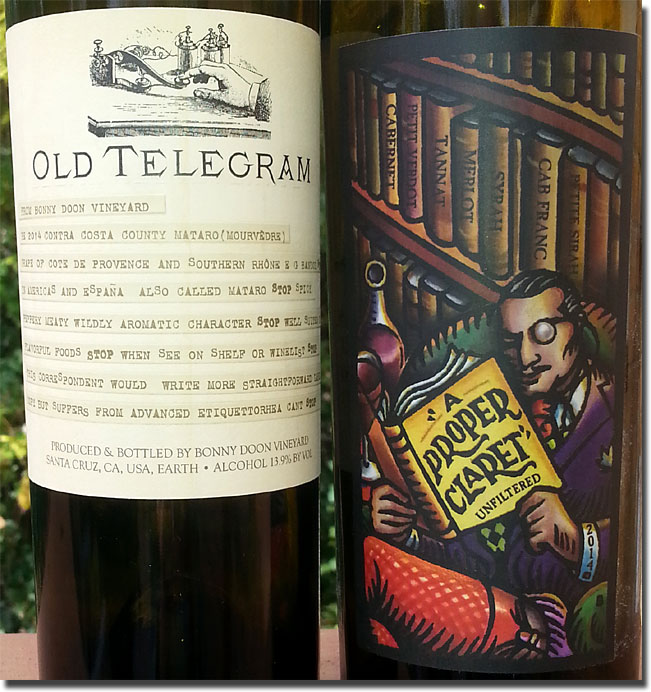 The current Old Telegram was a Red Wings and Red Rhone Rangers selection, and it performed better than the Detroit hockey team, who suffered an early season loss in Florida.
2014 Bonny Doon Vineyards Contra Costa County Old Telegram, 100% Mourvèdre, 13.9% alc., $45.00: Deep, dark color, with a lovely nose, fragrant and effusive; the rich black plum and berry bouquet follows through on the palate with a big, earthy anchor, shaded with subtle leather and cocoa as it opens. Kim added impressions of "old leather and a little barnyard," calling it "my kind of wine." Full bodied and well-structured, with drying tannins on the finish, and a little dusty in a good way. A fine California Mourvèdre, with lots of potential for future development.
RG: "This is arguably the most interesting Old Telegram we've made in years. We used a very clever trick, typical in the Veneto, of indoor air-drying grapes for approximately four days, with the aim of lignifying the stems. None of the grapes were destemmed, but were foot-stomped prior to onset of fermentation." Find this wine
This final selection showed up a few days after the others in a separate package, not having been on the original list of wines we were sent, and it may well be my favorite Proper Claret to date.
2014 Bonny Doon Vineyards California "A Proper Claret," 36% Cabernet Sauvignon, 22% Petit Verdot, 22% Tannat, 9% Syrah, 7% Merlot, 3% Cabernet Franc, 1% Petite Sirah, 13.2% alc., $16.00: Clean appealing dark color, with a rich mélange of black and red plums and berries on the nose; the echoing flavors more than live up to those aromatic promises, with a dry, earthy personality. Harmonious and quite enjoyable right now, yet structured for at least a few years in the cellar. I often find wines described as "easy to drink" to be insipid, but this one is just that in the very best sense of the term. Great QPR (quality-price ratio)! Find this wine
Reporting from Day-twah,
Bastardo
Save
Save
Save
Related posts: