March 30th, 2012 |

Author:
George Heritier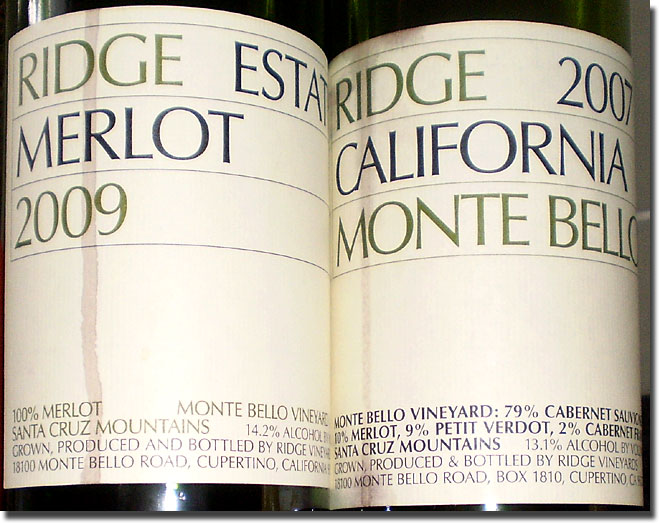 I got a message recently from our good friend
Christina Donley
,
Midwest Regional Sales Representative
for
Ridge Vineyards
, telling me that she was in the neighborhood, wanted to check out
Gomez
at St. Andrews Hall
in Detroit, and asking if I'd like to join her. I've been aware of this Brit band for some years, now, and while I would hardly claim to be a fan, I've always enjoyed everything I heard by them. Heck, they even played
Rothbury
in 2008, so between hearing some good music and hanging out with Christina, this was a win-win kind o' deal! How could I say no?
You can often tell the quality of a band by how loudly the audience sings along with their songs, and the full house was in full throat on this occasion. Gomez was in fine form and a great time was had by all, and I'd go hear these guys anytime they come back in the area. Because she was flying back to the West Coast the following morning, Christina gave me two sample bottles that she'd been pouring for various accounts earlier in the day. I dutifully drove home and poured a glass of each in order to record the following impressions. Like I need an excuse to drink Mr. Ridge…

2009 Ridge Santa Cruz Mountains Estate Merlot Monte Bello Vineyard, 14.2% alc.: Clean dark garnet color, with an effusive nose redolent of sweet oak, lavender, and hints of white chocolate over a solid core of black currants and berries, all of which echoes and expands on the palate. Full bodied and well structured, yet sleek and already accessible in its youth. The nose might lead one to expect that this will taste sweet and ripe, but it finishes totally dry. The oak plays a significant role in its personality now, but should gradually integrate over the next decade or so as it evolves into an even more harmonious glass of wine than it is already. Just released. Find this wine
2007 Ridge Monte Bello Santa Cruz Mountains, 79% Cabernet Sauvignon, 10% Merlot, 9% Petit Verdot, 2% Cabernet Franc, 13.1% alc.: The first thing I notice before even tasting this dark garnet lovely is the alcohol content, 13.1%. How civilized, but then why should I be surprised? The next thing that catches my attention is a good dose of bell pepper on the nose, which takes me a bit by surprise, but it tones down with air in the glass. Some of the same shows on the palate, with a major hit of black currant/cassis picking up the ball and running down the field. Full bodied, well-structured and impeccably balanced, with many years of improvement ahead of it. Very little in the way of what we've come to refer to as "Draper perfume" here, but make no mistake, this is a wine of substance, with great aging potential. I'll be interested in tasting this down the road to see what happens with the bell pepper here; it wasn't at all apparent when we tasted it with Paul Draper a few years ago up on the hill where they do-do the boogie, but then, wines of this caliber have a tendency to go through some interesting changes in the course of their evolution. Find this wine
Many thanks to Christina for the show and the wines! Can't wait to see what kind o' fun we can get into the next time you're in town, darlin'!
Reporting from Day-twah,
geo t.
Related posts: