We've always been upfront about the fact that we receive samples for review from various wineries and importers. These are almost always shipped to us from different parts of the country, and they always go straight down to rest after their journey for at least a week in the infamous "Cellar from Hell," which is now actually much more tidy and organized than when it was given that dubious designation. We don't do clinical tastings when we review wines, we like to evaluate them in natural settings, enjoying them with food and/or friends. There have been more than a few occasions when some of these samples end up spending as long as a few months down there, because we like to wait for the right occasion to pull the cork or twist that stelvin enclosure, but sooner or later, the deed gets done.
Such was the case last week when we enjoyed the following two wines. Both had been sitting patiently for several weeks, when I got it in my head that it might be interesting to open them with dinner and see how they sized up against each other. We're very familiar with Bonny Doon's Le Cigare Blanc and Tablas Creek's Esprit de Tablas Blanc; they're two of the very finest white Rhône blends made in California, and we've had multiple vintages of each. It was a decidedly unscientific setting; the blends were somewhat similar, but from different vintages. We weren't looking for one to show that much better than the other, it was more a case of just wanting to compare them and taste what both had to offer with some good food. (Click images to enlarge.)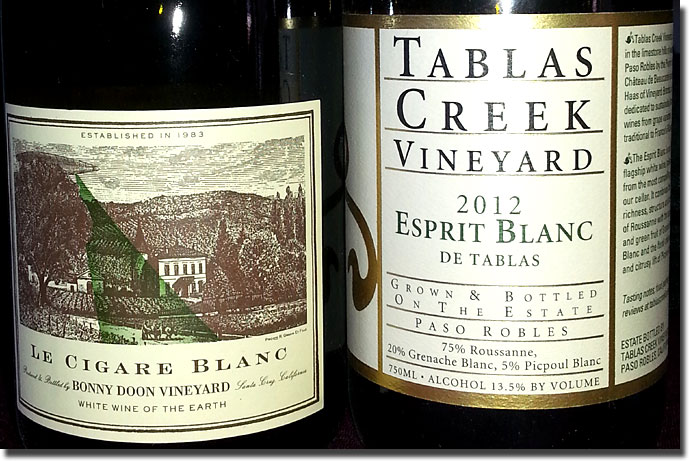 2013 Bonny Doon Le Cigare Blanc Arroyo Seco Beeswax Vineyard, 55% Roussanne, 26% Grenache Blanc, 19% Picpoul Blanc, 14.5% alc., $NA: Clean, medium color, with mineral laced white peach flavors and aromas; full bodied and crisp, with zippy acids, great balance and good length. Rich and satisfying, and if it's less opulent than the Esprit, it's no less enjoyable. The more Euro-styled of the two wines, this has the depth and structure to evolve for 10 years or more. Find this wine
2012 Tablas Creek Vineyard Esprit de Tablas Blanc Paso Robles, 75% Roussanne, 20% Grenache Blanc, 5% Picpoul Blanc, 13.5% Alc., $45.00: Clean color and slightly darker than the Doon; it's denser too, with some viscosity and rich, ripe white peach, apple, pear and a nice herbaceous note, all underscored with minerality that shows most on the finish. Kim observed that this is "much more floral" than Le Cigare, and like that one, it will age and develop effortlessly for a decade or more. 2465 Cases Produced. Find this wine
Both of these wines represent their respective house styles beautifully, and paired so nicely with grilled, smoked chicken. This was a win-win tasting, to be sure.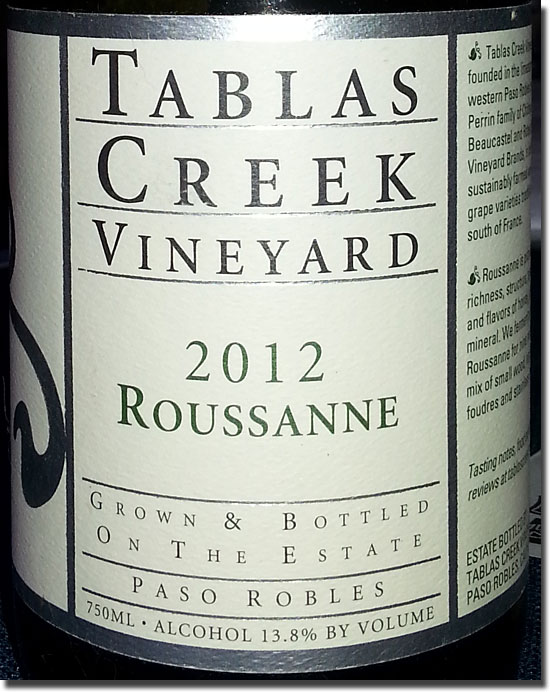 The following three Tablas Creek whites were tasted in late 2014.
2012 Tablas Creek Vineyard Roussanne Paso Robles, 13.8% Alc., $$35.00: Rich, medium color, with equally rich flavors and aromas, very much in the peach spectrum, shaded with a subtle note of lanolin and a hint of mineral. Full bodied and intense, just shy of unctuous and almost creamy, with excellent acids and nice length. This shows lots of aging potential, and probably wants a few years to tone down its youthful rambunctiousness, but there's no denying that it's mighty tasty already.
100% Roussanne, 800 Cases Produced. Find this wine
2013 Tablas Creek Vineyard Côtes de Tablas Blanc Paso Robles, 39% Viognier, 29% Grenache Blanc, 20% Marsanne, 12% Roussanne, 13.5% Alc., $27.00: Clean, medium color, with an even split of citrus and white peach characteristics at first, but the peach comes to the fore as the wine opens and warms in the glass; medium full bodied, with great acids, impeccable balance and perfect ripeness for my tastes. Very much in the house style, and a fine match for braised chicken thighs and kale, potato gratin and squash. 1250 Cases Produced. Find this wine
2013 Tablas Creek Vineyard Patelin de Tablas Blanc Paso Robles, 54% Grenache Blanc, 25% Viognier, 13% Roussanne, 8% Marsanne, 13.2% Alc., $$20.00: Clean, medium color, with peach and citrus aromas that fan out on the palate to offer mineral-laced goodness; as it opens, the citrus takes a back seat to the peachy character. Medium-full-to-full bodied, with ample acids and good length. This is quite enjoyable, and pairs well with grilled cheese on whole grain bread with basil pesto, sliced avocado and arugula.
18% Tablas-clone Viognier from Paso Ridge Vineyard in the limestone-rich El Pomar region of Templeton
17% Viognier from Derby Vineyard
15% Grenache Blanc from Paso Ono Vineyard in El Pomar
12% Grenache Blanc from Coyote Moon Vineyard
10% Marsanne and Roussanne from Cass Vineyard in El Pomar
8% Grenache Blanc from Gravity Hills Vineyard
8% Roussanne and Marsanne from the Tablas Creek cerified organic estate vineyard
6% Tablas-clone Grenache Blanc from Dawson's Creek Vineyard in El Pomar
4% Grenache Blanc from Briarwood Vineyard
1% Tablas-clone Grenache Blanc from Catherine's Vineyard in El Pomar
1% Viognier from the biodynamically-farmed Chequera Vineyard in the cool Templeton Gap
3200 Cases Produced. Find this wine
Reporting from Day-twah,
geo t.
Related posts:
One Response to "White Rhône Rangers from Bonny Doon and Tablas Creek"