May 11th, 2015 |

Author:
George Heritier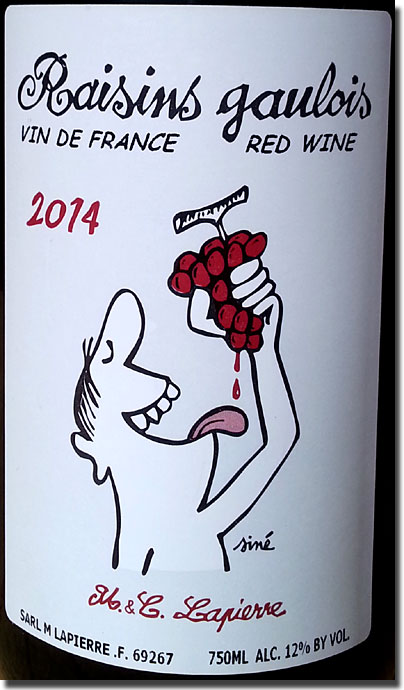 At least a few folks have told me that they've noticed a big uptick in my activities here lately on the Gang of Pour blog, and they would be quite correct. Since late last year and on into 2015, I've been exploring wine with gusto again, sharing my findings here and having a fine time with it all. My infrequent postings over the previous few years had a lot to do with refocusing on my music after a long hiatus, but I think I've figured out how to balance both of these passions, and I really like how things have played out. (Click on image to enlarge.)
Because of all this, I've been actively seeking out new wines to try, and have been delighted by a number of surprises. My favorite of those in the red spectrum is undoubtedly Mathieu Lapierre's Raisins Gaulois, of which I might still be totally unaware, had my buddy Jarred Gild at Ferndale's Western Market not put in in my face (and then in my hand) and told me the back story. (Yes, I've been mentioning Jarred a lot lately, and that's because he's really good at what he does, and he doesn't try to saddle anyone with the same old shit from the usual subjects. Even wine guys like me need a good wine guy occasionally.)
This one is composed almost entirely of relatively young vine cru Morgon Gamay fruit (around 20 years of age, whereas Lapierre's Morgon appellation vines are 60 years or older), augmented with some A.O.C. Beaujolais, all farmed organically. The Beaujolais' governing body decided to do away with the Vin de Pays designation, leaving only the appellations or Vin de France, so there's no in-between.
We had just had Lapierre's delicious 2013 Morgon the week before I first discovered this, and we've had great fondness for previous vintages, such as the 2001, 2008 and 2009, so it wasn't much of a leap to take a flyer on this and taste what it has to offer.
2014 M. Lapierre Raisins Gaulois Vin de France, 12% alc., $14.99: Clean ruby garnet color, with an effusive fruit bowl of a nose, all cherry, cranberry, raspberry and strawberry, following through so nicely on the palate, with subtle earth underneath it all. Medium-medium-full bodied, with lovely texture that's as smooth as that proverbial baby's butt; structured for at least a few years in the cellar, but so lip-smacking good, why wait? This would pair beautifully with the wonderful Pok Pok duck laab with crispy skin that Alan Kerr prepared while he was hanging out with us last month. Just a delightful glass (or three) of wine; drink at cellar temperature, say, around 55 °F, and enjoy it now as the weather warms and throughout the next year or two. Tasted twice with consistent impressions. Find this wine
We already have some of this in our cellar, and I will most certainly be going back for more. Thinking back, I can't help but remember a certain bunch of blowhards on an online wine forum that I once frequented who used to blather on about Gamay being an inferior grape variety. To them I would say, "You can have their over-ripe, over-extracted, over-oaked high octane California Cabs, I'll take little gems like this every day instead."
Reporting from Day-twah,
Bastardo
Related posts:
One Response to "Mostly Morgon"