December 2nd, 2014 |

Author:
George Heritier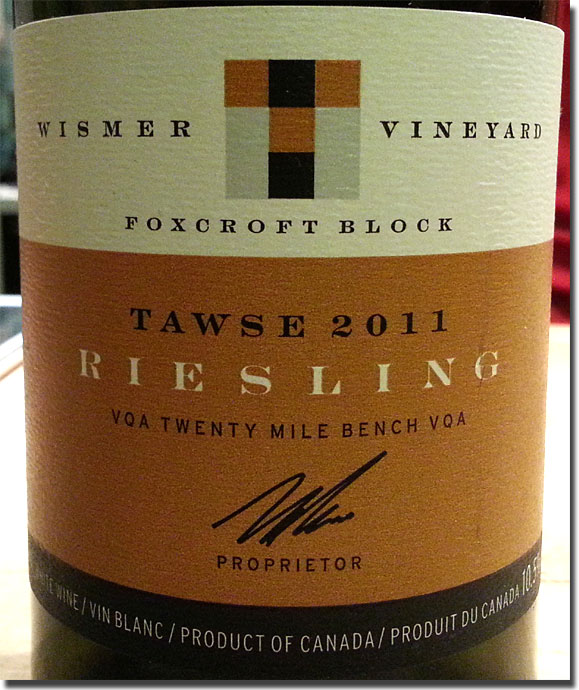 We spent last weekend back on Ontario's Niagara Peninsula, hanging out with our partner in crime, Alan Kerr aka Canadian Zinfan. As you might imagine, there was a lot of good food and wine consumed, and I plan on filing a report in the very near future. The one wine that I simply can't wait to talk about here, however, is the very first that Alan poured for us on Saturday. Tawse Winery, located in Vineland, is on our very short list of favorite Niagara producers, and we never miss the chance to stop in and taste when we're in the neighborhood. Chef Kerr has followed them from the very beginning, and always opens at least one Tawse something or another when we're at Gang Central Niagara. This time, he greeted us with glasses of the following. (Click image to enlarge.)
2011 Tawse Riesling VQA Twenty Mile Bench Wismer Vineyard Foxcroft Block, 10% alc., $24.95 Can.: Clean pale-to-medium color, with a nice note of petrol that drives the aromatics and carries over onto the palate, where it mingles with pure, rich and lovely Riesling fruit, which registers somewhere between off-dry and semi-sweet. Medium bodied, with excellent acids, nice underlying minerality and a long, lingering finish, this is utterly delicious and delightful.
We produce some very fine Riesling here in Michigan, but I've never had one that's as good this; come to think of it, I've had precious few from California this good (only some from Chateau Montelena come to mind), and none from Oregon, Washington or New York, though my experience with the variety from those four states is admittedly somewhat limited. True to our usual m. o., we visited the Tawse facility the day after trying this, and purchased a few bottles to bring back with us; unfortunately, it was the 2012 vintage, as the '11 is sold out. If you're touring Niagara, be sure to stop in and taste the wines. We think you'll be glad you did, and tell them that Gang of Pour sent you. Find this wine
Reporting from Day-twah,
geo t.
Related posts:
4 Responses to "A Tasty Riesling From Tawse"