Jim Lester came to town recently with a batch of his current Wyncroft releases for an informal tasting hosted by Errol and Patty Kovitch. We're always up to try new things from Wyncroft, and so were Jim and Cheryl Brennan, Brad Cook, Eagle Eye Import's president, Jean-Jacques Fertal and the Champagne Warrior himself, Brad Baker. Errol always likes tasting Jim's wines compared to some other quality wines as a benchmark, and while we did just that, there was no actually "judging" to speak of. Wines were simply opened and enjoyed with a variety of cheeses, breads and other delectables for what they are, and by and large, most were very tasty indeed.
As is usually the case, we started off with some whites.
1998 Vincent Girardin Mersault Les Charmes, 13% alc.: The gold color of this one is just starting to show some amber and oxidation which shows on the nose and palate as well, along with notes of old wood and a faint touch of honey. It almost gives the impression of being corked, but there's no TCA here; the wine is well past its prime, although not entirely undrinkable. Jim mentions candied ginger, and while others revisit it later and say that it comes around a bit, it's "No mas" for this taster. Find this wine
Imported by Vineyard Brands, Inc., Birmingham, AL
We brought this next wine back from our visit to the Niagara Peninsula in August of 2008, and thought it would make an interesting comparison of "cold climate" Chardonnays with the Wyncrofts.
2005 Hidden Bench Beamsville Bench Chardonnay Estate, 14% alc.: Clean medium straw in color, with some flint and toasty oak on the nose, following through with a nice ripe core of pear on the palate. Full bodied, but not heavy, with excellent acids. One taster mentions that this "smells like Mersault," but Jim mentions a note of sulfur wick," and suggested that the winery "had some problems with hydrogen sulfide and had to add copper to compensate." He adds a compliment however, calling it "lean and mineral driven," saying that it would pair well with something off the grill. Smoked chicken seems like a good choice to me. Find this wine
Jim offered the following two for comparison, saying that the 2006 was their coolest vintage on record, while 2005 was the warmest, and the differences are apparent.
2006 Wyncroft Lake Michigan Shore Chardonnay Avonlea, 13% alc.: Showing medium straw color, and somewhat reminiscent of lemon custard with nice underlying acidity, this wine is full bodied, yet somewhat lean at the same time, being not as ripe as some, with excellent balance and acidity. Lester says that it bears a striking resemblance to a 1997 Bouchard Corton Charlemagne a friend opened for him recently, adding that his late wife Rae Lee called it "the most classical Chardonnay we've ever made."
2005 Wyncroft Lake Michigan Shore Chardonnay Avonlea, 14.8% alc.: Medium straw to pale gold color, with a rich core of pear accented with butterscotch, some subtle honey, a little bread dough and a hint of morel mushroom on the finish. Full bodied, with slightly lower acidity than the '06 and very nice indeed. Jim calls it his version of Kistler.
2008 Wyncroft Lake Michigan Shore Riesling Avonlea, 13% alc.: Pale to medium straw color, and bone dry, with flavors and aromas of smoky gun flint, mineral, apple, white grapefruit and hard pear; good weight, depth and acids. Lester says that the Riesling in this vineyard ripens at low acidity and pH, which is unusual. Showing great promise now, but needs time. Produced from Austrian clones.
2008 Wyncroft Lake Michigan Shore Riesling Avonlea (Vendange Tardive style), 14.8 % alc. (?): Frozen grapes were picked at Kabinett level sweetness on December 3rd at 28 Brix and fermented to total dryness; medium straw color, with a piney lime nose that follows through in the flavors with nice mineral underneath and white pepper-like tannins. This one really needs time; Jim says that in 10-12 years, it will "turn into honeyed apricot with a dose of petrol."
1972 Mirassou Monterrey Gewurztraminer, 12% alc.: I was very dubious when Errol pulled this one out of his cellar, but it surprised everyone by still being very much alive, if faded. It shows a musty gold-amber color, with some subtle caramel and grapefruit-like flavors and aromas, and Mr. Lester noted a hint of spearmint on the nose. It doesn't have much varietal character any more, but there's still some acidity to keep things moving along. Interesting stuff.
Not surprisingly, Brad Baker, showed up with the following bubbly brought home from his visit with the producer a few summers ago.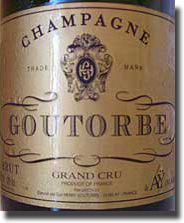 2003 Champagne Goutorbe Grand Cru, 12% alc.: About 80% Pinot Noir, purchased for 17-18 Euros at the domaine. Medium straw color, with ample mousse and a fine active bead; really zippy and active in the mouth, with rich smoky, yeasty under-ripe apple character. Brad says it's lost some of the flabbiness that it showed earlier, and it was well received by all, including Kim, who actually helped herself to a second pour. "We'll make a bubble-head out of her yet," Brad laughed. Find this wine
2006 Jean-Luc Dubois Beaune Bressandes Vieilles Vignes Premier Cru, 13% alc.: Clean ruby garnet color, with a nice, expressive nose of smoky black cherry graced with some subtle floral notes that leads into more of the same in the mouth; nicely balanced, with good presence, depth and structure, being neither too ripe nor austere. Drinking quite well right now. Find this wine
Imported by North Berkeley Imports, Berkeley, CA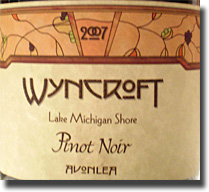 2007 Wyncroft Lake Michigan Shore Pinot Noir Avonlea: Despite Jim's warning that this clean ruby garnet colored wine is "way too young right now," it throws a gorgeous perfume that makes a real style statement with its floral, smoky black cherry personality. No wall flower this; it has very good weight, depth and structure. Jim says to give it 5 years, but it will certainly go for longer than that.
2006 Frederic Magnien Charmes-Chambertin Grand Cru, 13.5% alc.: Clean ruby garnet color, with an earthy, smoky, flinty nose that leads into pretty flavors of smoky plum and black cherry. Medium weight plus, not as big as the Dubois and certainly not as big as the Wyncroft, this one is all about finesse and balance. Very nice. Find this wine
Imported by North Berkeley Imports, Berkeley, CA
2003 Albert Bichot Domaine du Pavillon Pommard Clos des Ursulines, 13% alc.: Clean dark garnet color, with somewhat funky aromatics dominated by flint and earth, and plenty more of the same on the palate. Totally different than the other two Burgundies, much deeper and darker, with a solid core of dark plum and black cherry. Medium full bodied and well structured, this needs time, as much as 5-10 years. Find this wine
Imported by Eagle Eye Imports, Bloomfield Hills, MI
As we were driving home after the tasting, Kim asked me what my "Wine of the Night" was, and this next one could well have been it.
2006 Wyncroft Lake Michigan Shore "Shou" Avonlea, 80% Cabernet Sauvignon, 15% Merlot, 5% Cabernet Franc, 12.5% alc.: Jim says that Rae Lee called this "the most Margaux-like Shou we've made so far." As previously stated, '06 was the coolest vintage on record, so the grapes were picked at 20.5 Brix and soaked on the skins for a month; Lester chapatalized for the first time ever to get this up to 12.5% alc. With clean dark garnet color, it offers a hint of juniper over pretty black currant and blackberry shaded with some cedar; with air, Lester adds impressions of "a little eucalyptus and sourgum molasses sweetness," saying that it should develop some nice cigar box character with time. Rich and deep, young and in need of time, but with the stuffing to age for 10 years, we'll try it again in 2-3 years to see where it's at.
2007 No Label Russian River Valley Syrah: A friend of Jim's sent him this wine from California (3 barrels worth, frozen in 5 gallon containers) to see what he could do with it. The 2-acre property is located high above the valley, situated between Rochioli and Williams Selyam; in the past, the fruit has been sold to Ravenswood. This wine will not carry the Wyncroft label, and will be released in October. The plans are for a continuous succession of vintages to be produced. I got a quick taste of it last month at MoCool, and was able to get a little better read on this occasion, and impressions are consistent.
Not a big Syrah, medium full bodied, but no more, it offers pretty flavors and aromas of floral plum and mullberry accented with some smoke and spice. Structure is more from the acids than tannins, and the wine strikes a nice balance of sweet fruit without being over-ripe or in any way heavy. It'll be very interesting to see how it develops over the next few years and also to see what future vintages produce from this vineyard.
Jim opened a bottle of his 2008 Wyncroft Lake Michigan Shore December Harvest Riesling Wren Song Vineyard that we tasted with him a few months ago and it is every bit as impressive as it was then, if not more so. All I can add from our previous report is that it weighs in at 12% alcohol and that Jim says the fruit produced 90 gallons per ton. The grapes for this wine wine were harvested at the same time as the "Vendange Tardive" Riesling noted above. The separate batches were fermented in decidedly different styles, one dry and one sweet.
1990 Zind Humbrecht Gewurztraminer Alsace Cuvee Christine, 13.5% alc.: Clean gold color, with a somewhat smoky nose; rich and still fairly ripe, with nice mineral, spicy apricot and earthy undertones. Somewhat sweet and savory at the same time, this is one very nice Gewurztraminer. Find this wine
Imported by Naisons Marques & Domaines USA, Inc., Berkeley, CA
Many thanks to Jim for once again opening and sharing his fine wines for us. Thanks also to Errol and Patty for opening their home and to all the participants for their friendship and contributions. This is what wine-geekdom is all about, and it's a gas!
Reporting from Day-twah,
geo t