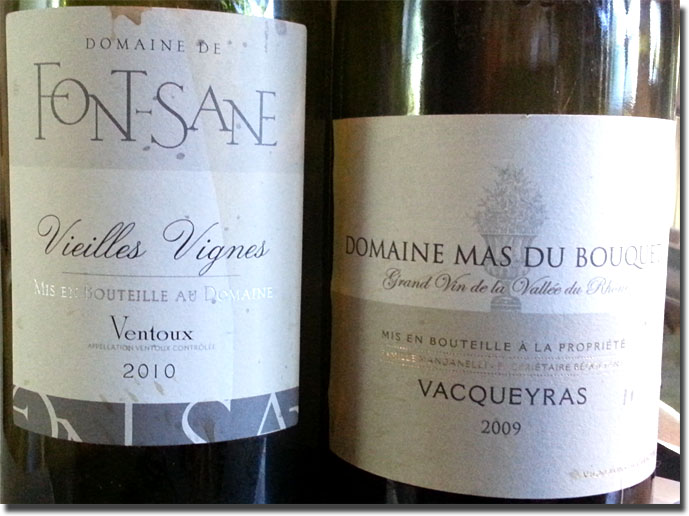 It's no secret that many of our favorite wines come from France's Rhône valley; we enjoy them all year round, winter, spring, summer and fall. I've been compiling various notes on what we've been trying over the past few months in an effort to catch up on my reports, and these six jumped right out at me. They're all really good; some are more ready to drink than others, and a couple of them really want some time. If you see any of them out there, my recommendation is to buy, buy, buy. 'Nuff said; read on, McDuff. (Click images to enlarge.)
2010 Font-Sane Ventoux Vieilles Vignes, 70% Grenache, 30% Syrah, 13.5% alc., $12.99: We've enjoyed this fine producer's Gigondas last June, and also back in 2010, and while this isn't the first time we've had their Ventoux VV, it is the first time I've reviewed it. With clean, dark color, it offers up dog fur and earthy, leathery black fruit that sets the tone for the wine's personality in both flavor and aroma in a way that I find appealing; it also has a slightly sunbaked quality to it that I like. Full bodied and structured for some years in the cellar, this is a solid, more-than-just-serviceable red. Give it some air and it pleases now; give it another three-to-five years in the cellar and it should be even better. Excellent QPR (quality-price-ratio) here. Find this wine
Imported by AHD Vintners, Ltd., Warren, MI


2009 Domaine Mas du Bouquet Vacqueyras, 60% Grenache, 30% Syrah, 10% Mourvedre, 14.5% alc., $19.97: I liked this when I tried it a few years ago, but I didn't get to spend much time with it. It's come along nicely in the intervening time, and in a nice drinking window right now. It shows clean dark color, and delivers earth, leather and black fruit character shaded with something like cocoa, but not in a new world style; call it a saddle leather-cocoa, if you will. Full bodied, with good structure and nice length, this is a pleasure to sip whilst watching Red Wings' hockey. Find this wine
Imported by AHD Vintners, Ltd., Warren, MI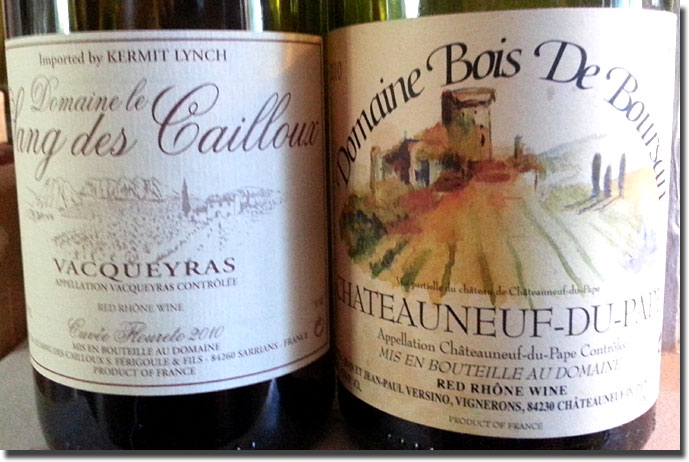 2010 Domaine le Sang des Cailloux Vacqueyras Cuvée Floureto, 70% Grenache, 20% Syrah, 10% Mourvedre and Cinsault, 14% alc., $33.99: It's been quite a while since I've had anything from this producer, which used to be a favorite of mine; my last review appears to have been in April of 2008. Like with many other Rhônes, prices have risen, and I tend to seek more moderately tariffed wines, but I got a hankering to see what was happening with the domaine, and I was quite pleased with this particular bottle. A deep purple garnet in color, this exudes rich earthy black plum aromatics that echo and expand on the palate with added briar-bramble and a hint of cocoa in support. Big and brawny, yet quite approachable with an hour in a decanter. In the latest Kermit Lynch mailer, Dixon Brooke states that these have become "fresher and easier to drink" since Serge Férigoule quietly switched to biodynamic agriculture, and this one would seem to bear that out. A delicious wine, very much in the house style that I remember and love and it has many years of improvement ahead of it. Find this wine
Imported by Kermit Lynch Wine Merchant, Berkeley, CA

2010 Domaine Bois de Boursan Châteauneuf-du-Pape, 70% Grenache, 10% Syrah, 10% Mourvèdre, 10% other varieties, 14.5% alc., about $40-45: Another favorite producer that we enjoy on a bit more regular basis; we still have some older vintages lurking down in the cellar from hell, but I thought I'd see what the current vintage had to offer. Clean and dark in color; big, dense and obviously just a baby, it's all earth, iron and briar-bramble dominating the solid core of black fruit at this point. With extended air, it starts to show that Jean-Paul Versino signature that I so enjoy, but, really, let this baby sleep for a while, because it's a 10-15 year wine, minimum. Find this wine
Imported by J et R Selections, Bloomfield Hills, MI
The final two selections provided great values in Châteauneuf-du-Pape. We picked up the first whilst visiting Alan Kerr aka Canadian Zinfan in St. Catherines, ON, last summer; it was on closeout pricing at the local LCBO outlet. We found the second at our friendly neighborhood Costco. I thought it would be interesting to compare them, and here's what I found.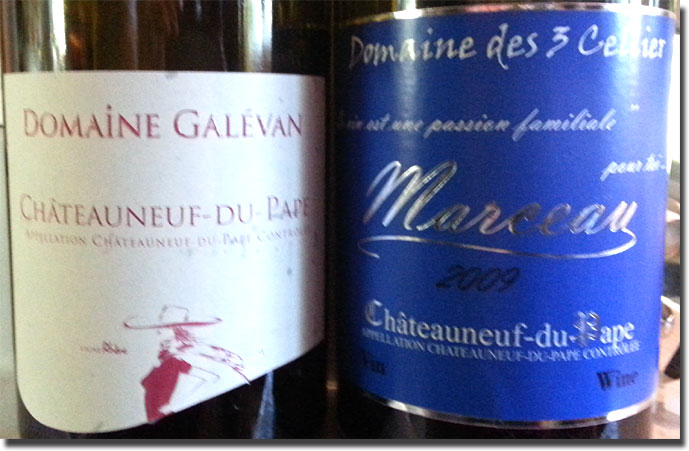 2009 Domaine des 3 Cellier Châteauneuf-du-Pape Marceau, 14.9% alc., $25.99 Can.: Chef Kerr opened one of these for us during our visit, so we bought up what was left between us. Hopefully, he has another waiting for our next visit, because this really is delightful. Smoky dark garnet in color, with smoky black fruit and iron on the nose that follows through very nicely on the palate, fleshing out to reveal earthy black plum, blackberry and black currant; the iron element is beautifully integrated into the greater whole of the wine. Full bodied, well-structured, with very nice length and drinking so well with very little air. Sure to get better, so if you have some, or find some, drink or hold. Yummy stuff, for sure! Close to equal parts Grenache, Syrah and Mourvedre, with a splash of Vaccarese; aged 20% in barrique, with the remainder in foudre. Find this wine

2010 Domaine Galevan Châteauneuf-du-Pape, 90% Grenache, 10% Mourvedre, 14.5% alc., $27.99: Deep, dark garnet; not as exuberant on the nose as the Domaine des 3 Cellier, giving some subtle floral and cocoa nuances over black fruit. On the palate, there's rich flavors of earthy black plum, blackberry and the aforementioned note of cocoa. Full bodied and very well-structured for many years in the cellar; tannins clamp down some on the finish. More than drinkable, especially with extended air, but the best days are well ahead for this one, as it's not close to being in the same drinking window as the previous wine. Find this wine
Imported by Misa Imports, Ltd., Dallas, TX
Reporting from Day-twah,
geo t.
Related posts:
2 Responses to "Recent Red Rhônes for Red Wings and Other Delights"