We've crossed paths with some very nice wines from the non-interventionist Loire Valley producer Clos Roche Blanche a time or two, but never paid them as much attention as we should have. This point was driven home a few weeks ago, when my buddy Jarred informed me that two of the wines I had in my cart (noted below) were from Didier Barrouillet and Catherine Roussel's last vintage, 2014. The vineyards are sold, they have retired, and why in the hell didn't I get to know their wares better when I had the chance? My bad.
The very short Clos Roche Blanche story is that that Catherine Roussel had owned and operated this estate since in 1975, having taken over from her father, and was later joined by Barrouillet, who tended the vineyards and made the wine. Both were and still are enthusiastic proponents of non-interventionist winemaking. Now, they just want to do whatever they want, instead of being tied down by the duties of the estate. You can read more about what they did here, and at this link to a worthwhile blog entry about a visit to the estate late in the game.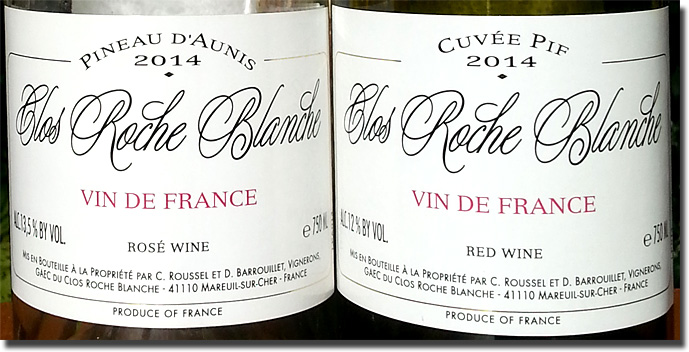 The first three wines are labeled as Vin de France rather than Touraine because, apparently, they wanted to make a statement with their final efforts about not bothering to endure the usual hassles from the appellation.
2014 Clos Roche Blanche Pineau d'Aunis Rosé Vin de France, 13.5% alc., $21.99: Pale salmon pink in color; with my first sip, the racy acids almost give the impression of effervescence, but it is not pétillant, of course. Slightly musky on the nose, along with evident minerality, leading to a decidedly mineral-driven peach, strawberry and cherry flavor profile. With a little air, it reveals a very subtle hint of something like petrol. No lightweight, this, it has some weight and density to it, being earthy, food friendly and oh-so-drinkable for old world wine geeks such as ourselves. You can taste where this wine came from. Find this wine
2013 Clos Roche Blanche Pif Vin de France, 12% alc., $21.99: Clean and dark in color, showing a pretty, almost perfumed nose of rich red and black fruit with some earth underneath; more earth on the palate, with that same rich red and black fruit profile that, with air, takes on a black cherry cough drop character. (On the 2nd day, Kim noted elements of tar and charcoal.) A bigger wine than the listed 12% alcohol might suggest, this is full bodied and structured for several years in the cellar. While the tannins clamp down on the finish, and this really wants some time to settle down, there's so much rich fruit, it's easy to like already, especially with grilled red meats. A blend of Cabernet Franc and Côt (Malbec), named from Catherine's dog Pif who passed away in August 2014. Find this wine
2014 Clos Roche Blanche Sauvignon No. 2 Vin de France, 13.5% alc., $21.99: Clean medium straw color; rich and intense, with green apple, green melon and mineral flavors and aromas, shaded with some mineral, a hint o' lime and an herbal undertone that adds to the appeal. Medium-full bodied, with a nice density to it, lively acids and good length. I like this a lot, and have purchased more accordingly. Find this wine
This last one had sat patiently in our cellar for a couple of years, just waiting for me to find a reason to open it and I finally did for reasons of comparison.
2011 Clos Roche Blanche Sauvignon No. 2 Touraine, 12.5% alc., $18.99: Either this has really come around since the last time we had it a few years ago, or we had an off bottle at that time (I have friends who might have described it as "swamp water" then); I'm inclined to think it just needed some cellaring. Clean, medium color, with a little bit o' funk on the nose (but in a good way); mineral-driven, with a rich, intense core of fruit similar to the 2014, all green melon, green apple, mineral and a little lime. Medium-full bodied, with racy acidity and very good length, and as it warms in the glass, it reveals more of the earthy quality it showed two years ago, now balanced by the rich fruit. Lots of pleasure here, I wish I had more. Find this wine
Reporting from Day-twah,
Bastardo
Related posts:
2 Responses to "Parting Gifts From Clos Roche Blanche"