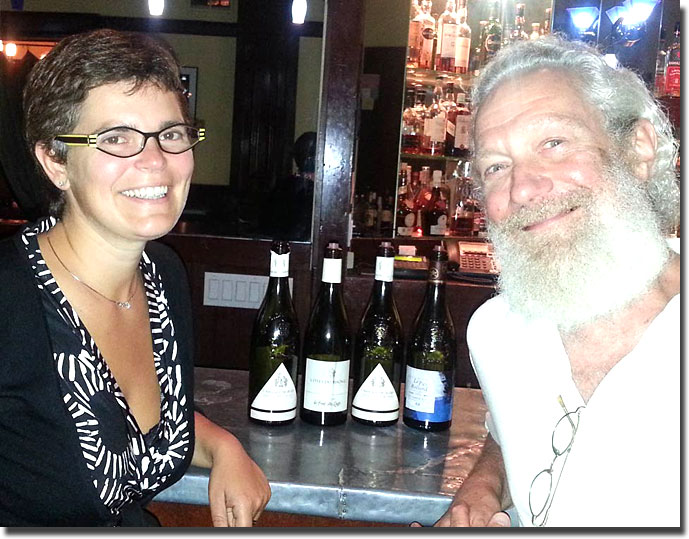 Anne Charlotte Melia-Bachas (shown on the right with this taster; click on images to enlarge) came to town last week to promote the wines of her estate in Chateauneuf du Pape, Chateau de la Font du Loup. We first met Anne Charlotte in 2010, at a wine luncheon presented by Font du Loup's regional distributor and importer, AHD Vintners. We were charmed by both her and the wines, and I took great delight in renewing acquaintances with her and meeting her husband, Font du Loup co-owner and winemaker Laurent Bachas.
So, when AHD Sales Rep Extraordinaire Michelle DeHayes invited Kim and me to join her and Anne Charlotte for dinner, we didn't hesitate to accept. We convened at Cuisine, in Detroit's New Center area. The food was quite good, and we were were pleased that Chef Paul Grosz joined us to taste through the wines; he seemed just as impressed with them as we were. Anne Charlotte herself is unabashed about liking her wines, and why not? I've never tasted anything from this estate that wasn't excellent. Here's what we tasted.

2012 Chateau de la Font du Loup Chateauneuf du Pape Blanc, 40% Grenache Blanc, 30% Roussanne, 20% Clairette and 10% Bourboulenc, 13.5% alc., $48.99: This lovely white blend is almost as nice to look at as it is to smell and taste, showing a brilliant, clean medium color. It exudes an almost floral white tree fruit bouquet, following through on the palate where it fleshes out with white peach, lanolin and mineral. Chef Paul added an impression of honey residual, but Anne Charlotte says that the wine has no RS, and that this is a property of the Grenache Blanc. Full bodied, with racy acidity and very good length, this is a lovely wine to drink already, but has an aging potential of 15-20 years or more. Anne Charlotte told us of an '85 Font du Loup Blanc tasted last year that was "wonderful." Based on this one, I do not doubt her in the least. 300 cased produced. Find this wine
2012 Chateau de la Font du Loup Côtes du Rhône, 50% Grenache, 50% Syrah, 15% alc., $17.99: A new addition to the Font du Loup lineup, the fruit for this is sourced from a rented parcel with 50-year old vines, owned by an old friend of the family, now retired. Made to be an easy drinker, it exhibits clean dark color, and animal/dog fur on the nose. In the mouth, it's all earthy black plum and berry, with the rich fruit and earth playing counterpoint, and a savory quality on top of all that. 500 cased produced. Find this wine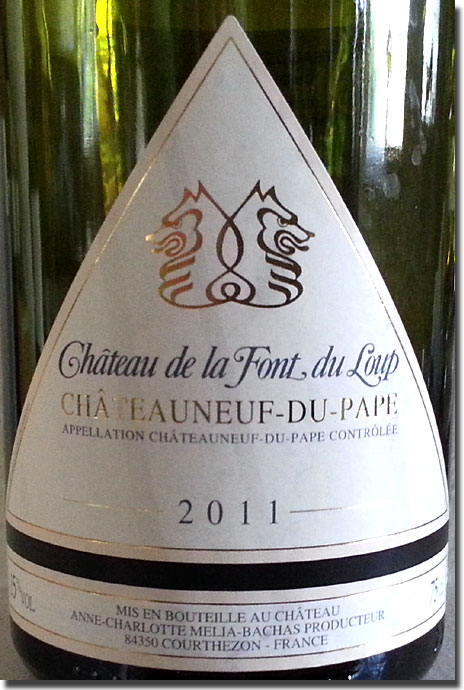 2011 Chateau de la Font du Loup Chateauneuf du Pape, 65% Grenache, 20% Syrah, 10% Mourvedre, 5% Cinsault , 14.5% alc., $37.99: Clean, dark color, with rosemary and lavender overtones to the rich red and black plum and berry flavors and aromas, along with some nice earth lurking underneath. Full bodied, with very nice length; the very smooth structure belies the ample structure for several years in the cellar. Delicate, elegant and lovely; Chef Paul nailed this when he called it "a great food wine." Find this wine
2011 Chateau de la Font du Loup Chateauneuf du Pape Le Puy-Roland, 14.5% alc., $45.99: The single vineyard Le Puy-Roland cuvée is produced from 100% Grenache; the vines are 100 years old. This one is just a bit lighter in color than the regular Chateauneuf du Pape, and it offers rich, red and black plum and berry tinged with a note of iron and the requisite earthy anchor. Rich, and absolutely delicious, full bodied, yet smooth and svelte, this too can age for several years, yet drinks very well now. Both CdPs like some time in a decanter to show their best at this point. 750 cases produced. Find this wine
We also selected a wine off Cuisine's list, and given that the choice was left up to me, I went with (surprise!) something from our old friend, Mr. Ridge.
2010 Ridge Sonoma Three Valleys, 72% zinfandel, 12% Carignane, 12% Petite Sirah, 2% Syrah, 1% Grenache, 1% Alicante Bouschet, 14.4% alc.: This retails in the low $20s in the Detroit market; on the list, it was in the high $30s. With clean, dark color, it offered generous amounts of rich, lovely Draper perfume, following through on the palate with a beguiling mélange of raspberry compote and black raspberry. Kim commened, So jammy," and Anne Charlotte added, "Strawberry, strawberry, strawberry!" Smooth, rich and fairly dense; full bodied, svelte and structured for at least 5-8 years in the cellar, but a delight to drink right now. Find this wine
The two Chateauneuf du Papes paired especially well with my order of Cuisine's excellent New Zealand venison medallions, but frankly, everything we tasted on this occasion was delightful. Many thanks to Michelle, Anne Charlotte and AHD Vintners for a fine evening indeed. As always, we're looking forward to Anne Charlotte's next visit!
Reporting from Day-twah,
geo t.
Related posts:
One Response to "Chateau de la Font du Loup Redux"