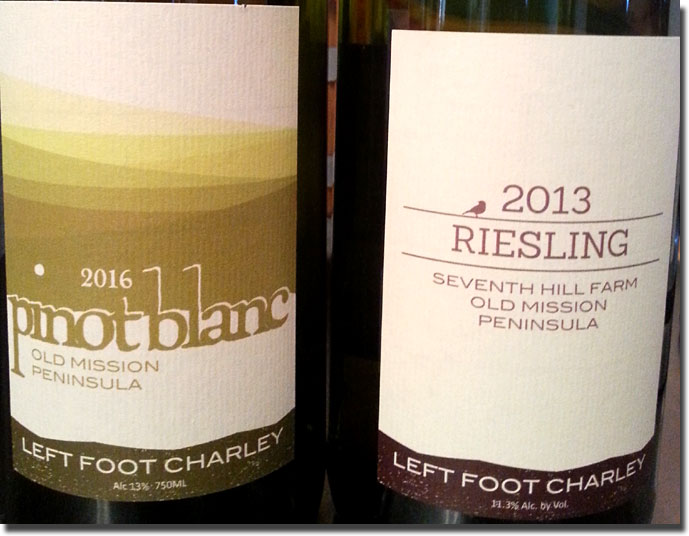 It's always a treat to get the first taste of new releases from our favorite producers, be they bold Zins from California, brawny blends from the Rhone Valley and, yes, crisp whites from Michigan. We've followed Bryan Ulbrich's Left Foot Charley up in Traverse City from their inception, and they have consistently remained at the top of our short list of preferred producers from "the mitten." We got our first taste of these two noted here at the recent Michigan Wine Showcase in Day-twah, and while we liked what we tasted, we didn't get the opportunity to spend a little time with them to get to know them better. I'm happy to announce that they are now available at Michigan By The Bottle Tasting Room in Auburn Hills and Holiday Market in Royal Oak, where I picked up the bottles reviewed here.
LFC's Island View Vineyard Pinot Blanc has been one of our two or three favorite Michigan wines since we first tasted the '06 from tank back in 2007, and we bought every vintage in quantities until 2015. That was when Ulbrich was unable to bottle from this site exclusively, because of seriously lower yields, due to the brutal winter of 2013-14. His solution was to combine what could be harvested from Island View with two adjacent Pinot Blanc plots and come up with a very good 2014 "Island View Corner" bottling that would seem to have given him the idea that there might be enough good fruit to be had from other vineyards to create a second LFC Pinot Blanc, once the original plot had recovered to once again make the single vineyard bottling. That time has come, and here's what he came up with.
2016 Left Foot Charley Pinot Blanc Old Mission Peninsula, 13% alc., $17.99: Clean, medium color, with a pleasantly inviting nose of green apple and citrus; flavors echo, being a little tart on the tongue, with some underlying mineral and a very subtle herbaceous quality. Medium body, with great acids and good length, this is the kind of dry white that I like to drink, and really has me itching to try the soon-to-be-released 2016 LFC Island View Pinot Blanc.
LFC: "This Pinot Blanc is a blend of three excellent young vineyard sites on Old Mission Peninsula. We fermented each lot independently to get a feel for their respective terroir contributions. Each was fermented in stainless steel. The three work very well to bring a complement of fresh apple and pear qualities with a firm but well layered palate. We expect this Pinot Blanc to develop more complexity in the bottle over the next two years." Find this wine
Bryan Ulbrich LOVES Riesling, and it shows in each and every bottling his urban winery has produced since its inception. My personal favorite is the Seventh Hill Farm.
2013 Left Foot Charley Seventh Hill Farm Riesling Old Mission Peninsula, 11.3% alc., $19.99: Pale in color, with no floaties of any kind; the pleasant, if not overly effusive nose offers not-quite-equal parts citrus mineral and petrol. Things pick up nicely on the palate with rich medium-dry Riesling character, and the slightly oily texture makes this seem a little more than medium bodied, with racy acids and good length on the finish. I was wondering how this might compare with the brilliant 2012 Seventh Hill Farm Riesling, but that one set a mighty high bar, so this one will have to settle for being "merely" really tasty, and cellar time is likely to allow it to evolve into something even better.
LFC: "We took a very relaxed approach with this Riesling in 2013 and it has been aging in our cellar for two years in the bottle. The vintage delivered an edge that needed to be softened. We let this part of the vineyard ride a very slow fermentation throughout the stillness of winter and spring. The long aging with the yeast gave the wine a rounded counterpart to the fruity acid. It's different than any Riesling we have made from this site. Rather like nectarine jam over a soft English muffin – no butter of course."
Find this wine
I'll be going back for more of these little lovelies, both of which are very food friendly, and a delight to serve as both aperitifs and back deck sippers.
Reporting from Day-twah,
Bastardo
Related posts: