Tom Mortimer, co-owner the Willamette Valley Pinot Noir producer Le Cadeau is a self-described "wine geek." In 1997, he and his wife Deb purchased 28 acres in the Willamette Valley on a high-elevation volcanic basalt hillside. They took two years to clear the land and, in 1999, planted the first in a succession of vineyard blocks, to a variety of Pinot Noir clones, with the first wines being produced in 2002. Tom describes Le Cadeau as "a winemaker-designated vineyard;" each of the top four bottlings is made by a different person. Mortimer explains that he has a lot of friends in the business, but they're all very busy, so it's all just sort of worked out for the best this way. There is also turnover occasionally; earlier vintages of the wines were made by the likes of Harry Peterson-Nedry, Cheryl Francis and Sam Tannahill and Tony Rynders.  (click images to enlarge)
I had the opportunity to taste through the lineup of current releases from Le Cadeau with Tom this week, and I must say, I was impressed with them all. Mortimer is on a promotional tour of Michigan and stopped by with his local distributor, Jean-Jacques Fertal, of Eagle Eye Imports.
The wines all show a clean, ruby color, but beyond that, characteristics diverge somewhat. Prices listed are standard retail markups on special pricing being offered while Tom is in the neighborhood. We tasted through them rather quickly, as is necessary under such circumstances, but I was able to record these snapshot impressions.
2008 Le Cadeau Willamette Valley Pinot Noir Rocheux, 13.9% alc., $49.99: Exudes a pretty, perfumed black cherry nose shaded with hints of earth and tar, turning earthier on the palate. Medium-to-medium full bodied and well-structured for several years in the cellar. When I mentioned to Tom that I really like the minerality in this, he observed that "the vineyard is a little more Italian in demeanor" than most in the Willamette Valley. The wine was made by Jacqueline Yoakum, currently the consulting winemaker for Keller in CA; she previously worked as Ted Lemon's assistant at Littorai. Find this wine
2008 Le Cadeau Willamette Valley Pinot Noir Côte Est, 13.9% alc., $49.99: Showing a bit more pure black cherry fruit and a little less mineral than the Rocheux; medium-to-medium full bodied and while structured for some years in the cellar, it is quite approachable now. Drink or hold. Made by Steve Ryan, the original winemaker for Martinelli who is now focused on biodynamic winemaking in Hopland (Mendocino), CA. Find this wine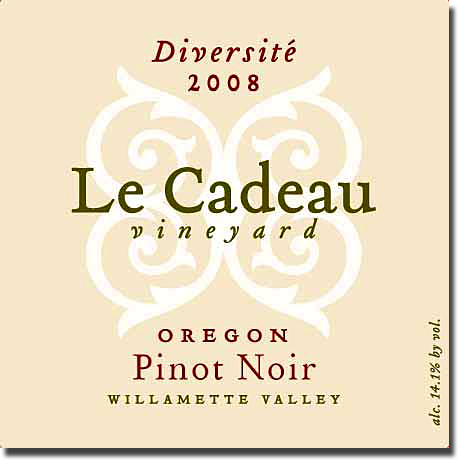 2008 Le Cadeau Willamette Valley Pinot Noir Diversité, 14.1% alc., $49.99: Mortimer describes this as "gamy," and "a little wilder" than the others, and perhaps that has something to do with the fact that it's the only wine in this group that is unfiltered. It throws a smoky black cherry nose accented with hints of toast and coffee. Flavors echo loudly on a medium-full bodied frame; it's well-structured, with good length on the finish. The chewiest wine of the bunch, and my favorite for the wild streak that it demonstrates. Drink now if, like me, you like this kind of aggressive Pinot Noir, or lay it down in the cellar for several years. Made by Scott Shull, owner and winemaker for Raptor Ridge. Find this wine
2008 Le Cadeau Willamette Valley Pinot Noir Équinoxe, 14.1% alc., $49.99: Pretty flavors and aromas of cherry and black cherry shaded with hints of earth, smoke and toast. Medium-to-medium full bodied, with very good structure for aging, yet quite approachable now. Made by Jim Sanders, who, with his wife, Kristin, lived at Beaux Freres where he learned winemaking from friend and mentor, Mike Etzel. Find this wine
2008 Joleté Willamette Valley Pinot Noir, 13.5% alc., $27.99: The only wine made from non-estate fruit, and therefore bottled under a different label. It shows nice black cherry character, with earth, toast and smoke in support; medium bodied, with decent structure and good length, and while not as substantial as the first four, is quite nice on its own terms. Find this wine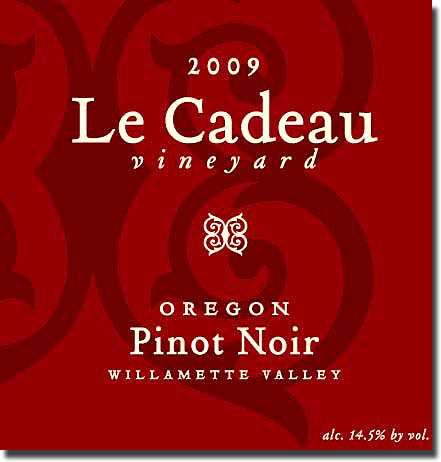 2009 Le Cadeau Willamette Valley Pinot Noir Red Label, 14.5% alc., $37.99: The Red Label Pinot is comprised of grapes that don't make it into the other four estate bottlings; this vintage came primarily from the Équinoxe lot and was made by Jim Sanders. Nice black cherry flavors and aromas are supported with subtle shades of earth, smoke and briar; medium bodied, with medium structure and length, this is a pretty wine that is easy to drink and enjoy, providing an intermediate point in price and depth between the Joleté and the four winemaker-designates. Find this wine
An interesting perspective was given when one of the tasters in attendance asked why not make just one wine instead of the separate bottlings. In response, Tom poured equal parts of the estate wines in a glass, swirled for a minute or so and then gave us a taste. While pleasant, and indeed, tasty, it had become somewhat homogenized and less than the sum of its parts, losing distinctive characteristics that made each individual so appealing. He went on to explain that making just one wine would be easier, but wouldn't cut his costs and he much prefers to do it this way.
I enjoyed meeting and speaking with Mr. Mortimer, and find much to admire in Le Cadeau. I'd have no qualms about pouring any of them for guests in our home, and as noted, would especially like to get to know that Diversité more intimately.
Reporting from Day-twah,
geo t.
Related posts: