February 17th, 2015 |

Author:
George Heritier
Despite the fact that we both love fine wines of almost every kind, Kim and I have something of a disconnect when it comes to bubbly. I love them, while she can take them or leave them. Because of this, when a cork is pulled from a sparkler on any given occasion, she may have a glass, or opt for a still wine instead, so that the bubble-heads have more to enjoy. I mention this only because such was decidedly not the case with one of the two wines in this report.
I'm of the opinion that sparkling wine is not just for celebrations, but rather, they fit almost any occasion, much like most fine wines. I enjoy them at least twice a week, often more, and until very recently, my go to every day sparkler has been the Mionetto Prosecco, which I've been buying at our local Costco since 2009, for $9.99. It has remained remarkably consistent since then, and while I still enjoy it, I've found two selections from the Trentino producer Rotari that I like even more, and both are every bit as well-priced. (Click image to enlarge.)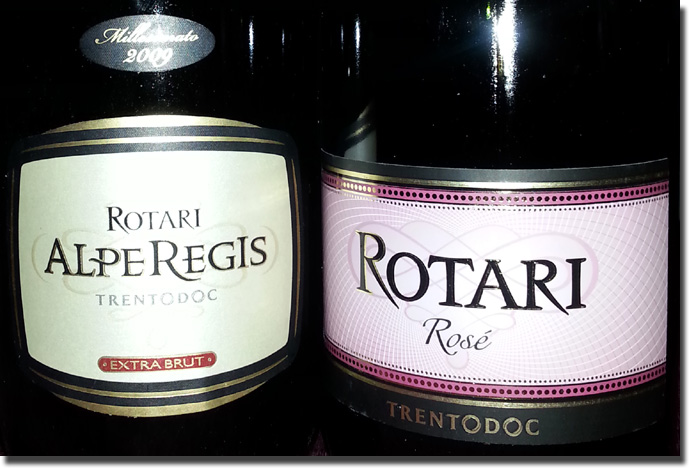 Named after the legendary Longobard King Rotari, this producer's 6,000 acres of vineyards and state of the art winery are located in the heart of the Dolomites, at the foothills of the Italian Alps. All of the wines are made with the Metodo Classico, employing the classic second fermentation in the bottle, with aging on the lees for a minimum period of 24 months. (The aging room located in the heart of the winery contains over 8 million bottles.) Only Chardonnay and Pinot Noir are grown to produce these wines, and, given the price of these two, the quality is exceptional.
2009 Rotari AlpeRegis Trento Extra Brut, 100% Chardonnay, 12.5% alc., $12.99: Pale gold in color, with a very active bead and ample mousse. Flavors and aromas of golden delicious apples, toasty bread dough and subtle mineral are both intense and satisfying. Medium-full bodied, with zippy acids and good length, this works well with a wide variety of foods, and I like sipping it all by its lonesome, as I'm doing whilst transcribing these notes. Extra Brut refers to the driest classification of sparkling wines, but this is by no means austere; it's loaded with flavor and ranks as a serious QPR (Quality-Price-Ratio) All-Star in my book. The only food pairing I've tried with this so far is Kettle Brand Organic Salt & Fresh Ground Pepper Potato Chips, and the two go great together. I picked up the last two bottles at our neighborhood Costco last week, so it remains to be seen if these were on hand for the holidays only, or if more will be coming in. Find this wine
Rotari Brut Rosé Trento NV, 75% Pinot Noir, 25% Chardonnay, 12.5% alc., $9.99: Salmon pink in color, and again, this features a very active bead and ample mousse, with flavors and aromas of cherry, mineral and yeasty bread dough. Medium-full bodied, with excellent acids and good length, this has supplanted the Mionetto Prosecco as my every day sparkler, and was a big hit at the Christmas Day brunch at the home of our good friends Martha and Gary Shea; even Kim was impressed with it! I should go back and buy every bottle they have left, in case the supply runs dry. I'd love it if this remains in stock for as long as the Mionetto has, but I know that I can't necessarily count on that, and at this price, I want more. Lots more. Find this wine
Reporting from Day-twah,
geo t.
Related posts:
One Response to "Two Great QPR Sparklers From Rotari"