June 27th, 2013 |

Author:
George Heritier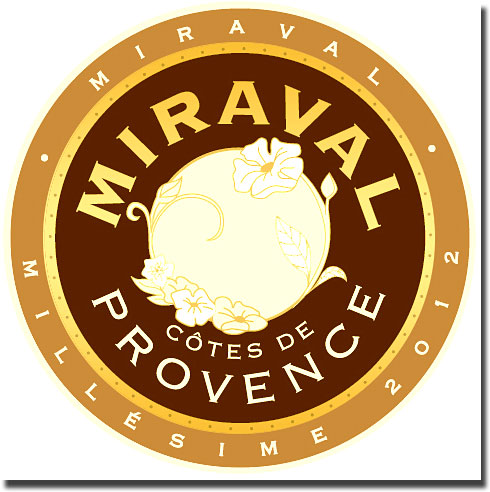 After enjoying a wonderful retreat at the 6th Annual Above the Bridge Songwriters Weekend, it was something of a relief to return home on Sunday, if only because it had been the third straight weekend I'd been on the road with music-related activities. Kim and I celebrated simply by sharing a few glasses of a delightful new rosé from Provence. What makes this wine particularly interesting is that it is a collaborative effort from what at first seems the unlikely team of Brad Pitt, Angelina Jolie and the Perrin family, of Chateau Beaucastel fame.
Château Miraval is located in the ancient village of Correns, described in the Vineyard Brands brand sheet as "the first organic village in France." The estate is comprised of 500 hectares in the heart of Provence, at an altitude of about 350 meters, with ancient woods, olive trees, vineyards, wildlife and an abundant water supply on the property. Jazz pianist and composer Jacques Loussier bought Château Miraval in 1970; he built a recording studio, Le Studio de Miraval, where artists such as Pink Floyd, Sting, Sade, The Cranberries and The Gipsy Kings recorded. Now, Brad Pitt and Angelina Jolie have established a summer residence at the Château, and have made it a place dedicated to the arts, including music, cinema, theater, local food and fine wine. I am told that Pitt has taken a very hands-on approach in the production of this wine; whatever his input may actually be, this stuff is quite delicious.
2012 Miraval Côtes de Provence Rosé, 13% alc., $22.97 (Vineyard Brands, Inc., which imports this, lists an SRP of $25): Pale salmon pink in color, with inviting, mineral driven watermelon and strawberry flavors and aromas shaded with a subtle herbaceous note. Medium-to-medium-full bodied, with great presence and balance, and very good length on the finish. We drink a lot of dry rosé at our house, and this is as fine as, if not better than anything we've had this year, and probably last year as well. The striking bottle design makes for an especially attractive package. More please! Find this wine
Plum Market has Miraval Côtes de Provence Rosé exclusively in the metro Detroit-Ann Arbor area through August, while supplies last. For more recent notes on excellent dry rosés, click here.
Reporting from Day-twah,
geo t.
Related posts:
One Response to "Bottled by Jolie-Pitt and Perrin"