November 22nd, 2017 |

Author:
George Heritier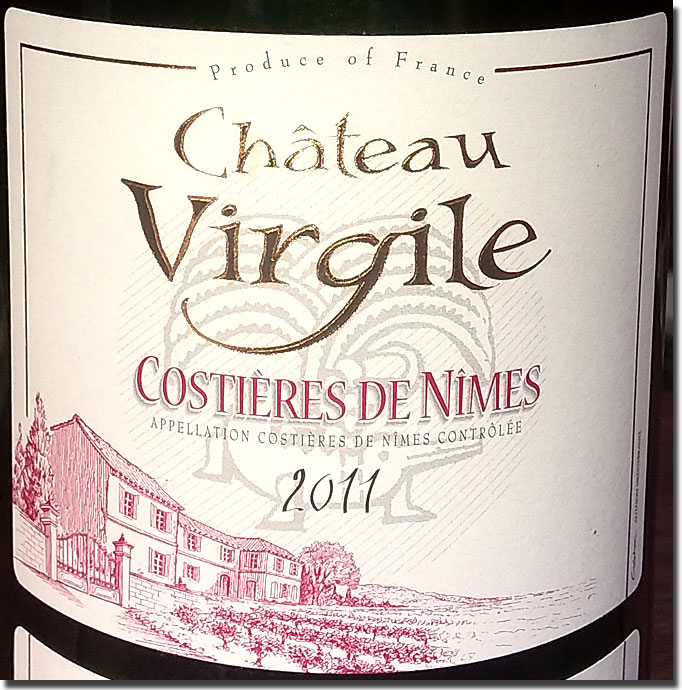 2011 Chateau Virgile Costiere de Nimes Rouge, 60% Syrah, 30% Grenache, 10% Mourvèdre, 14% alc., $12.99: I picked 6 of these puppies up back in the spring of '14. We would have been wiser to try 1 and cellar the other 5, but we were tannin pigs and sucked 3 of them down right away before I did the right thing. I indulged in my first Red Wings and Red Rhônes night of the 2017-18 NHL season last week by digging one of them out a few nights ago, and I'm happy to report that it's coming around nicely after 2 ½ years.
It's mostly as I remember it; big, brawny and earthy, with a barnyard nose and a deep core of black plums, berries and currants, all shaded with a note of iron. There even seems to be a little bit of leather just starting to develop, always a good thing in my book. The obvious difference is that the significant tannins and almost searing acidity has toned down enough to make this a nice glass of wine as soon as it's poured from the bottle, without the benefit of any aeration. As you'd expect, it opens even more with air, and while I didn't try it with food this time out, it is most definitely a grilled red meat kind o' wine.
This isn't close to being at its best; it has many years of development and improvement ahead of it. I'll wait at least another couple of years before I open one of the two left to see where it's at. Pretty damned good stuff for $12.99, this is indeed a QPR All-Star. If you can still find it out there, buy all they have, and save a few for Kim and me. If you can't find this particular vintage, try anything you CAN find from them, they have a fine track record for producing very good reds, whites and rosés. Find this wine
Imported by United Estates Wine Imports, Ltd., Columbus, OH
Reporting from Day-twah,
Bastardo
Save
Save
Related posts: