December 14th, 2009 |

Author:
George Heritier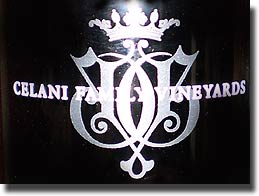 I've never been one of those wine lovers who worships at the shrine of Napa Cabernet, but that doesn't mean that I summarily dismiss them either. While too many can be ultra-ripe, over-oaked monstrosities that may show well in blind tastings and score big points with critics (just don't try to have one with food), there are exceptions, such as the 2 from Cornerstone Cellars we tried not long ago. I happened upon another one last weekend, and liked it so well, I brought one home.
Our friends at Cloverleaf Fine Wine in Royal Oak were hosting Tom Celani, of Celani Family Vineyards in Napa Valley, to talk about his wines, sign and sell bottles of his Cabernet, and in at least one case, take part in a short video interview (below). Celani is a successful Detroit area businessman and philanthropist who, in 2005, fell in love with a Napa Valley Tuscan-style estate, now called Celani Family Vineyards and went into the business with the intention of making "the best wine in the world….period." I would not presume to suggest that Celani has achieved such a lofty goal, but the reviews have been very good, and again, I was smitten with the one that we tasted.
Celani Family Vineyards produces an Estate Chardonnay, a Cabernet Sauvignon, the Vincenza Rosé made from Cabernet Sauvignon, the Tenacious proprietary red blend and the prestige Cabernet Sauvignon Ardore. Only the Chardonnay and Cabernet Sauvignon appeared to be in the queue for tasting on this occasion, but because we were somewhat pressed for time, we never got to try the white. Celani President Gary Burkart poured us a glass of the Cab, and here are my impressions.
2006 Celani Family Vineyards Napa Cabernet Sauvignon, 90% Cabernet Sauvignon, 5% Petit Verdot, 5% Merlot, 14.8% alc., Regularly priced $82, specially priced for this occasion at $59: Purple garnet in color, and exuding beautiful aromatics or rich, yet restrained black currant/cassis; any oak is very well integrated and in the background. Flavors echo the nose in a very classy manner and the wine is full bodied and balanced, silky, smooth and sleek. Celani says he doesn't want tannic "edges" on his wines, so winemaker Mark Herold (Co-founder and former winemaker at Merus) focuses on tannin management. Burkart says that Herold also employs a "hot fermentation," rather that a cold soak, noting that the wine maker's reasoning is that "I don't put my tea bag in a cold cup of water in the morning." I have to admit, that as fine as this wine is, I would have balked at paying $82 for it, but for $59, I was confident that I could bring it home and open it for guests, either next week or five years from now. Find this wine
One might assume that this was so priced because the high end wine market is in a seriously depressed state at this time, but that is only speculation on my part. I do know that there were several cases on hand and was told that most of them were already spoken for. Given the quality of this wine, I'd be keen to taste the rest of the Celani lineup, which ranges in price from $16.99 for the rosé up to $195.00 for the Ardore. Say what you will about the high prices of his top end wines, but one thing is clear from talking and tasting with him; everything that Tom Celani does is first class.
Reporting from Day-twah,
geo t.
Related posts:
One Response to "2006 Celani Family Vineyards Napa Cabernet Sauvignon"