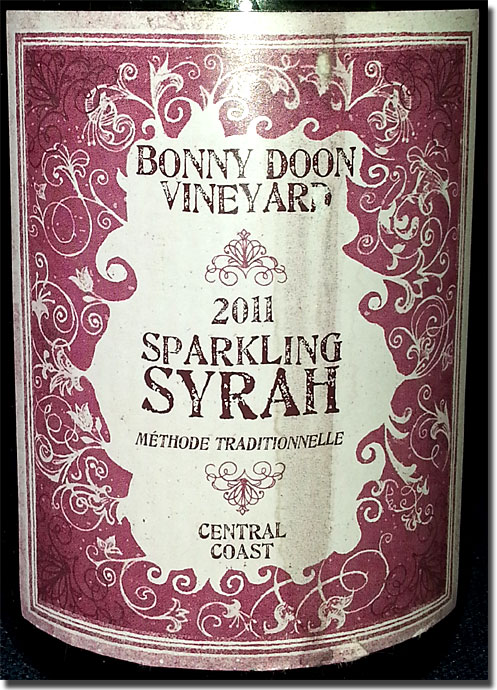 Back in the late '90s through about 2005, while Australian wines were still quite popular hereabouts, there was a curiosity making the rounds known as "sparkling Shiraz," which, of course, was, and still is, Shiraz with bubbles. I tried a few back then; I sold some of the stuff as well, during my time in wine retail, and if they never really caught my fancy, I didn't actually dislike them either. As stated above, they were more a curiosity than anything else. One example that still stands out in my memory is a 1990 Lindemanns Sparkling Shiraz, which we enjoyed at our very first Toledo gathering 15 years ago. This particular "spurgle," as the Aussies call them, had spent a decade or so in the cellar and showed similar qualities to that of an aged still Shiraz or Syrah, with secondary meaty and leathery characteristics that were quite enjoyable. (Click images to enlarge.)
I hadn't thought much at all about "spurgles" lately, until we received a new batch of wines for review from our friends at Bonny Doon Vineyard, and, lo and behold, there was a California Sparkling Syrah included in the shipper. Now, we're used to Randall Grahm and company coming up with off-the-wall bottlings; constant readers will remember how much we loved their Sparkling Albariño, and we found their ¿Querry? Pear Apple Quince Cider quite to our liking as well, so I was more than a little intrigued to see what this little number was all about.
"It's my favorite Bonny Doon wine." - Randall Grahm
2011 Bonny Doon Vineyard Sparkling Syrah Central Coast, 83% Syrah, 17% Grenache, 11.9% alc., $36.00: Deep, dark color, with lots of purple-pink froth when first poured; earthy, grapey purple fruit nose, with lots more of the same on the palate, fleshing out to offer black plum and a subtle note of dark chocolate on the finish. Quite ripe, but not excessively so, with very good depth, good structure and a racy quality from both the acids and bubbles. This just screams Syrah (the 17% Grenache notwithstanding), and it's lip-smacking, mouthwatering good. This has the potential to develop over the next 3-5 years, if you can keep your hands off until then, and it would be quite interesting to see if it develops similar secondary characteristics to that '90 Lindemanns I mentioned in the opening paragraph of this report. Another delightful odd duck from Bonny Doon, and their food pairing recommendations look spot on to me. "Grilled pork sandwiches with radishes, carrots & chiles (Bánh mì), sweet and spicy Missouri-style BBQ, roasted turkey leg, Rogue Creamery Smokey Blue." 83% Jespersen Vineyard, 17% Alta Loma Vineyard, 378 cases produced. "It's my favorite Bonny Doon wine." - Randall Grahm Find this wine
Here are my notes on the other three reds in the package we received. We'll file separate reports on the two whites that were included very soon.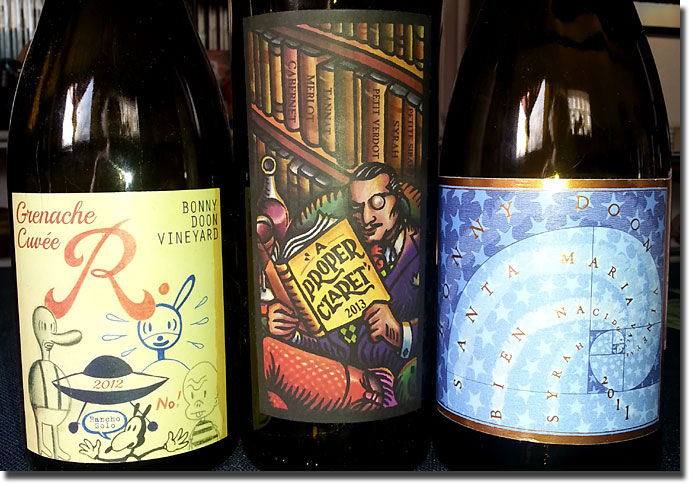 2012 Bonny Doon Vineyard Cuvée "R" Grenache Monterey County Rancho Solo, 100% Grenache, 14.9% alc., $48.00: Clean, dark color, with ripe red plum and cherry in both flavor and aroma, with some subtle earth and bramble underneath that offsets the exuberant fruit nicely. It has a somewhat viscous quality to it, being not quite thick. Full bodied, nicely balanced and structured for five years or more in the cellar, but so drinker friendly right now, why wait? Easily one of the 2 or 3 ripest Bonny Doon reds I've had, but in this case, that's not a bad thing at all. I say think anything from BBQ, pizza and burgers to Thanksgiving turkey, and even salmon. Bonny Doon recommends "pork stew with hard cider & parsnips, french onion soup gratinée, aged cheddar, lamb souvlaki."
593 cases produced. "This was the most impressive single batch of Grenache fruit I have ever chanced to encounter chez Doon." -Winemaker Randall Grahm Find this wine
2013 Bonny Doon Vineyard "A Proper Claret" California, 46% Cabernet Sauvignon, 17% Merlot, 15% Tannat, 13% Petit Verdot, 8% Syrah, 1% Petite Sirah, 13.5% alc., $18.00: Deep and dark in color, with a very "grapey" nose; fairly ripe, but well within my tolerance level, offering black currant, blackberry, coffee and a subtle note of something like rock 'n' rye on the palate. A nice glass of wine, with or without food; the coffee character reminds me of several Argentine reds we've had over the past several years. BD recommends pairing it with "Proper (British) mutton, proper leg of lamb, (ideally served with proper Yorkshire pudding)." 10,925 cases produced. Find this wine
2011 Bonny Doon Vineyard Bien Nacido Syrah "X-Block" Santa Maria Valley, 100% Syrah, 12% alc., $50.00: Clean, dark garnet color, not quite opaque; the rich, dark plum and berry nose is shaded with earth, mineral, a little iodine and a bit of the barnyard, and while the flavors generally echo, this is no California fruit bomb. It finishes totally dry, with some astringency, not unlike younger northern Rhône Syrahs. Sleek, full bodied and structured for several years in the cellar, but certainly quite drinkable now. This owes as much, if not more, in style to the old world as the new, and that's fine by me. I like this a lot, and as it opens with air, it becomes even more exotic and inviting. I love BD's suggested food pairings, and look at that ABV! I'd like to try this five to ten years down the road. Serve with "Fried Brussels sprout chips, pork meatballs with cherry chutney, pork belly." 463 cases produced. Find this wine
Finally, here's a quick follow-up on the 2013 Bonny Doon (The Wine Formerly Known As) Clos de Gilroy we reported on last October. This little pretty has come around nicely since we first tried it back then, having lost some of the tannic-acidic bite on the finish we noted at that time. It's drinking nicely right now, with or without food, and it should continue to age and develop gracefully over at least the next few years. We know this because our buddy Jarred Gild at Ferndale's Western Market has it on sale for $13.99, a decidedly delicious discount from the $20.00 list price. We've gone through multiple bottles over the last few months, and Kim loves it even more than I do. It's one of the best wine deals in town, and we'll be going back for more.
Reporting from Day-twah,
geo t.
Related posts:
One Response to "A Wacky Doon Sparkler and More"