Continued from the article Tasting Leelanau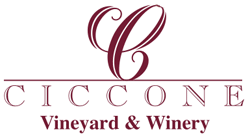 We pulled into Ciccone Vineyard and Winery, our last Monday appointment, late in the afternoon.  Established in 1995 by Silvio T. (Tony) and Joan Ciccone, the estate is situated on forty acres with a panoramic view of West Grand Traverse Bay to the East and Elm Valley to the West. 16 acres are planted to Cabernet Franc, Pinot Noir, Chardonnay, Pinot Grigio, Gewurztraminer, Dolcetto, Pinot Blanc, Riesling, Merlot, Cabernet Sauvignon, Muscat, Malbec, Foch and DeChaunac.  Most of the vineyards face west, enjoying the long summer days.
Tony Ciccone is a tell-it-like-it-is kinda guy, and we were utterly charmed by his plain speaking manner and genuine hospitality. And, yes, the wines were quite nice too!  Tony started us off in the standard manner, with two whites.
2007 Ciccone Leelanau Gewurztraminer, $15.50: Off dry, with medium color and varietally correct peachy litchi flavors and aromas, if a tad bitter; good weight and acids, but the bitterness detracts some.
2007 Ciccone Leelanau Chardonnay Barrel Fermented, $15.00: Good medium color, with a slightly sharp edge to the ripe pear and toasty oak character, and again, slightly bitter on the finish, but less so than the Gewurz.  Saw mostly American oak, some new, some not-so-new.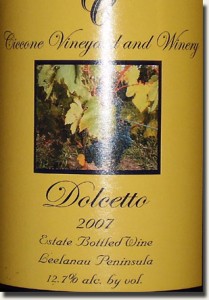 2007 Ciccone Leelanau Pinot Noir, $18.00: This shows nice ruby color and is more than just varietally correct, it's downright tasty, offering nice smoky black cherry and plum flavors and aromas.  Good weight, depth, body and structure here.
2007 Ciccone Leelanau Dolcetto, $19.00: Good dark color, with a nice blackberry nose and core of rich fruit with subtle earthy undertones. A kiss of oak adds to the appeal; good weight, depth and structure.
2007 Ciccone Leelanau Cabernet Franc, $16.00: Clean dark color, with a fairly rich core of black currant and blackberry fruit, underscored with a good dose of earth, which is always a good thing as far as I'm concerned.
2007 Ciccone Leelanau Lee La Tage, 46% Cabernet Franc, 16% Malbec, 13% Merlot, $17.00: Tony's tongue-in-cheek take on Meritage, this Bordeaux blend offers ripe berry and cherry flavors and aromas, more black than red, being fairly rich and quite user friendly.
Of course, it's hard to visit with Tony without his famous daughter, Pop music superstar Madonna, coming up, especially with her picture on the big poster smack dab in the middle of the long back bar mirror in the tasting room.  In 2005, they collaborated on a Limited Edition release of 5 different varieties to commemorate both her 11th studio album, "Confessions on a Dance Floor" and a "very big birthday" for Mr. Ciccone.  The only bottling still available at the Tasting Room (and there's precious little of it) is the Chardonnay, and Tony poured us a taste.
2005 Ciccone Leelanau Madonna Chardonnay, $25.00: Pale gold in color and developing just a hint of secondary character, particularly a developed barrel nuance; rich, intense fruit, with good depth and structure.
2008 Ciccone Leelanau Rose de Cabernet, $14.00: A nice back deck quaffer, with nice strawberry and cherry fruit shaded with some subtle underbrush
NV Ciccone Leelanau Bella Ciliegia Cherry Wine, $13.00: Cherry red color, with a nice spiciness to the rich fruit character.  Unique and appealing, this is made from the Balaton cherry, a tart variety that originated in Hungary.  From the 2008 vintage, but vintage dating of fruit wines is prohibited.
After we were finished tasting, Tony showed us the winery facility in back of the tasting room.  We then walked up the "bridal path" through one of the estate vineyards that leads to the little knoll where marriage services are performed as part of their rental program.  Tony pointed out the fruit cut and left on the ground at the base of the vines, so tart and under-ripe, that the birds and other critters have yet to get hungry enough to eat them, though he says they will at some point.  Like everyone else we spoke with on this trip, Tony is very concerned about what he's going to be able to salvage from the 2009 vintage.
We then moved on the the barn on the property that serves to house parties, wedding receptions, etc., and Kim captured this humorous video snippet.  Finally, we said our thanks and goodbyes to Tony, before making our way back to the Inn, happy in the knowledge that we couldn't have asked for a better finale to our first day of tasting Leelanau.
Ciccone Wines have limited availability on the Internet. Contact the winery for more information on ordering – (231) 271-5553.
Continued from the article Tasting Leelanau
Related posts:
4 Responses to "Tasting Leelanau: Ciccone Vineyard and Winery"