November 1st, 2017 |

Author:
George Heritier
More and more lately, my tastes have been turning towards white wines. I was never in "the only wine is red" camp, even though there was a time not so long ago when reds were probably about 70% of what we drank here at Gang Central. These days, however, it seems like I often prefer something lighter and more crisp, with lower alcohol content. Take the two wines in this report, for instance. I found both during a recent visit to, where else, Western Market in Ferndale, where I buy most of our wine these days.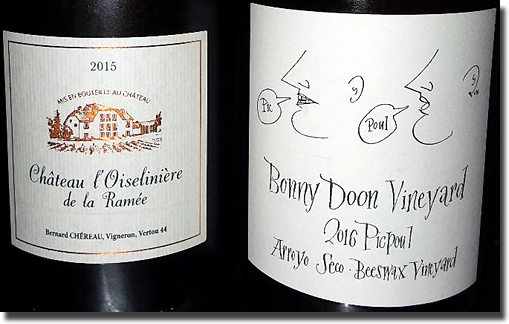 We've been fans of good Muscadet for what seems like forever, but this is the first time we've run into this producer. Château l'Oiselinière is a 10 hectare single vineyard overlooking the confluence of the Sèvre and Maine rivers. The grapes are sourced from 40+ year old vines, given temperature controlled fermentation in stainless steel and then aged 6-8 months on the lees.
2015 Château l'Oiseliniere de la Ramée Muscadet Sèvre-et-Maine Sur Lie, 12% alc., $15.99: Fairly pale in color, with a citrus and green apple nose that jump right out of the glass; rich and expressive on the palate, the flavors echo the aromas, along with a strong mineral undertone. Medium bodied, with excellent acids and very good length. Hits all the right buttons for me when it comes to Muscadet, now where are the freakin' oysters?! The bonus is that this will very likely get better with at least a few years in the cellar. Find this wine
Longtime readers know that we're always up for trying something new from our friends at Bonny Doon Vineyard, and this is the first Picpoul from California that we've had the pleasure of becoming acquainted with. The fruit was sourced from the same vineyard that provides grapes for Doon's flagship white, Le Cigare Blanc. (Some Picpoul is also used in that blend.)
2016 Bonny Doon Arroyo Seco Picpoul Beeswax Vineyard, 12.7% alc., $15.99: Pale-to-medium straw in color, with lots of lemon-lime citrus on the nose, and more of the same in the mouth, shaded with some mineral. Medium bodied, with very active acids and decent length. I'd like a little more intensity of flavor, which only just delivers on the promise of the nose. Nice with a Salade Niçoise, and all by itself, but I'd like it better at around $12. It didn't wow me, but it more than didn't suck, either. Find this wine
Reporting from Day-twah,
Bastardo
Save
Save
Save
Related posts: