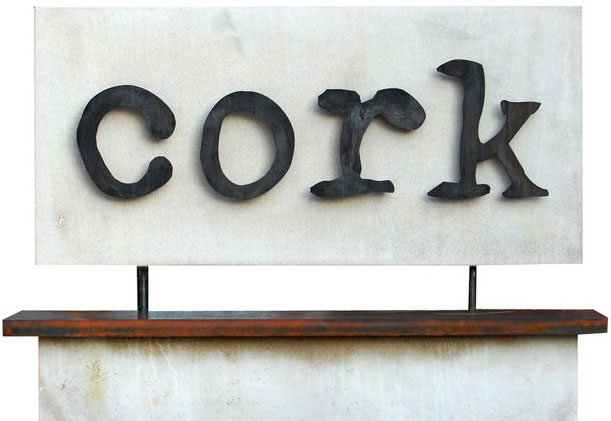 There's a lot of excitement bubbling among Detroit area wine and food enthusiasts these days over a new establishment in Pleasant Ridge devoted to serving great fare in a cordial atmosphere at reasonable prices. Cork Wine Pub Proprietor Nancy Crutchfield, Executive Chef Bree Hoptman, Beverage Director Jeffrey Mar, CSW and General Manager Joel Rubin have invested a lot of proverbial blood, sweat and tears (not to mention three years dickering with the powers-that-be in Pleasant Ridge for a liquor license), and it all finally came together on Friday, November 19th, when they held a "soft opening" for friends, members of the trade and anyone else who happened to amble in. Kim and I were in attendance that evening and had such a good time, we've been back twice since.
The pub, located on Woodward Avenue, is very well appointed, providing a cozy atmosphere in which to enjoy a wide variety of delectables. The menu includes small plates, main plates and desserts, focusing on locally grown foods and Michigan-made products. There is a full bar with mixologists on hand to create a wide range of cocktails, and the wine list is especially appealing to geeks such as ourselves, as it features selections that are anything but the usual suspects. You won't find Blackstone, Clos du Bois or Kendall-Jackson at Cork, and that's just fine with us. Many of the wines are made by artisanal producers and all have been personally tasted and selected by Jeff Mar and company.
One of the more interesting offerings on the wine list is a tasting flight of two Oregon Pinot Noirs from St. Innocent, priced at $12 ($48 per bottle on the list). It had been some time since we last tried any of Mark Vlossak's wares, and because we enjoyed them so much back then, they were the obvious choice for us. What's more, Jeff brought over a sample bottle of another '07 St. Innocent Pinot that had just been dropped off earlier in the day, and gave us a pour of that for further comparison.
We enjoyed our flights with grilled cheese sandwiches, but these are NOT your mothers' grilled cheese sandwiches; they are made on homemade bread, with prosciutto and Gruyere and are quite tasty indeed. We also shared small plates of fingerling potatoes with a chipotle dipping sauce and roasted beets with brown butter vin, garlic and blue cheese.
All three selections in our flights are clean, ruby colored wines.
2007 St. Innocent Willamette Pinot Noir McMinnville AVA Momtazi Vineyard, 13.5% alc., $48: This wine clearly shows the darkest character of the three, throwing an earthy, black cherry and underbrush nose; flavors echo on a medium-full bodied frame and Kim adds an impression that it "smells like potato water." Well structured for several years of aging and improving, with a solid, intense core of fruit. Deep and brooding, this likes air now, but has the stuffing to age through at least 2017, if not longer. Momtazi is a bio-dynamically farmed vineyard. find this wine
2007 St. Innocent Willamette Pinot Noir Dundee Hills AVA White Rose Vineyard, 13.5% alc., $48: Pretty black cherry nose, with subtle earth and underbrush, and gaining a bit more of the latter on the palate; fruit is a bit brighter and a little less earthy than the Momtazi. Medium-full bodied and not quite as intense or well-structured as the Momtazi, but somewhat prettier and more feminine, while finishing totally dry. find this wine
2007 St. Innocent Willamette Pinot Noir Yamhill-Carlton AVA Shea Vineyard, 13.5% alc.: The least effusive nose of these three, but it had been opened earlier in the day, while the first two were uncorked in front of us; restrained black cherry aromas with earthy undertones, fleshing out on the palate with pretty black cherry shaded with subtle smoke, mushroom and earth. Medium-to-medium-full bodied and deceptively well-structured, despite the very smooth texture and friendly demeanor. As do the others, this gets better and better with air and all three are fine examples of some of the best domestic Pinot Noir that can be produced in this country, showing great balance and restraint and avoiding excessive ripeness and/or oak. I would expect to see the St. Innocent Shea added to the list soon, if the bottle we tried is any indication. find this wine
We're very happy for our good friends Jeff and Joel, and for Chef Bree, Nancy Crutchfield and the rest of the staff at Cork. They've gotten off to a great start; we have high hopes for their success, and would recommend that anyone in the neighborhood stop in and check them out; actually, it's worth making a point of being in the neighborhood. Our friend Martha Shea (no relation to the above-mentioned vineyard) agrees; you can read her review here.
You can follow Cork on Facebook and/or Twitter
Reporting from Day-twah,
geo t.
Related posts:
2 Responses to "Three St. Innocent Pinots at Cork Wine Pub"