March 5th, 2014 |

Author:
George Heritier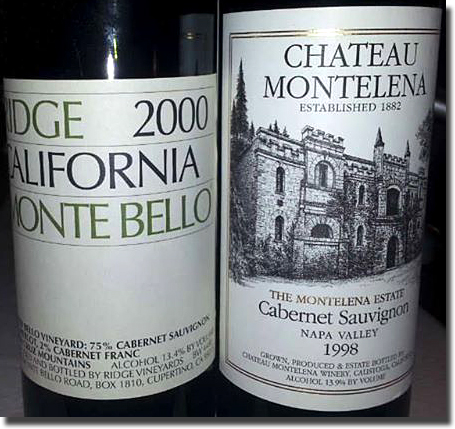 After having such a fine time at dinner with Anne Charlotte Melia-Bachas of Chateauneuf du Pape producer Chateau de la Font du Loup and AHD Vintners Sales Rep Extraordinaire Michelle DeHayes last September, Kim promised to cook the next time Anne Charlotte came to town. That turned out to be in early February, and, true to her word, Kim put together a terrific spread for our noshing and dining pleasure. Besides Anne Charlotte and Michelle, we were also joined by AHD head honcho Chip Delsener and Matt Jammes of Domaine Sarrail.
We decided that it might be fun to introduce our French guests to a couple of the best wines from California, and given that Niman Ranch flat iron steak with cannellini beans and red wine sauce was on the menu, the obvious choices were Cabernet-based. I figured it would be hard to come up with anything better than selections from Chateau Montelena and Ridge Vineyards, so that's what we went with. But first, Michelle got us started with a delicious Champagne.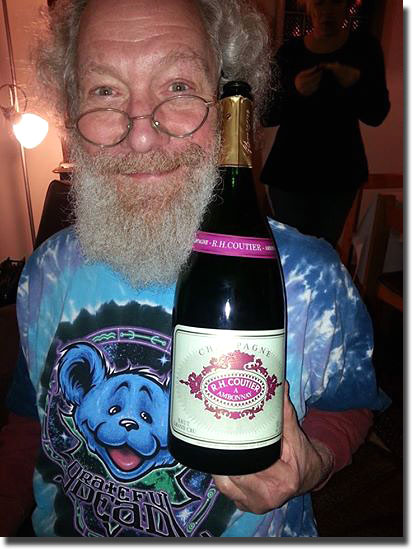 Champagne R. H. Coutier Grand Cru Brut, 12% alc., 1.5 L: Pale, golden color, with fine active bead and ample mousse. Yeasty golden delicious apple-like character, spiked with a good dose of minerality. Rich and intense, medium bodied and more, with great acids and length, this made a great match for Kim's truffle popcorn and bacon jam. Amazing how that magnum seemed to evaporate so quickly. Find this wine
1998 Chateau Montelena "Estate" Napa Valley Cabernet Sauvignon, 13.9% alc.: Clean, dark garnet color; Kim and Matt both comment immediately on mint and bell pepper notes, but no one finds these attributes at all objectionable. Classic Napa Cabernet here, made all the more impressive given the poor conditions of the '98 vintage; earthy black currant-cassis, with a moderate kiss of oak, and Anne-Charlotte adds an impression of "a touch of meat." Full bodied, beautifully balanced and still well-structured and drinking so well right now, especially with the steak. As Chip puts it, "It needed fat." I liked this even better than the Monte Bello, and the good news is that it has years of life and great drinking left in it. I think I paid somewhere in the neighborhood of $58 Canadian for this, thanks to the efforts of Mike Brenton. Find this wine
2000 Ridge Monte Bello Santa Cruz Mountains Proprietary Red, 75% Cabernet Sauvignon, 23% Merlot, 2% Cabernet Franc, 13.4% alc.: Clean, dark garnet and showing those classic Ridge aromatics of Draper perfume, sweet American oak and black currant-cassis, all of which follows through so nicely on the palate. Beautifully balanced and drinking very well right now, but I'd like to try it again in a few years when the oak tones down a little more. It'll also probably show even better any time it stands on its own and doesn't have to share the spotlight with a great Montelena. This should continue to drink well at least through 2020. We bought this on futures, probably between $60-75.00. Find this wine
After dinner, I pulled out the 12-string and harmonicas and regaled our guests with 5 or 6 of my songs. More wine was uncorked, but I didn't take any notes, and, besides, the Montelena and Monte Bello were the stars of the evening. It was a terrific night of great wine, food and friendship; here's hoping that we can do it again the next time Anne Charlotte and Matt come to town!
Reporting from Day-twah,
geo t.
Related posts: