Archive for September, 2016
We received a package from our friends at Vineyard Brands a few weeks ago. In it were five bottles of recently released wines from Tablas Creek. We've reviewed wines from this producer many times over the past several years, and I can't remember a single one that we didn't like a lot. That's probably the reason that they're on a very short list of our favorite North American wineries, the wines are that good on a very consistent basis.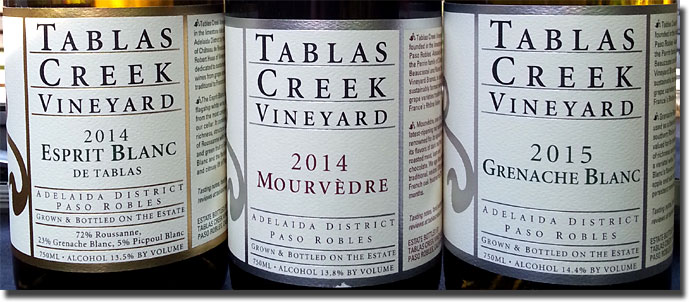 This particular package contained four whites and one red. We gave them a little over a week to rest from their cross-continent journey, then we tried them one by one over the next week and a half. We started with one from what is essentially TC's entry level Patelin de Tablas range, their only wines that don't use grapes exclusively from estate vineyards, but also include fruit from some of Paso Robles' top Rhône vineyards.
2015 Tablas Creek Vineyard Patelin de Tablas Blanc Paso Robles, 56% Grenache Blanc, 23% Viognier, 12% Roussanne, 9% Marsanne, 13.5% Alc., $25.00: Clean, medium color; somewhat pungent on the nose, with flavors of citrus, white tree fruit, some mineral and a hint of lanolin, being ever-so-slightly musky, yet very refreshing. Full bodied and fairly dense; rich and intense, with excellent acids and length. I love the way the refreshing citrus quality plays off the muskier element. Very fine indeed.
25% Grenache Blanc from Coyote Moon Vineyard in Estrella District
23% Viognier and Grenache Blanc from Fralich in El Pomar District
18% Marsanne and Roussanne from Cass Vineyard in Geneseo District
10% Grenache Blanc from Adelaida in Adelaida District
9% Viognier from Clautiere in Geneseo District
6% Grenache Blanc from Dawson's Creek Vineyard in El Pomar District
3% Viognier from Glenrose in Adelaida District
3% Viognier from Paso de Record in Estrella District
3% Roussanne and Marsanne from the Tablas Creek cerified organic estate vineyard
Find this wine
I happened upon these two little delights a few weeks ago whilst strolling through Plum Market to pick up some victuals for the holiday weekend. We'd not had either previously, but the prices are very pocketbook friendly, and you pretty much can't go wrong with wines from either importer. Happily, they proved to be just the kind of Chardonnay we like to drink here at Gang Central.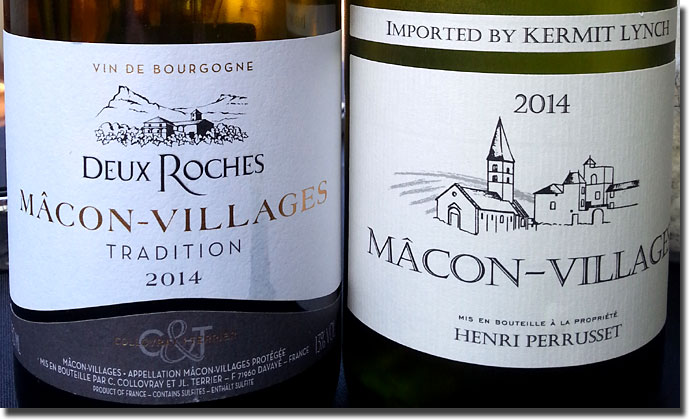 2014 Henri Perrusset Mâcon-Villages, 12.5% alc., $15.99: Clean, medium straw in color; the mineral and beeswax aromatics echo on the palate, gaining green apple and wet stone, being almost funky, and that's a good thing. I love the wet stone, as it really sets the tone to the character of the wine. Full bodied, with balanced acids and nice length. Best of all, it offers terrific QPR (quality-price ratio) at this price. Find this wine
Imported by Kermit lynch
2014 Collovray & Terrier Domaine des Deux Roches Mâcon-Villages Tradition, 13% alc., $13.99: Quite different from the Collovray & Terrier Mâcon-Villages Tradition I reported on last year, this shows a clean pale-to-medium straw color, with more than a hint of burnt matchstick on the nose that follows through on the palate, with a solid core of green apple and pear fruit laced with underlying minerality. Full bodied, with excellent acids and good length; a little richer than the Perrusset, with a bit of a citrus-like zing to it, and like the previous selection, it offers terrific QPR. Find this wine
Imported by AHD Vintners, Ltd., Warren, MI
We like these both a lot, and you can bet your sweet bippy that we'll be going back for more of both. No fat ass low acid California Chardonnay for these Gangsters.
Reporting from Day-twah,
Bastardo