October 8th, 2013 |

Author:
George Heritier
It had been a few years since we last tried anything from our stash of Sean Thackrey Orion, so I decided it was time again, and found two opportunities to do so recently. It's hard to find better California reds than Orion, and once in a while, you just have to mine some data points, right? It wasn't a conscious decision to open the same two we tried that last time and see how they'd progressed; I just wanted to open something good, and these are the ones that jumped out at me down in "the cellar from hell."
Kim and I decided to open the '05 one night, just because we could; actually, there may have been a celebration of some kind involved. Whatever the case, it has definitely gone through some changes since 2011. (Click on images to enlarge.)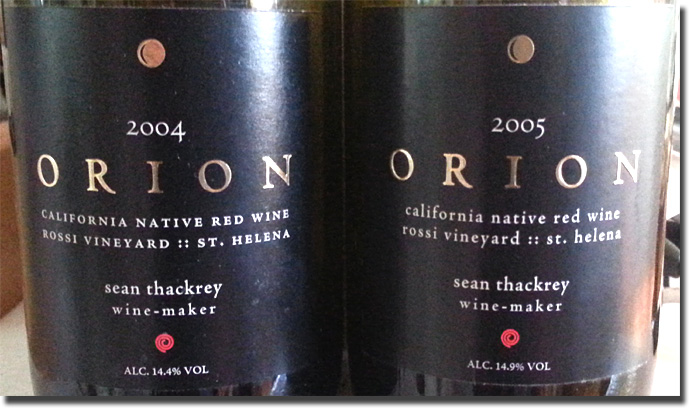 2005 Sean Thackrey Orion California Native Red Wine, Rossi Vineyard, St. Helena, 14.9% alc.: This almost looks like a glass of purple ink, fading to pink at the rim. The first impression on the nose is one of oak, but it's Thackrey's treatment, with restraint, and not like so many atrocities from Sonapanoma. There's a big core of rich black plum, blackberry and black currant, shaded with a subtle note of cocoa. It's earthy and slightly astringent at this point, with a slightly sour note lurking in a good way, somewhat reminiscent of a young northern Rhone in that respect. Full bodied and structured for many moons of cellaring; no doubt, this will age and improve effortlessly for 10-15 years and longer, but it's much more approachable than it was the last time we had it, so give it a little air before drinking, if you just can't keep your hands off now. We'll try to hold off for another 5 years or so before trying it again. Find this wine
The '04 was opened with Alan Kerr aka Canadian Zinfan, after we'd already a fair amount of great wine in one evening, in the grand tradition of Gang of Pour. Kim had already turned in for the night, and I told him that the only way I'd pull the cork would be if we made an honest effort to take some notes. Readers can judge for themselves how good these notes actually are, as you can see from the image below, but we soldiered (sailored?!) on, and I must say, we really liked the wine!
2004 Sean Thackrey Orion California Native Red Wine, Rossi Vineyard, St. Helena, 14.4% alc.: I was somewhat surprised when Alan informed me that this is the first Orion he's ever had, and I still find that a little hard to believe, but Chef Kerr is a man of his word. Here is a transcription of our combined notes, as best as I can decipher…
Geo: Just an enormous wine.
Alan: Intense plasticine, blood, soy.
Geo: Really intense; huge black fruit and dried cherry.
Alan: Lip smacking black Dutch licorice that is coating the roof of my mouth. Black olive. Wow! That is one intense f*cking wine. That's my first Orion. Black slate, plum, black raspberry, mineral.
Geo: Still very primary. So dense!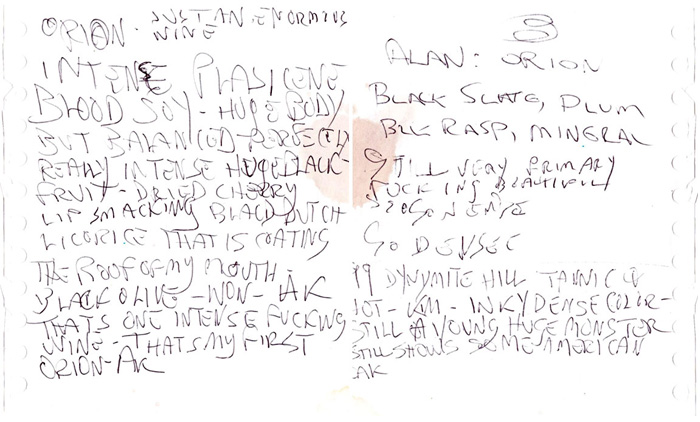 Hopefully, that gives you some idea of what this one is like these days. We decided we'd had enough after enjoying the hell out of it, and switched to water. Or maybe it was some pale ale, which is almost the same thing compared to '04 Orion. It's safe to say that the best days are still well ahead for this strapping lad. Find this wine
Reporting from Day-twah,
Related posts:
2 Responses to "Revisiting Orion"