Archive for October, 2016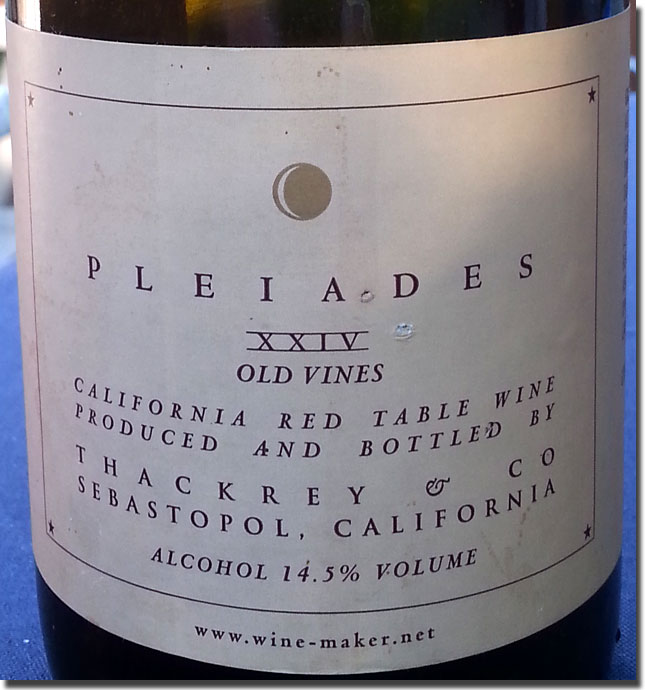 It's been about six years since we last had any of Sean Thackrey's non-vintage multi-varietal red blend. Pleiades XIX wasn't quite up to previous versions of what Kim once used to describe as "my wine," and maybe that's why we stopped buying it, along with the fact that the price kept creeping upward. By the time Thackrey's wines finally became available at retail in Day-twah a few years ago, the prices were just plain stupid. I saw a bottle of Pleiades (probably XXII or XXIII) about a year and a half ago in an area wine shop priced at around $43, and I just shook my head.
Since that time, Thackrey changed distributors, and Little Guy Wine Company has the wines priced much more reasonably, so when I saw a bottle of the Pleiades XXIV on the shelf at Mudgies a few weeks ago, I figured "what the hell" and picked one up for Kim and me to find out what was going on with it. I'm pleased to report that this one has a lot more stuffing than that XIX we were only lukewarm towards.
Sean Thackrey "Pleiades XXIV Old Vines" California Red Blend, 14.5% alc., $29: Clean, dark color; mint gets the better of a little barnyard over black and red plum and berry on the moderately expressive nose, and a hint of cereal sneaks in with a little air. Very much in the same style and character as all of those from the past that we remember so fondly, being intense and well-structured. The multi-vintage solera-styled wine shows earthy, leathery and, yes, slightly funky black and red fruit. Good stuff here; this is a wine that can age and develop for several years, and I'd actually lay it down for another 3-5 years before opening another. Tannin pigs' mileage may vary. Bottled in April, 2015, a blend of Sangiovese, Viognier, Pinot Noir, Zinfandel and Mourvedre, "to name a few." Find this wine
Reporting from Day-twah,
Bastardo
Save
Since filing my report on the delicious 2013 Edmeades Mendocino Zinfandel, I've been checking out a few other Zins, and found two that really caught my fancy.
I've enjoyed several selections from the Terre Rouge/Easton lineup over the years, but, oddly, I've never posted any notes on them. Allan Bree aka califusa reviewed some of Bill Easton's Terre Rouge selections for us back in his Rhone Ranger Tasting 2000 report, and Alan Kerr aka Canadian Zinfan had good things to say about the 2011 Easton Amador Zinfandel (a wine I recommended and sold LOTS of in my retail days), but by and large, these wines have not been given the attention they deserve in these pages, an oversight I plan to rectify in the coming months. I've never met Bill Easton, but we are "Facebook friends," and I'm guessing we'd get along quite well, because not only am I a fan of his wines, we've also had friendly back-and-forths on more than just wine-related subjects on that social network site.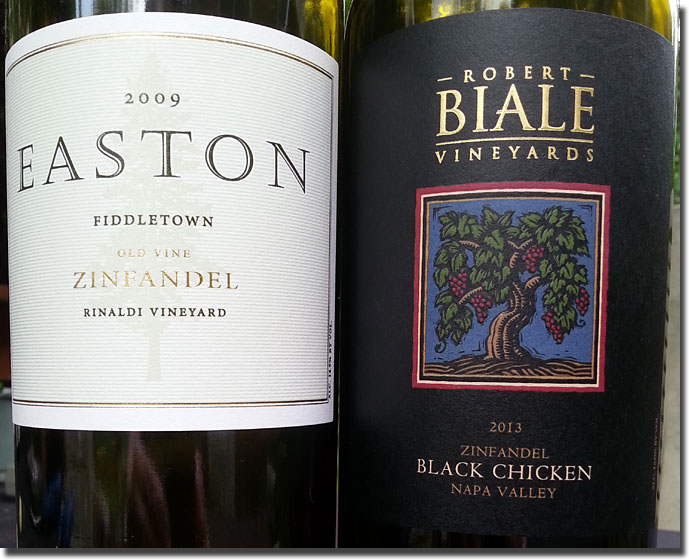 2009 Easton Zinfandel Fiddletown Rinaldi Vineyard Old Vines, 14.5% alc., $28.99: Clean and dark in color, with a pure, effusive Zinfandel nose, all spicy black raspberry; plenty more of the same on the palate, with enough earthiness underneath to make it more than just a fruit bowl kind o' wine. Full bodied and well-structured for several years of further development. This one pushes the envelope for what I'll tolerate in ripeness, but never crosses the line or goes over the top, thanks to that earthy anchor. I like this wine, and have no doubt that my partner in crime, Canadian Zinfan, will too, and I have another stashed to open with him the next time we get together. Aged in French oak. Find this wine