Archive for the Tasting Notes from the Underground Category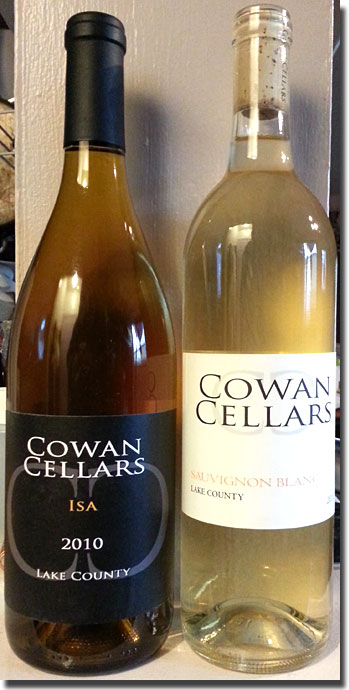 Gang of Pour was created back in 1997 as an offshoot of our involvement in the internet wine community, on such forums as those operated by Wine Spectator, Robin Garr, Brad Harrington and others. Over the years, we got to know many people virtually through said forums, and got to meet many of them in person through "offlines," tasting gatherings in various parts of the US and Canada. Several of the people we met have contributed to Gang of Pour over the years, and one gentleman who still does is "Florida Jim" Cowan. We first met Jim in person back in 2001, during a road trip to North Carolina, and have met up with him on several other occasions since. We found him to be every bit as charming and gracious as his online persona; here's what I said about Jim when we welcomed him as a contributor to our pages in 2010.
It's no exaggeration to describe "Florida" Jim Cowan as one of the most respected and admired commentators in the online wine community. A true gentleman, Jim is the consummate voice of reason, with a common sense view of all things wine-related that resonates strongly with his many friends and readers.
Jim is more than just a commentator, though; he caught the winemaking bug after working in the vineyards and wineries with Russell Bevan, of Bevan Cellars, and Steve Edmunds, of Edmund St. John, during the fall of both 2006 and 2007. He made his first wine in 2007 and has been making wine every year since then, establishing his Cowan Cellars with his wife, Diane Arthur. We first tasted one of Jim's wines in 2009, and while it received mixed reception among the rednecks we drank it with, this taster was most impressed.
A few months ago, Kim and I decided that it was high time to see how Cowan Cellars was coming along, so we ordered up a case. Kim wanted to throw a dinner party featuring some of the wines, and I thought it would be fun to try the two Sauvignon Blancs, the Pinot Noir and the Syrah. In his own words, Jim makes "wines that accompany food well, which is very important because I also love the food that my lovely wife, Diane, prepares for our daily meals – usually vegetarian, and always light yet flavorful." In that regard, Kim contacted Diane and set her menu based on some of her suggestions. We invited three of our best friends in the wine biz to join us, Rebecca Poling, Michelle DeHayes and Anne Keller Klump. We got things started with a very fine Left Coast sparkler that Rebecca brought over.
Read the rest of this entry »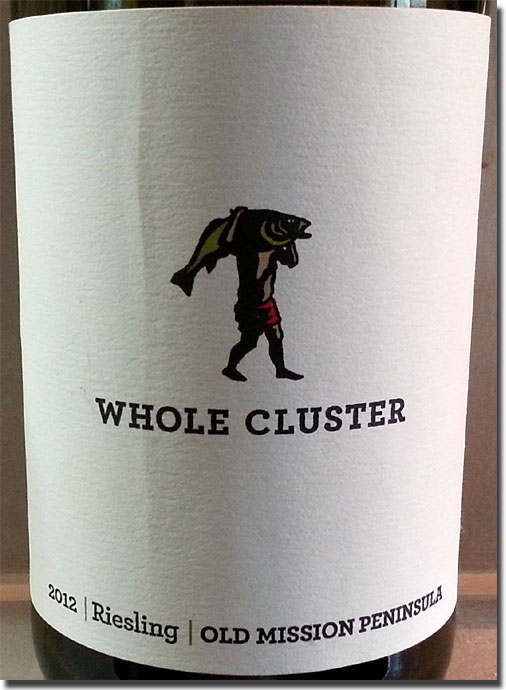 Our good friend and colleague, Alan Kerr aka Canadian Zinfan, contacted me recently and asked if I would procure a bottle of the 2012 Chateau Grand Traverse Old Mission Peninsula Whole Cluster Riesling for him. It seems that he had tried one a few nights prior and was quite impressed with this fine representative of Michigan Riesling, especially at the Costco price of $10.99. I was pleased that Chef Kerr so enjoyed this little gem, as he has no shortage of fine Riesling available to him right in his proverbial back yard on the Niagara Peninsula, and, of course, we've been fans of all of Sean O'Keefe's specialty projects for some years now.
I was happy to honor Alan's request, and was reminded that we've had both the 2012 Whole Cluster and its predecessor in the last few months, and I needed to transcribe my notes and put them online. Both are listed as "medium dry" on the dry-to-sweet scale on the back label. Here are my impressions of each.
Read the rest of this entry »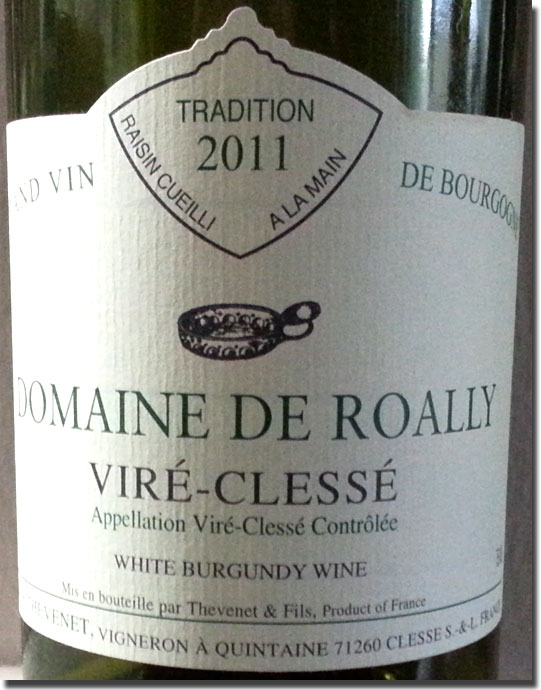 Last week, Kim and I, along with our good friend Ken Hebenstreit, were most pleased to attend a Louis/Dressner tasting at the West Bloomfield Plum Market. We really like what Madeline Triffon MS has done with Plum's wine program, and we've been big fans of the Louis/Dressner for many years. The event also gave us the opportunity to renew acquaintances with LD National Sales Manager Josefa Concannon. I was not really surprised to see that I have at one point or another reviewed every one of the wines being poured. As Josefa remarked, "Yup, these are all our best sellers here in this market."
Every selection was excellent, but after tasting through them all, there was one that really stood out for us, and it was, perhaps surprisingly, a Chardonnay, different vintages of which I've reviewed on at least three previous occasions.
Read the rest of this entry »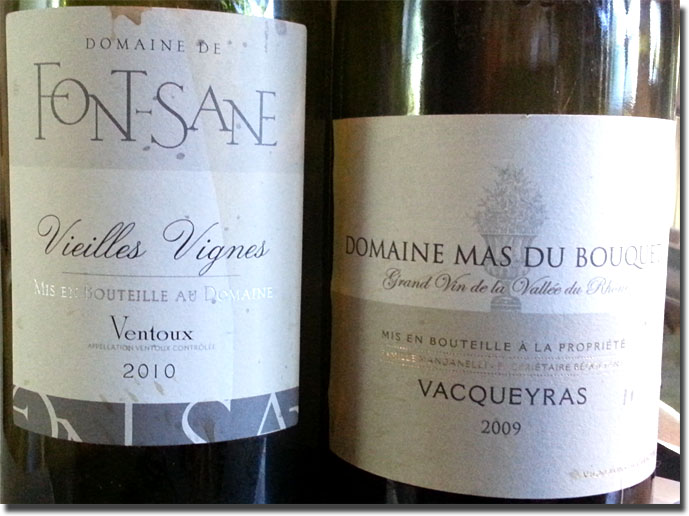 It's no secret that many of our favorite wines come from France's Rhône valley; we enjoy them all year round, winter, spring, summer and fall. I've been compiling various notes on what we've been trying over the past few months in an effort to catch up on my reports, and these six jumped right out at me. They're all really good; some are more ready to drink than others, and a couple of them really want some time. If you see any of them out there, my recommendation is to buy, buy, buy. 'Nuff said; read on, McDuff. (Click images to enlarge.)
2010 Font-Sane Ventoux Vieilles Vignes, 70% Grenache, 30% Syrah, 13.5% alc., $12.99: We've enjoyed this fine producer's Gigondas last June, and also back in 2010, and while this isn't the first time we've had their Ventoux VV, it is the first time I've reviewed it. With clean, dark color, it offers up dog fur and earthy, leathery black fruit that sets the tone for the wine's personality in both flavor and aroma in a way that I find appealing; it also has a slightly sunbaked quality to it that I like. Full bodied and structured for some years in the cellar, this is a solid, more-than-just-serviceable red. Give it some air and it pleases now; give it another three-to-five years in the cellar and it should be even better. Excellent QPR (quality-price-ratio) here. Find this wine
Imported by AHD Vintners, Ltd., Warren, MI
Read the rest of this entry »

It had been a few years since we last tried anything from our stash of Sean Thackrey Orion, so I decided it was time again, and found two opportunities to do so recently. It's hard to find better California reds than Orion, and once in a while, you just have to mine some data points, right? It wasn't a conscious decision to open the same two we tried that last time and see how they'd progressed; I just wanted to open something good, and these are the ones that jumped out at me down in "the cellar from hell."
Kim and I decided to open the '05 one night, just because we could; actually, there may have been a celebration of some kind involved. Whatever the case, it has definitely gone through some changes since 2011. (Click on images to enlarge.)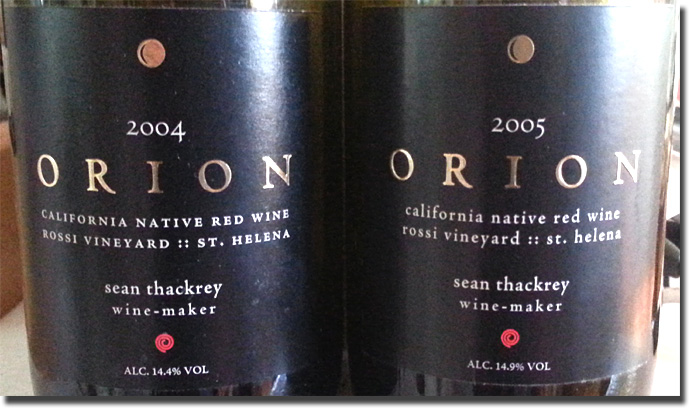 Read the rest of this entry »

As previously reported, Shannon aka Shawn Walters sent me home from my June road trip to Traverse City and Leland, Michigan, with a selection of wines that he'd made for various clients. Besides selections from Bowers Harbor and Chateau Fontaine, he also gifted me with selections from Boathouse Vineyards, Blustone Vineyards and Verterra Winery. We're very familiar with Verterra, of course, but not so much with Boathouse and Blustone. The intrepid reader can follow the links to their respective websites and pretty much learn about as much as we know about them, but I promise, my next trip up to Leelanau, I will be knocking on their doors to get a better taste and a bigger picture of what these two promising producers are up to. (Click images to enlarge.)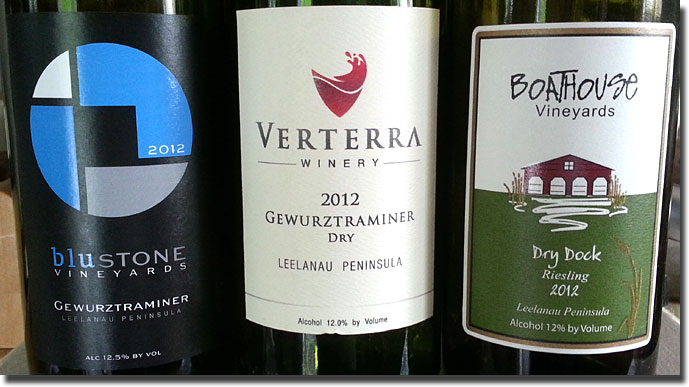 All five of the wines tasted here give yet further testimony to the great strides that have been made in the Leelanau Peninsula with regard to wine growing and winemaking in the past several years, and Shannon (it's hard not to call him Shawn, but Shannon is his given name, and he goes by that now) is at the very forefront of this movement. Here are my impressions of each.
Read the rest of this entry »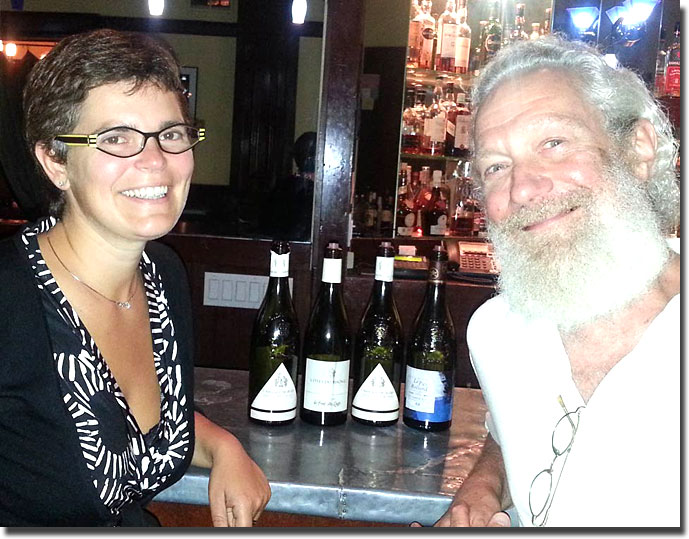 Anne Charlotte Melia-Bachas (shown on the right with this taster; click on images to enlarge) came to town last week to promote the wines of her estate in Chateauneuf du Pape, Chateau de la Font du Loup. We first met Anne Charlotte in 2010, at a wine luncheon presented by Font du Loup's regional distributor and importer, AHD Vintners. We were charmed by both her and the wines, and I took great delight in renewing acquaintances with her and meeting her husband, Font du Loup co-owner and winemaker Laurent Bachas.
So, when AHD Sales Rep Extraordinaire Michelle DeHayes invited Kim and me to join her and Anne Charlotte for dinner, we didn't hesitate to accept. We convened at Cuisine, in Detroit's New Center area. The food was quite good, and we were were pleased that Chef Paul Grosz joined us to taste through the wines; he seemed just as impressed with them as we were. Anne Charlotte herself is unabashed about liking her wines, and why not? I've never tasted anything from this estate that wasn't excellent. Here's what we tasted.
Read the rest of this entry »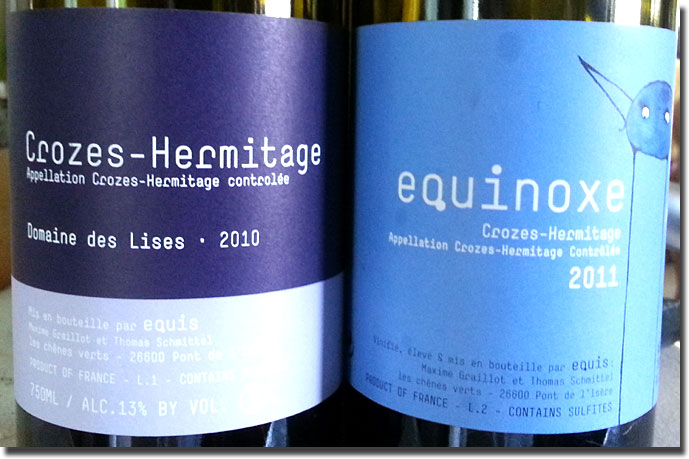 There was a time, not so many years ago, that red wines from Crozes-Hermitage were pretty common in our repertoire of drinking selections here at Gang Central. These wines are usually 100% Syrah (though it is legal to include small quantities of white Roussanne or Marsanne grapes), and tend to be more reasonably priced than their prestigious northern Rhône counterparts from Hermitage, Cote-Rotie and even Cornas. Back then, our go-to choice was the Paul Jaboulet Aine Domaine de Thalabert, and when we were slumming, Jaboulet 's Les Jalets was a pretty good alternative. When we wanted to treat ourselves, we'd opt for one of Alain Graillot's beauties.
Read the rest of this entry »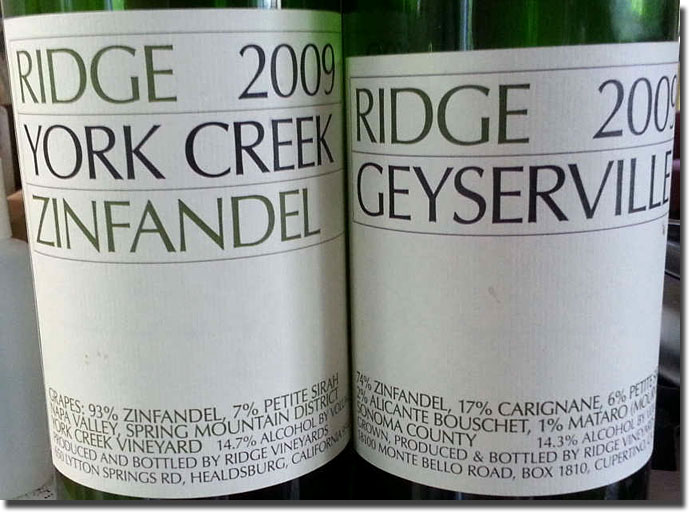 I wrote a song in 2011 that's on my CD, "In My Element," called "I'm Getting' Squirrilly in My Old Age," and the last verse pays homage to two of my very favorite California wine producers:
"These days I'm happy just to get along
All I want to do is write and swim and sing my song
I got no ambition beyond fishin' for that next new tune
And sippin' on some tasty wine from Mr. Ridge and Bonny Doon."
In the past few months, we've had two wines each from Mr. Ridge and Bonny Doon, and my notes are presented here in the order of their mention in the song. During a recent visit from our colleague-in-crime, Alan Kerr aka Canadian Zinfan, I put him on notice that I had a nice '09 Geyserville with his name on it, and he reciprocated with a York Creek Zin from the same vintage. Both were delightful with Australian lamb-sickles.
Read the rest of this entry »

We had the pleasure of once again taking part in the Leelanau Peninsula Vintners Association (LPVA) Media Weekend this past April. It gave us the opportunity to taste with some old friends and new, and also, to spend some quality time with Detroit News wine columnist Sandra Silfven and our buddies Mike Brenton and his wife Deb. The Leelanau Peninsula wine industry has grown such over the last several years that there are now three "wine loop trails," and participants broke out into the Grand Traverse Bay, Northern and Sleeping Bear Loops. Kim, Sandy, Mike, Deb and I were all on the bus that hit Sleeping Bear, and we had a fine day indeed. One of the stops took us to Chateau Fontaine, where we visited with Dan and Lucie Matthies. We always enjoy our visits to this excellent French Road operation, and we've never had anything close to a bad wine from these fine folks.
During my musical road trip to the Traverse/Leelanau region in June, I got to spend some time with Shawn Walters, who makes the wines at Chateau Fontaine, and he sent me home with the three in this report. We had only tasted the 2012 Gruner Veltliner in April, so we had two new wines to try, and plenty of time to spend with all three. Little did Shawn know at the time, one of these, the Pinot Blanc, would score big at the 2013 Michigan Wine Competition, held on August 8, at the Kellogg Hotel & Conference Center in East Lansing. The other two didn't do too shabby either.