Archive for the Tasting Notes from the Underground Category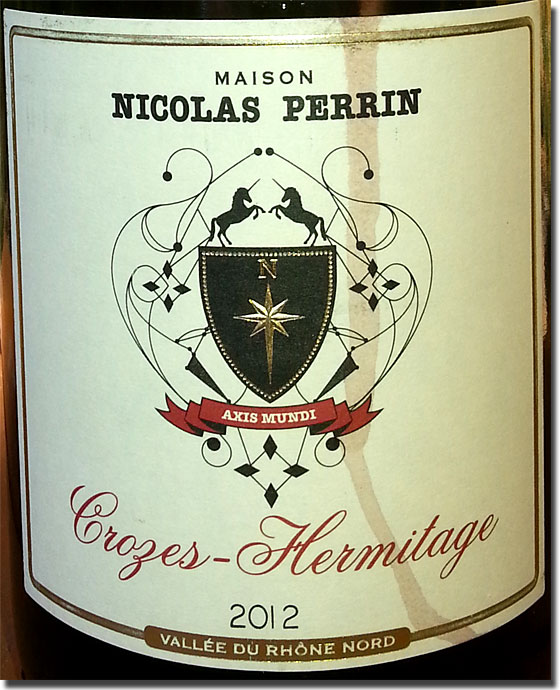 We first learned to love the wines of Crozes-Hermitage back in the summer of '95, when friends opened a bottle of 1978 Paul Jaboulet Aine Domaine du Thalabert for us. That bottling and those of Alain Graillot soon became some of our favorite wines for more than a decade. We gradually drifted away from them, one major reason being that the more reasonably priced Jaboulet pretty much disappeared from retail shelves around here. (Click image to enlarge.)
Happily, we "rediscovered" Crozes-Hermitage a few years ago, after encountering Graillot's wines once again, and then, discovering the lovely wines of Domaine des Hauts Chassis.
So, I was pleasantly surprised to find the following selection during an expedition to an area Costco a few weeks ago. I reviewed several wines from Maison Nicolas Perrin (a collaboration between Nicolas Jaboulet and the Perrin family of Chateau Beaucastel fame) three years ago, but it wasn't until I got it home that I realized this was the same vintage that I had tasted back then, so that made it all the more interesting.
2010 Maison Nicolas Perrin Crozes-Hermitage, 13% alc., $19.99: Looks like a glass of bloody ink; all leathery and briar-bramble on the nose. Shows obvious young Syrah black fruit character on the palate, somewhat sour and astringent, and it quickly offers more and more "garrigue" with air. A sizable and well-structured wine with the depth of fruit to get a lot better with age, and, at this price, a no-brainer to pick up at least a few more and lay them down for 5-8 years. Interestingly, it shows none of the barrel character that was so obvious three years ago. Find this wine
Imported by Vineyard Brands, Birmingham, AL
It's a bit of a shame that these have ended up in Costco bins here in southeastern Michigan. I could speculate that the wine has been a hard sell around here at the original $28-35 retail price range. I'm not saying it isn't worth that, but it's a lot more attractive at $20, and I'm nothing if not a bargain hunter. It won't supplant the Domaine des Hauts Chassis Les Galets as my current favorite from Crozes-Hermitage, but I'll certainly be going back for a few more to put down for a while and see how they develop with some age.
Reporting from Day-twah,
Bastardo
Well, we received some new wines from Tablas Creek Vineyards and, no surprise to us, they're really  tasty. Longtime readers know we're big fans; we haven't encountered anything but really fine wines from this producer since I first met and tasted with General Manager Jason Haas back in 2006, and these three more than keep that streak alive. (Frankly, I'd be surprised to taste something I didn't like from these folks, because they always have their A Game going.)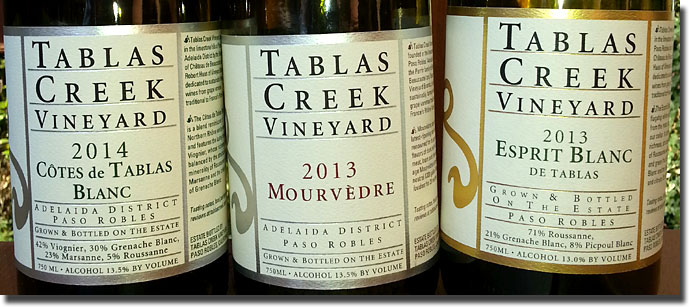 This latest batch consisted of two whites and a red, and while we didn't have them with food, they're all very food friendly. (Click image to enlarge. Click wine names for tech info and suggested food pairings.)
In my last Riesling report, I focused on four North American entries from such diverse territories as Washington, California, Ontario's Niagara Peninsula and Michigan. Unfortunately, there has been precious little in Day-twah to be had from another Riesling hotbed, New York's Finger Lakes, at least until I happened upon the first three noted below at, where else, Ferndale's Western Market. Jarred Gild is a Riesling freak, and he offers a number of selections from all over the world, and after a brief chat with him about these, I brought one of each home to try.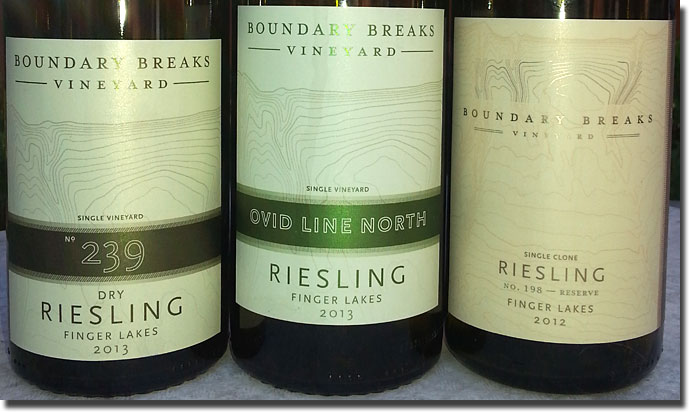 Located in Lodi, New York, on the eastern shore of Seneca Lake, Boundary Breaks produces only Riesling, focusing on four specific clones; Geisenheim clones 110, 98 and 239 (identified by Germany's Geisenheim Grape Breeding Institute), and clone 90 from from the Neustadt Research Institute in Germany. Labor-intensive vineyard practices include using the Scott Henry trellis system, early shoot-thinning, cluster-thinning, hedging and leaf removal and hand-picking all fruit, usually in three phases. Vines are planted on sloping ground, in calcareous soils which are ideal for aromatic white wines like Riesling. Boundary Breaks limits their activities to growing the grapes; the actual winemaking is done in collaboration with some of the best wineries in the area, producing small batches of single vineyard Rieslings. Based on what I tasted from these three selections, this arrangement seems to be working quite well.
2013 Boundary Breaks Finger Lakes Dry Riesling Single Vineyard No. 239, Residual Sugar: 0.9%, Alc. 11.6%, $19.99: Clean, medium color, with a dusty mineral nose that follows through on the palate, offering rich Riesling character. It's not bone dry, but it's close, being medium bodied, with zippy acids and good length on the finish. Not as "green" as many dry Rieslings, and faintly vegetal, though not necessarily in a bad way. The mineral sets the tone here, and a wee hint of something like petrol bodes well for more of the same as it develops with some age. A solid, if unspectacular entry into the the varieties of the Riesling experience. Find this wine

Read the rest of this entry »
It's always a special treat to dine at Bacco Ristorante in Southfield, Michigan, and it's all the more memorable when flights of brilliant Italian wine are included on the menu. I've had the good fortune to attend three such events, the most recent being a presentation of most of the selections currently available from the Piemonte producer Massolino.
Franco Massolino was in the neighborhood for two days prior to the event, working the market and promoting and selling his family's wines with our good friend, Anne Keller, Midwest Sales Manager for Vineyards Brands. I was quite jazzed to be included in a select group of invitees to taste these wines in the best possible setting, with great food. (Click images to enlarge.)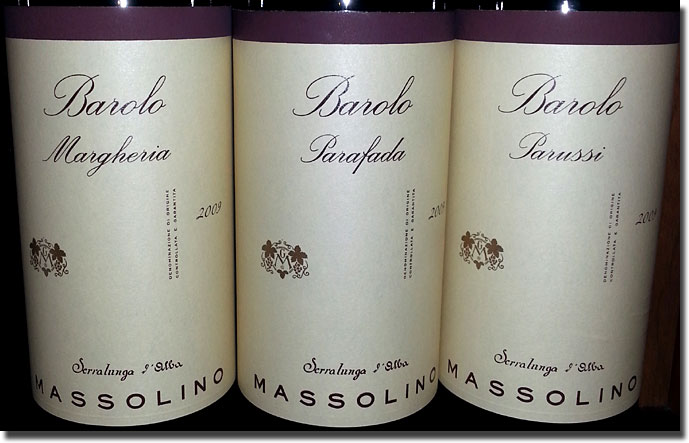 The family estate was founded in Serralunga d'Alba in 1896, by Giovanni Massolino, and successive generations have carried on by continuing to expand vineyard holding and refining oenological and agronomical techniques that make these wines truly superb. Besides producing great Barolo, including three single cru vineyard selections tasted on this occasion, Massolino also makes terrific Chardonnay, Dolcetto, Barbara and Moscato.
Upon arriving, we were greeted by Franco and Anne with glasses of some delicious Chardonnay.
Yes, it's that time of year, and about the only two things I really like about October is Detroit Red Wings hockey and those big red Rhônes that we drink while rooting for the boys with the winged wheel on their jerseys. We started this tradition almost 20 years ago, and I'm happy to report that it's still going strong, as we kicked off the new season with some solid mojo.
The two Châteauneuf-du-Pape selections were enjoyed during pre-season games. (Click images to enlarge.)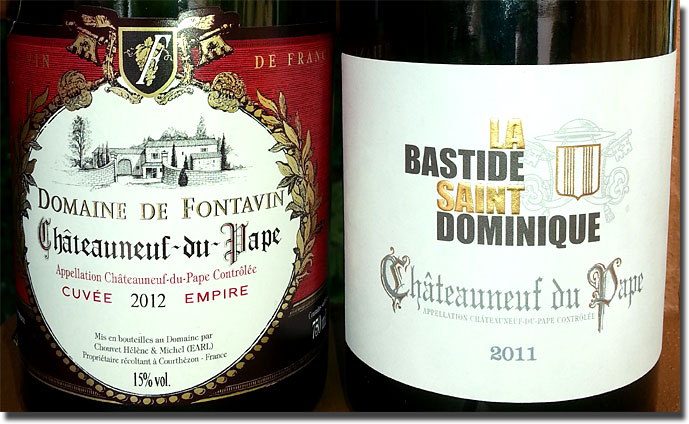 2012 Domaine de Fontavin Châteauneuf-du-Pape Cuvee Empire, 80% Grenache, 20% Syrah, 15% alc., $22.99: Clean and dark in color, with earthy black plum and hints of the barnyard and some iron on the nose; the flavors echo, with a rich, chocolaty texture and earthy chocolate overtones. Deep and very well structured, and despite the big tannins, this has tons of flavor too, and there's already plenty to like here. It really opens nicely after an hour or so, becoming even more enjoyable, so decanting is a good policy for near term drinking. With extended air, it takes on characteristics not unlike a theoretical blend of saddle leather and cocoa powder; strange, but true, and quite tasty! Our friendly local Costco sold out of this before I could get more, but it may still be available at other outlets. Find this wine
Imported by Misa Imports, Inc., Dallas, TX
Recently, I had the distinct pleasure of taking part in a vertical tasting of the Lake Michigan Shore winery Domaine Berrien Cellars Bordeaux-style dry red blend, Crown of Cab. The tasting, open to invited members of the Michigan wine press and a limited number of ticketed wine lovers, was held at Michigan By The Bottle Tasting Room's Royal Oak location, and featured vintages 2006 through 2010, pulled from MBTBTR proprietors Shannon and Cortney Casey's personal cellar, along with the current vintage, 2012. Domaine Berrien Winemaker/Co-Owner Wally Maurer and Co-Owner Katie Maurer were also on hand, and they brought along the 2005 vintage to add to the lineup. (Click images to enlarge.)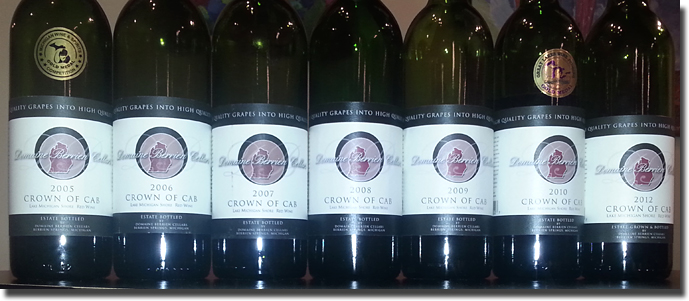 Up until this tasting, my experience with Domaine Berrien had been limited to trying some of their wines at the two MBTB tasting rooms (they're one of the wineries that partnered with the Caseys to create these establishments) and evaluating some of their offerings as part of the MichWine.com tasting panel some years back. I'd been impressed with what I'd tried previously, so this seemed like the perfect opportunity to get to know one of their premier bottlings a lot better.
Domaine Berrien Cellars is a small, boutique winery specializing in estate-grown, handcrafted wines, and, depending on the ravages of recent winters, annual production can be as much as 4,500 cases. Readers can learn more about the history of this fine producer at their website; for my purposes, I'll focus on the wines featured at the tasting.
I'm always on the lookout for good buys in any wine department that my adventures take me through, and I've been fortunate to come upon five over the last few months. The first is one I reported on in August, the 2012 Domaine Laroche Saint Martin Chablis. It was a good buy at the Costco price of $19.99, but I guess it wasn't moving fast enough for them, so they hung a closeout price price of $9.97 on it, and I brought home a dozen or more. I mean, where do you find quality Chablis for $10?! You may still find some of this at various Costcos in the metro Day-twah area, but I cleaned out the stash at our friendly neighborhood outlet on Stephenson Highway in Madison Heights.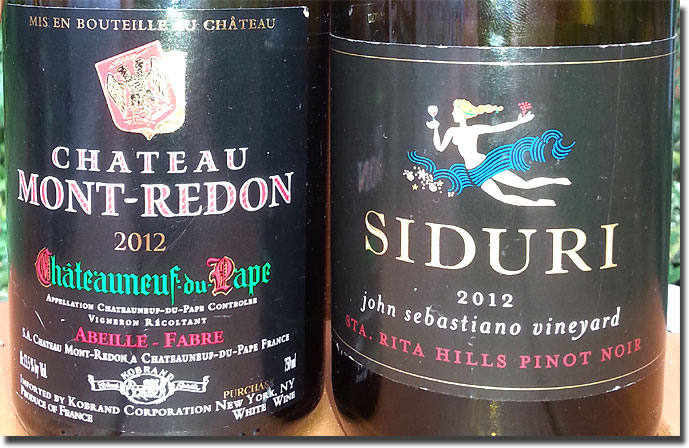 There were two other terrific buys at the Madison Heights store, a white and a red, and while I took advantage of both, so did other intrepid buyers, so they were snatched up quickly. As to whether they're still available at other locations, I can't say, but I rather doubt it, especially, the Siduri Pinot Noir. Here are my notes on both, starting with the pale Châteauneuf-du-Pape.
In March of this year, the folks at Cornerstone Cellars in Napa Valley announced their intention to begin releasing a series of single vineyard wines from the elite properties that they work with under their White Label. That was good news as far as we were concerned, since we've loved everything they've produced for that program for the last several vintages.

Then, in July, we received the first bottling of the series, or maybe it was the first two, I'm not sure. The Oakville Station Merlot is definitely one of the wines mentioned in the March announcement, but the Michael's Cuvée Cabernet Sauvignon, named for Cornerstone founder Dr. Michael Dragutsky, was not on that list, and while it isn't a single vineyard wine, it does include fruit from two of the sites in the new series, Oakville Station and Kairos Vineyard. (Ink Grade Vineyard on Howell Mountain has been a staple source for Cornerstone fruit for about as long as we've been tasting and reviewing them.)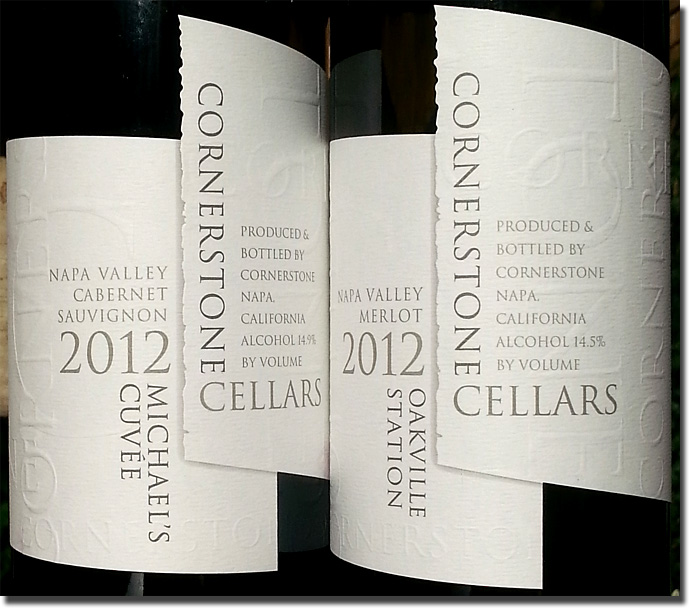 Whatever the case, we didn't get around to trying them until Labor Day, when I relented from my vegetarian druthers and bought a nice cut of C. Roy beef steak to grill and pair them with. As a great man once sang, "Time passes slowly when you're lost in a dream," but the wait was well worth it.
We've crossed paths with some very nice wines from the non-interventionist Loire Valley producer Clos Roche Blanche a time or two, but never paid them as much attention as we should have. This point was driven home a few weeks ago, when my buddy Jarred informed me that two of the wines I had in my cart (noted below) were from Didier Barrouillet and Catherine Roussel's last vintage, 2014. The vineyards are sold, they have retired, and why in the hell didn't I get to know their wares better when I had the chance? My bad.
The very short Clos Roche Blanche story is that that Catherine Roussel had owned and operated this estate since in 1975, having taken over from her father, and was later joined by Barrouillet, who tended the vineyards and made the wine. Both were and still are enthusiastic proponents of non-interventionist winemaking. Now, they just want to do whatever they want, instead of being tied down by the duties of the estate. You can read more about what they did here, and at this link to a worthwhile blog entry about a visit to the estate late in the game.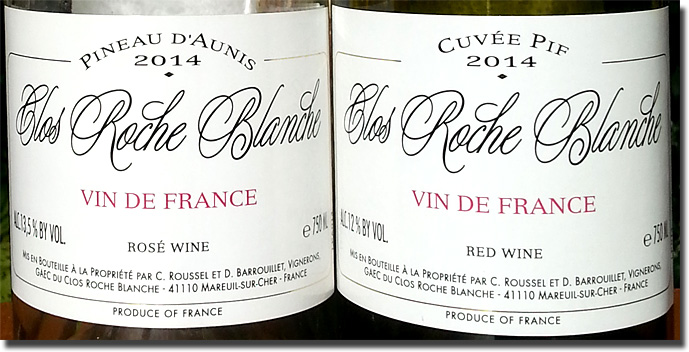 The first three wines are labeled as Vin de France rather than Touraine because, apparently, they wanted to make a statement with their final efforts about not bothering to endure the usual hassles from the appellation.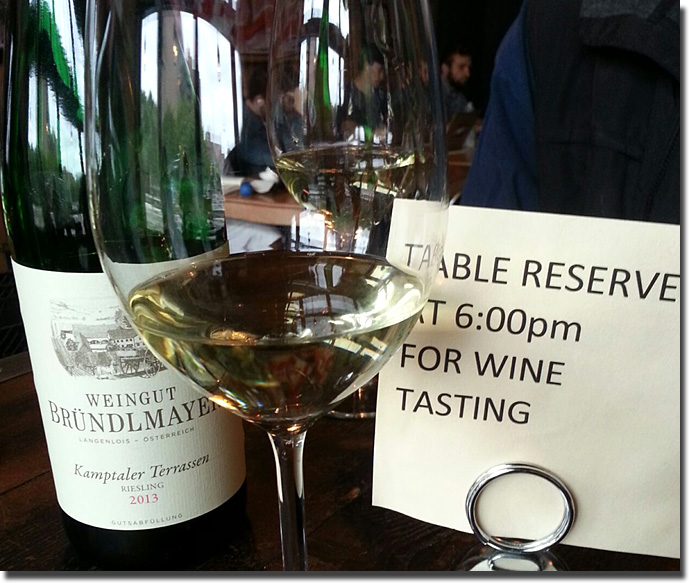 Just about every Thursday, Great Lakes Coffee Detroit, a cool little coffee shop, café and wine bar in midtown Detroit, has a wine tasting of selections you're not likely to find at many other locations. When it comes to the coffee, wines, beers and ales or food stuff for small plates, James Cadariu aka Roastmaster General is uncompromising in his selections, focusing on small, artisanal producers he admires.
This past Thursday, Great Lakes offered three wines from the exceptional Austrian producer Bründlmayer. We've enjoyed Willi Bründlmayer's wines quite a bit on past occasions, perhaps none more than on Monte Bello Ridge, of all places, back in about '98 or '99. It's rare to get a taste of these in the Metro Detroit area, so we availed ourselves of the opportunity, saddled up with our good friend Gary Shea and trucked on down to the corner of Woodward and Alexandrine, where we hooked up with another good friend in the person of Noelle Lothamer.