Archive for the Tasting Notes from the Underground Category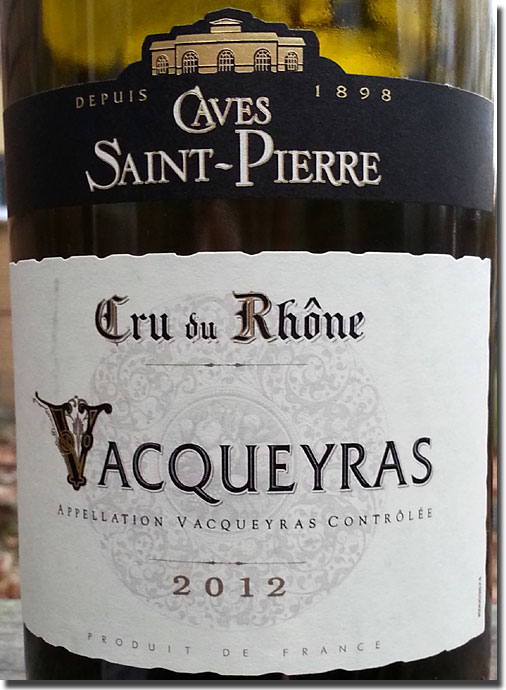 2012 Caves Saint-Pierre Vacqueyras, 11-14% alc., $12.99: I was quite impressed with the 2011 version of this wine when I happened upon it at our local Trader Joe's last spring, so when I saw this one, I didn't hesitate in picking a few up and bringing them home. I'm not sure that this new vintage is the better of the two, but I certainly can testify to the fact that it's the brighter, more immediately accessible. Showing deep, dark color, it offers up nice, earthy black plum, black currant and blackberry on the nose, shaded with a little leather. There's plenty more of the same on the palate, along with a good dose of iron-like minerality. This delivers pleasurable drinking right from the get-go, and gets better as it opens in the glass. Full bodied and structured for several years of cellaring, yet so good already, it's hard to keep hands off. It's a great choice to pair with all the usual culinary suspects, including grilled red meats, especially of the lamb variety, and a good hearty cassoulet, and, bottles we've enjoyed have also made for some excellent Red Wings and Red Rhônes mojo. At $12.99, it's a QPR All Star, to be sure. (Click image to enlarge.) Find this wine
Imported by Latitude Wines, Inc., Danville, CA
Reporting from Day-twah,
geo t.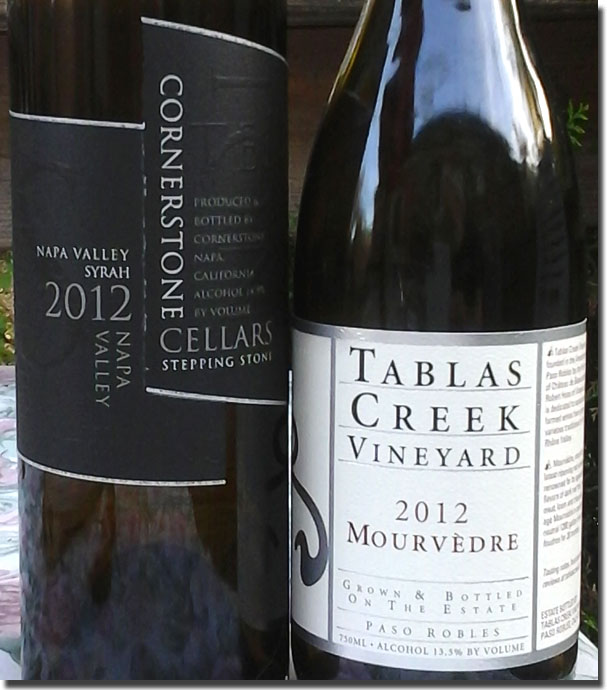 While preparing this report, the following thought occurred to me; man, I've been doing these Red Wings-Red Rhônes for quite a while now! Sure enough, a quick check on the old site shows that our very first RW-RR was posted in October of 1997, 17 years ago. Here is the premise as originally stated at that time: "Come October, this taster's thoughts turn to Red Wings hockey and big red wines from France's Rhone Valley. While I never mind the Wings' season extending into June, as it did this past summer, the same can't be said for the enjoyment of the heavy traditional winemaking styles that are typical of the southern Rhone. There's something almost oppressive about these wines, for me, when consumed between the bookend holidays of Memorial and Labor Days. With the first inkling of autumn, however, a magical change seems to occur, when they regain all of their considerable charm and appeal." (Click image to enlarge.)
Read the rest of this entry »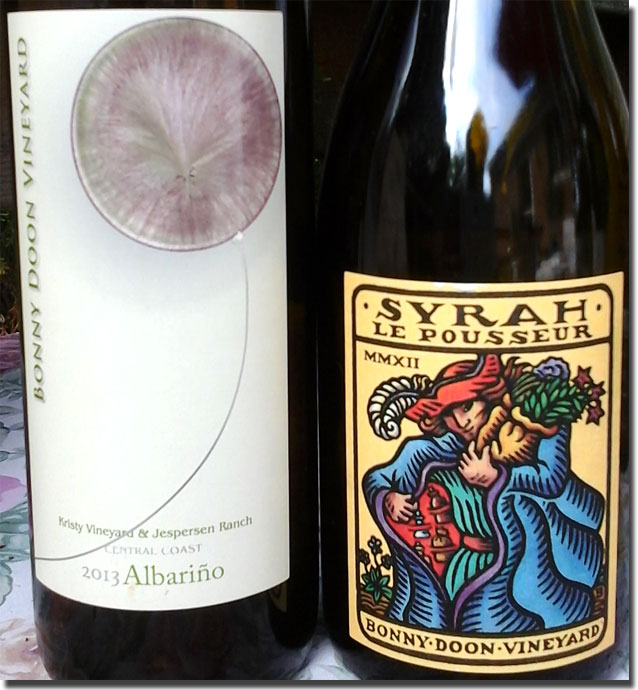 Now that I have a little down time after lots of singing and playing during the summer, I've been going through various folders to try and catch up with posting notes on some damned good wines we've tried over the last few months. For instance, the 2013 Bonny Doon California Vin Gris de Cigare that we reported on in our Six Rosés entry from July was actually from a 6-pack sent for review by Randall Grahm & Co. several months ago. We had other rosés to review, so separating the Vin Gris from the other five seemed like the obvious thing to do at the time, but what about those other Doons?
Well, we got to four of them eventually, but the Vinferno Grenache Blanc was the holdup for this report, because we just never did take the time to check it out. Finally, I said enough is enough. This needed to be resolved in short order, so I took one for the team, twisted off the Stelvin and made it happen last night. Here then are our impressions of those remaining five wines from Bonny Doon's spring release, which were all tasted here during the past three months. (Click images to enlarge.)
Read the rest of this entry »
A while back, I received an email from Christian Lane, the Director of Sales & Marketing at Viluko Vineyards, asking me where he could submit wine samples for review. In all honesty, I'd never heard of Viluko, but we're always willing to try new things, so I passed on the address here at Gang Central and immediately did some research into what this operation was all about.
Viluko Vineyards is located on the Sonoma side of the Mayacamas Mountains, between the Russian River and Sonoma Valleys, with 37 acres of CCOF-Certified organic vineyards planted on a 500 acre estate, with Cabernet Sauvignon, Malbec, Sauvignon Blanc and Chardonnay planted above the fogline at between 600-1,100 feet. The soil is volcanic, mixed with alluvial uplift, and the vineyard temperatures are moderated by cool night air from the Russian River. Viluko was established in 1998 by proprietors Pedro and Karen Arroyo; the winemaker is the seemingly ubiquitous Timothy Milos. The Arroyo's four children are also involved in various aspects of the operation, and there is a strong sense of stewardship of the land with the incorporation of diverse practices of sustainability throughout. (Click image to enlarge.)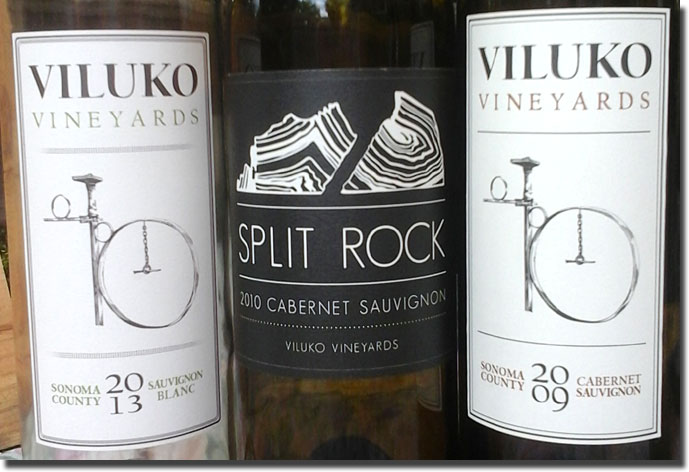 All this looks great on paper, but how are the wines? As has been the case so often lately, we took possession of the samples sent to us and then gave them plenty of time to recover from their cross-country journey. Here are my impressions of what we found in the bottles.
Read the rest of this entry »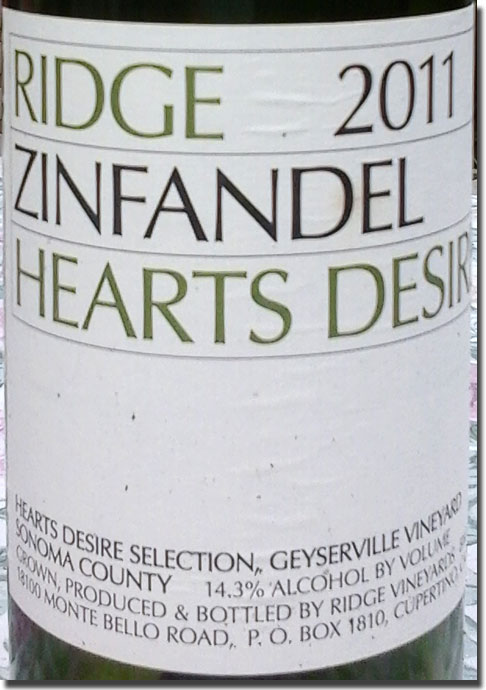 The original title for this blog entry was intended to be "Disaster Wines," since we had two challenging house-related issues descend upon us during the month of August, and I thought it would be fun to do a mini-reprise of our "Wines with Blackout and Other Earthly Delights" spread from several years ago. One of these issues was a loss of power after a powerful thunder storm rumbled through the metro Detroit area, forcing us to spend an evening with only candlelight to navigate our domicile, candlelight that I had to resort to in order to write notes on a lovely 2007 Tawse Cabernet Franc that Alan Kerr aka Canadian Zinfan had gifted to me many months ago. It would have made a cute little piece, but for one slight problem. The dog ate my tasting notes.
OK, so we don't really have a dog, and I don't really know where in the hell those notes on that slip of paper are. Hopefully, they didn't end up in the recycling and will turn up sometime in the near future, at which point, I will pass them on accordingly, because that Cab Franc was delicious.
Since the other wine for my intended feature was a fine Ridge Zin, I decided to go with an excellent Plan B, and focus on three wines we've enjoyed recently from that esteemed producer.
I had a birthday last month. It was probably the worst birthday I've ever had, not because of the particular year that turned over on me, but because of the flood we had in our basement the night before. 6 inches of rain in 4 hours will do that. We spent a good part of my "special day" bagging up ruined belongings and dragging them out to the street, where they would finally be picked up over a week later. Tiring, frustrating drudgery, to be sure, but we did rest up afterwards and go to Royal Oak's wonderful Café Muse for dinner with friends Rod and Hayden Leon and Shar Douglas. Afterwards, we came home and enjoyed this delightful wine, gifted to us by the equally delightful Christina Donley aka "The Donley." (Click images to enlarge.)
Read the rest of this entry »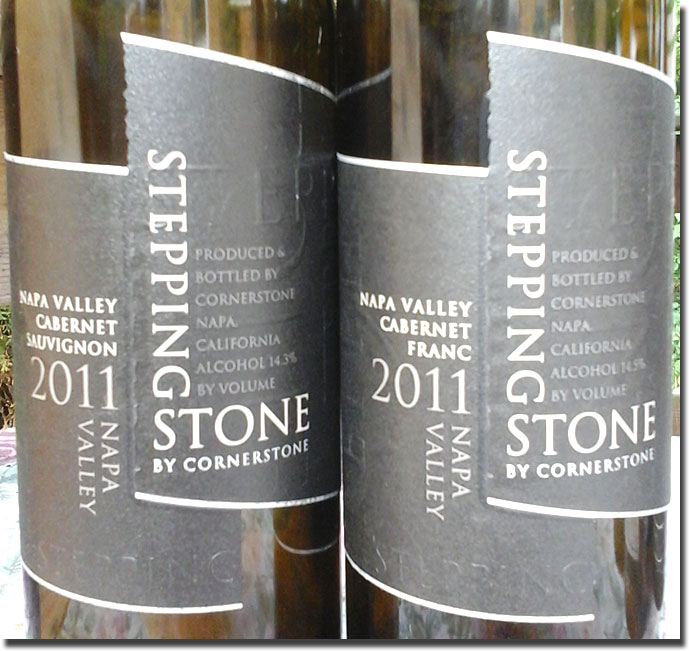 Earlier this year, our friends at Cornerstone Cellars in Napa Valley decided that a change was needed with their second label, Stepping Stone by Cornerstone Cellars. You can read Cornerstone Managing Partner Craig Camp's blog regarding their thoughts about that change, but the basic idea was that they wanted to move away from a range of declassified wines that were lower in price and more easygoing (or "comfortable, as Camp put it), and strive for higher quality with fruit from specially selected vineyards. The old Stepping Stone label was abandoned in favor of a black version of the familiar white Cornerstone Cellars label, and thus the Black Label Stepping Stone Cuvée tier was born. We received bottles of their inaugural Cabernet Sauvignon and Cabernet Franc some months ago, and took our sweet old time getting to the latter, thus the delay in filing this report.
We mostly liked what we had tried from the Stepping Stone tier previously, so I was quite intrigued as to what these are all about. Here are my impressions of the two.
Read the rest of this entry »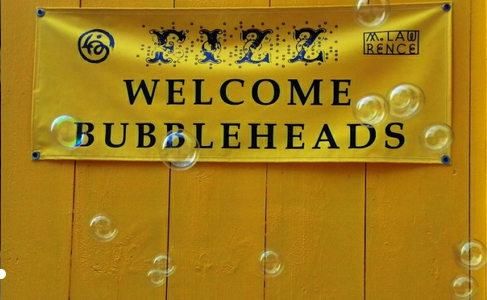 I just got wind of what promises to be a very cool series of events put on by our friends at L. Mawby Winery in Sutton's Bay, Michigan this September and October. They're partnering with area food trucks each Saturday to pair good food and fine bubblies in what they're calling Food trucks + bubbly + fall in Leelanau = delicious. ; )
Being a bubblehead my own bad self, this is a concept I can totally get behind. Here's a rundown on what they have planned:
Fall Food Trucks: We are featuring a delicious array of local food trucks on Saturdays, Sept. 13- Oct. 25, at our tasting room. Visitors may enjoy a delicious sampling that they can savor in our tasting room with a flight or at our TentBar with a glass of wine from L. Mawby, M. Lawrence, or bigLITTLE. They may also want to enjoy a nibble before their next wine trail destination. (Click images to enlarge.)
Read the rest of this entry »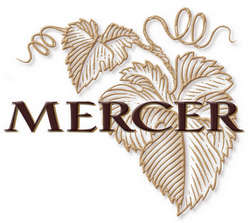 Call it coincidence; call it synchronicity or even serendipity. Perhaps it was a bit of all three, when, during her last visit with us, Christina Donley mentioned in passing a good friend of hers named Jenna who had worked with her at Ridge Vineyards before moving on to a new position at a winery in Washington. Kim immediately picked up on that and said that she had just received an email from Jenna Hannan, inquiring about the possibility of working with our company, Professional Pours, Inc., to sample and promote the wines of Mercer Estates here in Kroger stores throughout southeastern Michigan. "Yup, that's her," The Donley grinned.
Since Jenna was Christina's buddy, that boded well for our getting on well with her too. What's more, I had already had the opportunity to try and enjoy a few Mercer wines a few years previously, so this proposed arrangement was looking better and better. Jenna and Kim continued to email back and forth, and when an agreement was reached, Ms. Hannan informed us that she'd be in southeastern Michigan in late August, and that she'd love to get together with the four Professional Pours partners (Kim, Shar Douglas, Ken Hebenstreit and this reporter) to let us taste through a representative selection of their wines. It was decided that the best way to show the wines would be to pair them with small plates in a casual setting at Shar and Ken's house, which we did on August 24th. My impressions are given below, but first, a little background on Mercer Estates. (Click images to enlarge.)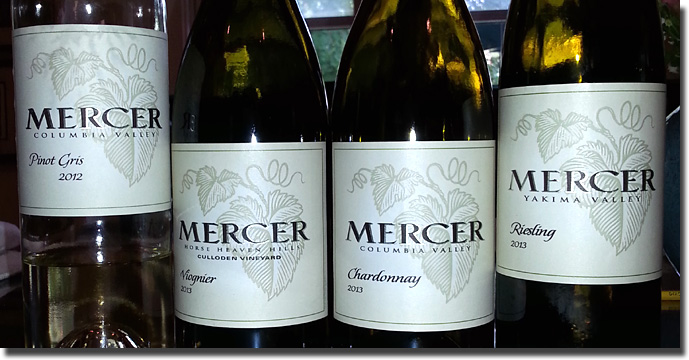 "Respect the land' has always been our creed, and the land has sustained us for five generations." – The Mercers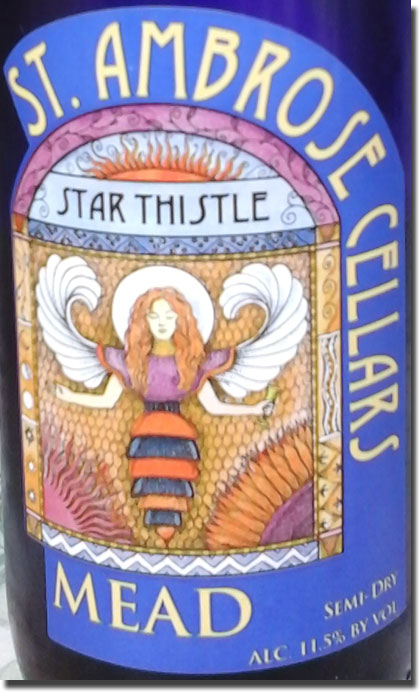 A few months ago, we got a private message on our Gang of Pour Facebook page from Matt Frollo, the winemaker at St. Ambrose Cellars, in Michigan's Benzie County, asking if we'd like to sample some of his wines for review. I'd never heard of this producer before, but Matt filled me in on some of their background information. It turns out to be a small winery operating from the former shipping department of Sleeping Bear Farms. They started making meads in 2010 (Kirk Jones, founder and owner of Saint Ambrose Cellars, is a bee-keeper, and, coincidentally, his Star Thistle Honey is my absolute favorite) and moved into wines in 2011. Frollo came on board as winemaker in 2012, after making wine at Peninsula Cellars on the Old Mission Peninsula for the previous 6 years. He tells me that the business is growing exponentially, and that a new winery and tasting room will open next door sometime this summer. From pictures that I've seen on their Facebook page, that may have already taken place, with a Grand Opening scheduled for September 13.
We took our time getting around to trying the four wines and one mead, as we've had a backlog of review samples to get through, but we've finally tasted them all, and here are our impressions. (Click images to enlarge.)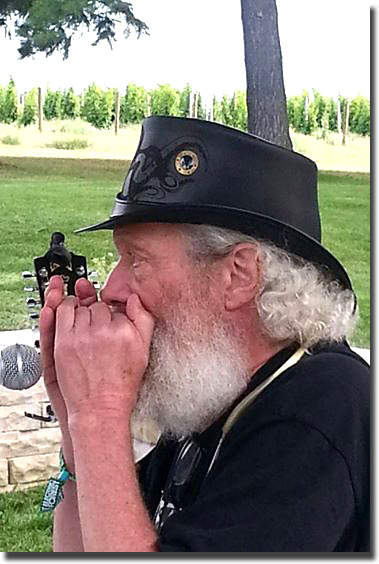 A few weeks ago, I had the distinct pleasure of being the first performer in Shady Lane Cellars' Summer Music on the Patio series. I've been a fan of this fine Leelanau Peninsula winery since we first visited the estate back in November of 2009, so this gig was a special treat for me. The music series celebrates Shady Lane's beautiful new tasting bar and patio, and I loved singing and playing to a sizable crowd of very appreciative listeners and Michigan wine lovers, with vineyards spread out all around.
Since our last visit, Shady Lane has changed hands, with Richard Fortune taking over proprietorship from Dr. Joseph O'Donnell, but happily, the positions as Winemaker and General Manager remain in the very capable hands of Adam Satchwell. If anything, the wines are even better than when we last stopped in to the tasting room that was once an old stone chicken coop, and we quite liked them then. Being the bubble-head that I am, my choice of libation to whet my whistle during my performance was obvious from the get-go, and it did not disappoint in the slightest.
2012 Shady Lane Cellars Leelanau Sparkling Riesling, 10.6% alc., $20: Medium straw color, with a fine, active bead. Nice "froth in the mouth" (I'm going to use that line in a song one day, I swear), with flavors not unlike a big, rich mélange of multi-colored apples. The scale on the back label says it's semi-sweet, and I'd only bicker by calling it quite ripe, with some subtle mineral to offset the sugars nicely. It's obviously Riesling, and the "ample bubbles" (same song?) kick the varietal character into overdrive, while the good acids take you off to a far out place, man.
This sparkler is delicious, and sipping on it while playing made my performance at Shady Lane even more enjoyable. I didn't have it with food, and while it will certainly pair well with a wide assortment of culinary delights, my taste for spicy wants to drink this with some Thai or Indian dishes. Find this wine
I'm really looking forward to going back to play Shady Lane again, and Adam and I are already discussing when that might be. I'm also especially pleased to present this report as my first cross-blog on both our Gang of Pour site and my own eponymous blog. You might see some more of that down the road, as well.
Reporting from Day-twah,
geo