July 25th, 2016 |

Author:
George Heritier
We've made a lot of friends and acquaintances via the internet since Gang of Pour first went online in 1996, and a fair number of those folks are winemakers. Some, like Brian Loring and Jim Lester were making wine well before we met, and some were enthusiasts who followed through on their passion and picked up the craft after we got to know each other. One of the latter is a fellow by the name of Vincent Fritzsche, who is doing good things in Oregon's Willamette Valley with his eponymous Vincent Wine Company.
We first met Vince at Zap '99; he even contributed a page of notes to our report from that festival. He and his family moved from the Bay area to Oregon several years ago and he established his winery in 2009, after years of apprenticing with producers in California and Oregon. A few months ago, Vince sent us 6 of his wines to try, and here are our impressions of them. The grapes are sourced from sustainably-farmed vineyards in the Willamette Valley and made in small batches at Grochau Cellars in the Eola Hills.
We tried the four Pinot Noirs in pairs, and the two whites individually.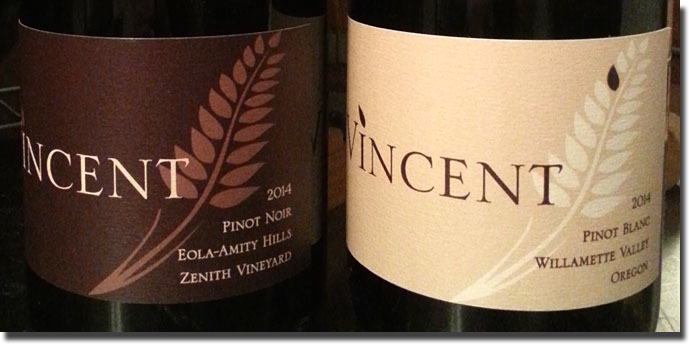 2014 Vincent Pinot Noir Willamette Valley Crowley Station Vineyard, 12.9% alc., $39: Rich, intense and well structured, with earthy black cherry and plum flavors and aromas. Medium-to-medium full bodied, this opens nicely with half an hour and more, gaining a note of cranberry with air. Find this wine
2014 Vincent Pinot Noir Willamette Valley Bjornson Vineyard, 12.9% alc., $39: Rich, intense and well structured, and a bit earthier than the Crowley Station; with a half hour in the glass, it's a bit more approachable as well. Like a blend of black cherry and cranberry, with a hint of rhubarb. Find this wine
2014 Vincent Pinot Noir Willamette Valley Zenith Vineyard, 13.5% alc., $39: Throws a lovely, effusive nose, leading into earthy plum and cranberry flavors. Medium full bodied, with significant tannins and zippy acidity. In serious need of cellar time, or at least a few hours in a decanter, but there's so much promise here. Find this wine
2014 Vincent Pinot Noir Ribbon Ridge Armstrong Vineyard, 13.7% alc., $39: More in the cherry spectrum than the Zenith, with a bit of cranberry in the mix, and a bit riper as well, but otherwise, every bit as earthy and seriously structured as the other three. This might be my favorite right now, for its rich, ripe, bold core of fruit. Find this wine
These four Pinots are not lightweight cherry stick wines, but rather, they are made of deeper, darker stuff, starting with their color. They all want time, at least 3-5 years, and will benefit from the time in the cellar. Give them at least an hour in a decanter if you're opening any of them any time soon, and they will please.
2014 Vincent Pinot Blanc Willamette Valley, 12.2% alc., $20: Clean medium color with a tinge of lemon; flavors and aromas of quince, green apple and a hint o' citrus, along with a certain musky undertone. Kim mentions that it almost seems to have a spritz to it, and I get the same impression, but it's not effervescent, it's actually an aspect of the zippy acidity. An interesting and enjoyable wine, especially given the fact that I've gained an appreciation for this variety from some of our best Michigan versions of the same. Find this wine
2014 Vincent Chardonnay Willamette Valley, 12.7% alc., $23: Clean, medium color, and very much in the apple spectrum in character; pure, rich chardonnay fruit, "very much in my wheel house," according to "Backroad" Bob Summers. "I could drink this all day and with dinner." Full bodied, balanced, with good acids and length and no oak to speak of. Nothing flashy here (and that's a good thing), just a solid, enjoyable Chardonnay. Find this wine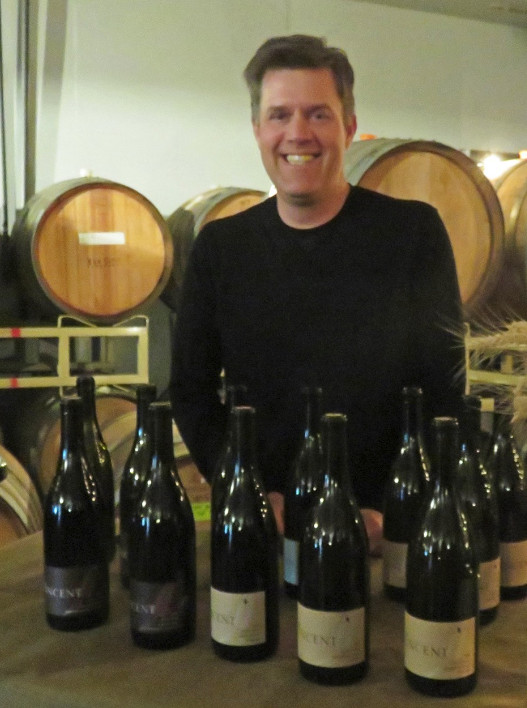 Vince Fritzsche is making very good wines, and we really appreciate the fact that he shared these with us. We're looking forward to paying him a visit the next time we're out Left and hopefully getting the opportunity to try some of his wines with a few years under their belts to get a better idea of just how they develop.
Reporting from Day-twah,
Bastardo
Related posts: