November 30th, 2010 |

Author:
George Heritier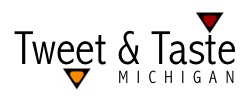 There was a knock on our front door this morning, and, as I nursed my coffee and re-acclimated myself to what passes for reality in our corner of the universe, Kim answered and accepted a package from the nice FedEx guy.
"Were you expecting any wine?" she called out to me.
"No," I replied, and, as the proverbial light bulb came on in my brain, followed that almost immediately with a question of my own.
"Aren't we signed up for the Mawby Tweet & Taste?"
Sure enough, I joined her in the living room to find a bottle each of M. Lawrence US and M. Lawrence Fizz, from Larry Mawby's 2nd label devoted to cuve close method bubblies, neither of which we've tried lately. I mention this because we are now, in fact, fully equipped and prepared to take part in Michigan by the Bottle's next Tweet & Taste Michigan on Tuesday, December 14th. These are always fun events, and having just enjoyed another of Larry's M. Lawrence Detroit bottling again just last week, we're looking forward to seeing what the latest versions of these two sparklers have to offer.
If, like us, you've participated in previous Tweet & Tastes with Shannon and Cortney Casey of Michigan By the Bottle, then you know the drill. If not, go here for all the details and join us two weeks from today at 7 PM for another great evening of tasting and discussing the wines in messages of 140 characters or less. (Facebook users can also RSVP on MBB's Facebook page.) As an added bonus, Larry Mawby will be joining us to answer any questions we might throw his way.  See you there, then!
Reporting from Day-twah,
geo t.
Related posts:

Posted in
Blog Watch
,
George Heritier