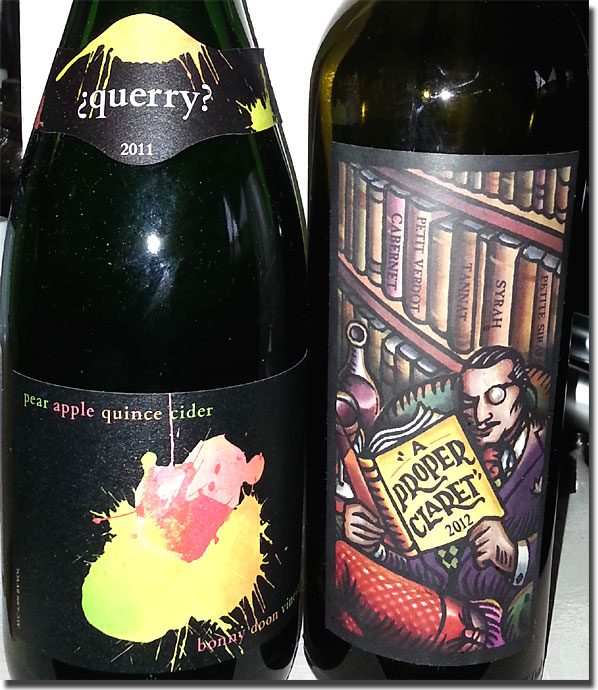 Good things do eventually make their way to the far flung bastions of civilization here in the outer provinces, and, happily, those include many of the offerings from Bonny Doon Vineyards. You can always count on Randall Grahm and crew to come up with something new and interesting, if not downright off-the-wall. We reported on a brilliant Sparkling Albariño last spring, and in this latest group we tried, we were intrigued to find a sparkling cider. That was followed up a few weeks later with another surprise, a mostly Bordeaux blend, composed predominantly of (gasp) Cabernet Sauvignon, never one of Grahm's preferred varieties!
We also tried some of Doon's more usual efforts, and as is almost always the case, we were mucho impressed. I'll start this report with our impressions of the cider and "claret."
2011 Bonny Doon Querry? Pear Apple Quince Cider, 58% pear, 33% apple, 9% quince, 6.9% alc., $14 SRP: Rich, golden color, with a fine, active bead and refreshing effervescence in the mouth. All three fruit components are all recognizable in the flavor profile, but there is a seamless quality to it as well. The percentage of pear in the blend makes this a little less pungent and intense than might probably be the case with a more apple-driven cider, but I like a good perry, so that's fine by me. This one is tons of fun, and I've tried it twice now. Naturally fermented with indigenous yeast and secondarily fermented en bouteille à la méthode champenoise. Pears: Bartlett, Seckel; apples: Pink Pearl, Macintosh, Pippin, Crabs (variety unknown); Pineapple and other unnamed quince. Find this wine

2012 Bonny Doon A Proper Claret California, 62% Cabernet Sauvignon, 22% Petit Verdot, 8% Tannat, 7% Syrah, 1% Petite Sirah, 13.2% alc., $16 SRP: Deep, dark garnet, pink at the rim; fairly ripe, primary black fruit vies with a brambly, leathery character on the nose. The bramble and leather backs off just a bit on the palate, but is still apparent, while the black currant and blackberry fruit is less primary than the nose would lead one to expect. Very approachable from the first pour; full bodied, with the structure for at least a few years in the cellar, but it's hard not to open another one already. Very nice with bison burgers (no bun), steamed broccoli and a beet and cucumber salad. Find this wine
We've really enjoyed the last couple of vintages of both Clos de Gilroy and Contra, and the latest models more than live up to their predecessors.
2012 Bonny Doon Clos de Gilroy Central Coast, 14.4% alc., $18 SRP: Dark garnet in color, with rich, earthy and intense dark cherry and berry on the nose, fleshing out with plenty more of the same on the palate; opens nicely in the glass, gaining even more rich, dark intensity with air, and a note of dark chocolate to boot. Full bodied, with the structure to develop in the cellar for several years and a long, earthy finish. I like this a lot now, but I'd really like to try it again in 5-8 years. Here's what Mr. Grahm has to say about this one, in his inimitable way:
"This wine derives primarily (84%) from the beauteous biodynamically-farmed Alta Loma Vineyard in the Arroyo Seco of Monterey County. As you know, the harvest of '12 was virtually Biblical in its abundance, surprising for both the prodigious quality and quantity. The Grenache grapes were potentially intended for Cigare Volant, but for whatever reason did not quite fit – Clos but no Cigare – however, were absolutely serviceable for this purpose. The wine has seen no wood at all, and was bottled relatively early to preserve freshness and fragrance." Find this wine
2011 Bonny Doon Contra Old Vine Field Blend, 56% Carignan, 28% Mourvedre, 9% Grenache, 6% Syrah, 1% Zinfandel, 13,5% alc., $16 SRP: Deep, dark color, essentially opaque; deep and dark on the nose as well, with big, earthy black plum and berry aromas that carry over onto the palate, where they gain a subtle note of cocoa. Big and rich, but like all Doons, not at all over the top; still, it's one of the most fruit-forward wines I've tasted from these folks since back when they were doing Cardinal Zin. Very nice as soon as you twist the cap off and pour, but structured for at least 5 years in the cellar. I was a little surprised that there isn't more Zin in this field blend, but that's OK, considering the quality of what's in the bottle.

RG: "The third vintage of this (very) old-vine field blend of primarily carignan, mourvèdre and zinfandel (from the sandy head-trained, dry-farmed vyds. of Oakley and Antioch in the Sacramento Delta of Contra Costa County. The '09 was a nervy wine with a strong mineral-backbone, and perhaps misunderstood a bit in the market, whereas the '10 was a riper, plumper vintage – very popular with the punters. The '11 is, I might suggest, a kind of happy medium between these two styles – rustic elegance, if you will pardon the oxymoron." Find this wine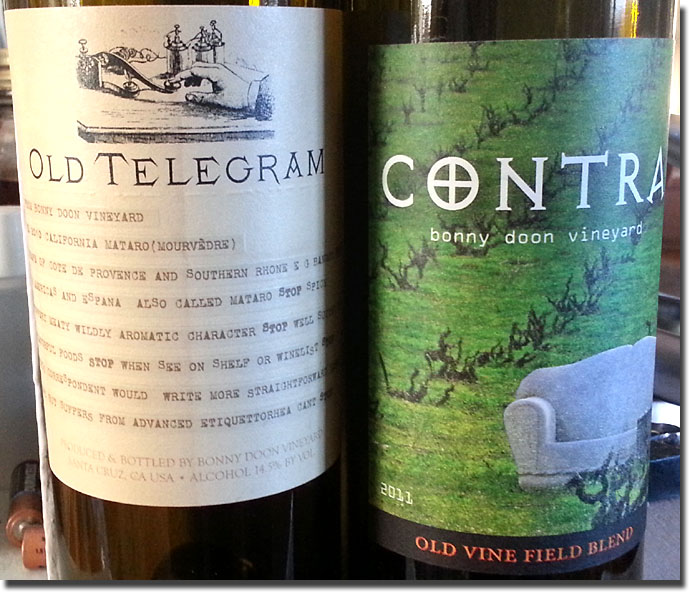 It had been quite some time since last we tried an Old Telegram, perhaps a decade or more, so I was really interested in what this has to offer.
2010 Bonny Doon Old Telegram, 100% Mourvèdre, 14.5% alc., $45 SRP: Opaque dark garnet color, with effusive aromatics of expressive black plum, currant and berry that echo and expand on the palate with a subtle note of iron. Fairly rich and ripe, full bodied and very well structured for several years of cellaring. Approachable with grilled red meats and some time in a decanter, but patience will certainly be rewarded, as tannins and acids are rather prominent right now.

RG: "A blend of two exceptionally old, dry-farmed head-trained Mourvèdre vineyards – the Edna vineyard (75%) in warmish Antioch and the Enz Vineyard (25%) in the coolish Cienega Valley of San Benito County. The '10 is a slightly riper version of the typical Telegram, with a lot of heft, but still maintaining the wonderful (bloody-minded) meaty quality that we love so much in Mourvèdre. This is a wine that is pretty much an exclusive for our DEWN wine club, but a few cases will drift into the arteries of wholesale commerce." Find this wine
And finally, here's a young vine Syrah from a vineyard that shows great promise, if this one is any indication.
2010 Bonny Doon Syrah Edna Valley Jesperson Vineyard, 12% alc., $40 SRP: Deep, dark, opaque color; rich, ripe and earthy, with flavors and aromas of black plum and a bit of the barnyard. Full bodied, yet sleek, with good structure for several years in the cellar, yet so good already. Even more fruit-forward than the Contra, but still well within my tolerance level, and Kim really likes it too. This wine is intended primarily for Bonny Doon's wine club.

RG: "This is a vineyard that we have but recently discovered, and while still quite youthful – this is just the second harvest – is quite impressive. Located very close to the coast in the Edna Valley, the wine really shows the brilliance of cool climate. Exceptionally minty with a lot of blueberry notes and wonderful natural acidity." Find this wine
Reporting from Day-twah,
geo t.
Related posts:
One Response to "Doon in the Boondocks"