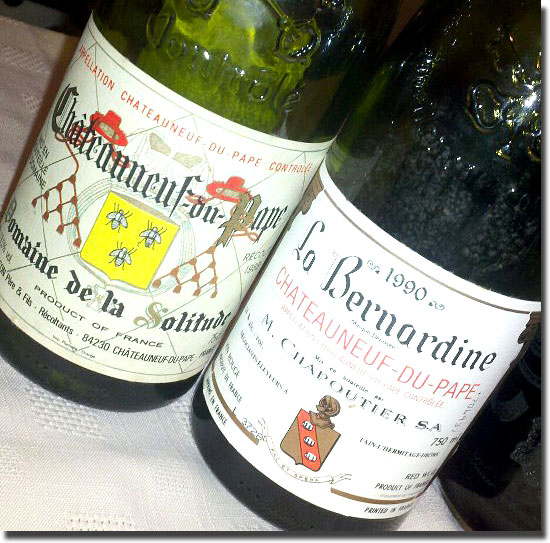 In the spirit of the early days of Gang of Pour, we offer this report on yet another episode of wretched excess with our longtime partner-in-crime, Alan Kerr, aka Canadian Zinfan. Do we really go back to 1997 with this renegade Brit?! We do, and we have the reports to prove it! The occasion was the renewal of our seasonal Holiday Hijinx, and we were not without ample ammunition to enliven the festivities. Dinner consisted of lamb chops, fava beans and rapini, and the wines included two Rhone Rangers, a pair from Chateauneuf du Pape, and, in the finest Gang tradition, two Ridge Geezers. We got things started with an Ontario sparkler that Alan had gifted to us the previous year. Click images to enlarge.
2006 Hillebrand Estates Showcase Sparkling Riesling Niagara Peninsula VQA, 12% alc., $35.00 Can.: Clean, medium color, with a fine, very active bead and ample mousse; bone dry, showing excellent varietal typicity, all Granny Smith green apple, with chalky mineral undertones. Medium body plus, with good acidity and good length. A fine little sparkler from Niagara wine country. Find this wine

The grilled lamb chops screamed for something Rhone-ish, and we accordingly pulled corks from both the 2009 Tablas Creek Vineyard Esprit de Beaucastel Rouge that we reported on a few weeks ago and a fine Syrah, made by Joe Davis.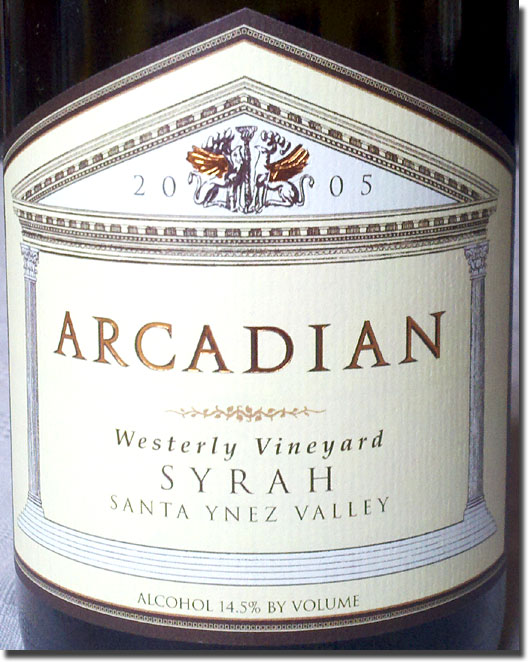 2005 Arcadian Westerly Vineyard Syrah, Santa Ynez Valley, 14.7% alc.: Clean, dark color; exudes a pretty perfume of well integrated oak and dark plums and berries that carries over onto the palate with a subtle green streak that adds, rather than detracts to the appeal. Sleeker than the Esprit, yet full bodied and well-structured for several more years in the cellar; nice length on the finish. Three thumbs up on this one. Find this wine
Chef Kerr knows how much Kim and this taster love Chateauneuf du Pape, and indeed, he shares our enthusiasm, so he brought along two specimens, each with more than two decades under their belts.
1988 Domaine de la Solitude Chateauneuf du Pape, 13.5% alc.: Stil a clean, dark garnet color, with nary a hint of brick; beautiful secondary action on both the nose and palate, offering earthy mushroom, leather, green and black olives and some nice black fruit still lingering in the background. Classic mature Chateauneuf du Pape character; full bodied, yet sleek, and still structured for some years yet of delightful drinking . Find this wine
1990 M. Chapoutier Chateauneuf Du Pape La Bernadine, 14% alc.: While I've never been a big fan of La Bernadine, I have to admit that this one offers more to like about it than otherwise. Slightly rusty dark garnet in color, it has a slightly sewery note that is a minimal distraction from the earthy mushroom character. Chef Kerr coos, "It's easy, it's so smooth," and adds impressions of "a nice core of Grenache fruit still here" and "tarry prune." A creditable Chateauneuf du Pape, and then some. Find this wine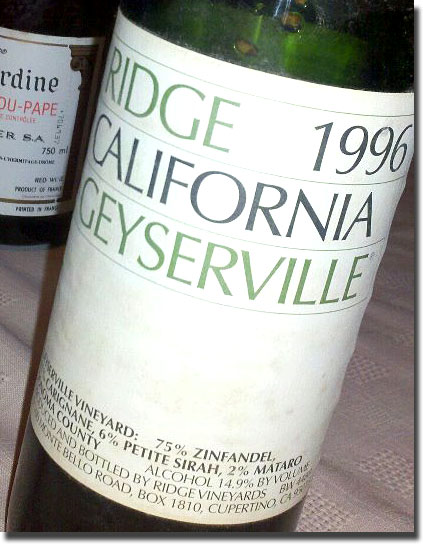 Of course, it's the rare occasion that we get together that we don't pull a cork from at least one Mr. Ridge, and this time, we pulled two!
1996 Ridge Geyserville Sonoma, 75% Zinfandel, 17% Carignan, 6% Petite Sirah, 2% Mataro, 14.9% alc.: About this one, our last bottle (we'd been holding off since 2006), CZ remarked, "Very special stuff here; old school, new school, and in-between. So spicy, lots of black pepper and burnt caramel." The wine still shows clean, dark garnet color, and offers classic Draper perfume, with deep, rich black and red fruit (75/25%, according to Kerr). Alan adds impressions of "black raspberry, white pepper, leather, mineral and coal dust." Classic Mr. Ridge, with plenty of life left in it. Find this wine
2003 Ridge Geyserville Sonoma, 76% Zinfandel; 18% Carignane; 6% Petite Sirah, $30, 14.6% alc.: Another one that we last reviewed in 2006, this clean dark garnet Geezer delivers well-mannered Draper perfume and is still firmly in its early-to-mid stages of development. Having said that, the '03 Ridge Zin blends were pretty wines right from the get-go, and this one is no exception. Deep, dark and dense, yet sleek and sultry at the same time, this wants more time, but is a joy to drink now with a little time in the glass. CZ offers impressions of "black raspberry, super mineral, stony chalk and creamy oak," and we all agreed that this is what Mr. Ridge is all about. Find this wine
Reporting from Day-twah,
geo t.