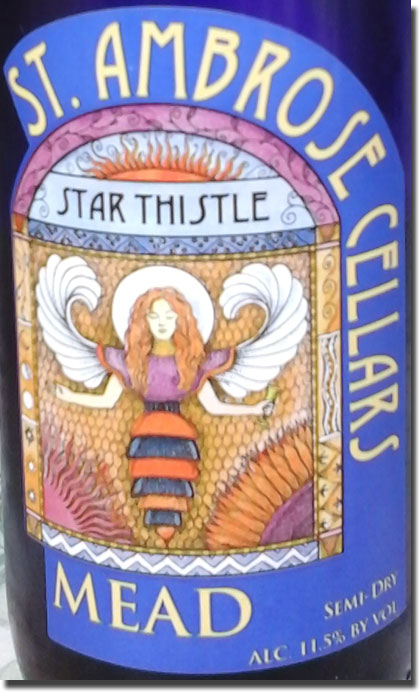 A few months ago, we got a private message on our Gang of Pour Facebook page from Matt Frollo, the winemaker at St. Ambrose Cellars, in Michigan's Benzie County, asking if we'd like to sample some of his wines for review. I'd never heard of this producer before, but Matt filled me in on some of their background information. It turns out to be a small winery operating from the former shipping department of Sleeping Bear Farms. They started making meads in 2010 (Kirk Jones, founder and owner of Saint Ambrose Cellars, is a bee-keeper, and, coincidentally, his Star Thistle Honey is my absolute favorite) and moved into wines in 2011. Frollo came on board as winemaker in 2012, after making wine at Peninsula Cellars on the Old Mission Peninsula for the previous 6 years. He tells me that the business is growing exponentially, and that a new winery and tasting room will open next door sometime this summer. From pictures that I've seen on their Facebook page, that may have already taken place, with a Grand Opening scheduled for September 13.
We took our time getting around to trying the four wines and one mead, as we've had a backlog of review samples to get through, but we've finally tasted them all, and here are our impressions. (Click images to enlarge.)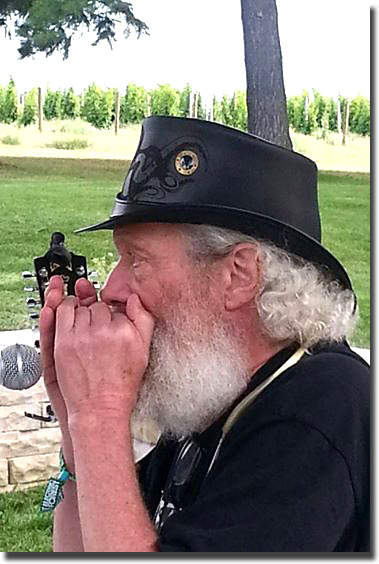 A few weeks ago, I had the distinct pleasure of being the first performer in Shady Lane Cellars' Summer Music on the Patio series. I've been a fan of this fine Leelanau Peninsula winery since we first visited the estate back in November of 2009, so this gig was a special treat for me. The music series celebrates Shady Lane's beautiful new tasting bar and patio, and I loved singing and playing to a sizable crowd of very appreciative listeners and Michigan wine lovers, with vineyards spread out all around.
Since our last visit, Shady Lane has changed hands, with Richard Fortune taking over proprietorship from Dr. Joseph O'Donnell, but happily, the positions as Winemaker and General Manager remain in the very capable hands of Adam Satchwell. If anything, the wines are even better than when we last stopped in to the tasting room that was once an old stone chicken coop, and we quite liked them then. Being the bubble-head that I am, my choice of libation to whet my whistle during my performance was obvious from the get-go, and it did not disappoint in the slightest.
2012 Shady Lane Cellars Leelanau Sparkling Riesling, 10.6% alc., $20: Medium straw color, with a fine, active bead. Nice "froth in the mouth" (I'm going to use that line in a song one day, I swear), with flavors not unlike a big, rich mélange of multi-colored apples. The scale on the back label says it's semi-sweet, and I'd only bicker by calling it quite ripe, with some subtle mineral to offset the sugars nicely. It's obviously Riesling, and the "ample bubbles" (same song?) kick the varietal character into overdrive, while the good acids take you off to a far out place, man.
This sparkler is delicious, and sipping on it while playing made my performance at Shady Lane even more enjoyable. I didn't have it with food, and while it will certainly pair well with a wide assortment of culinary delights, my taste for spicy wants to drink this with some Thai or Indian dishes. Find this wine
I'm really looking forward to going back to play Shady Lane again, and Adam and I are already discussing when that might be. I'm also especially pleased to present this report as my first cross-blog on both our Gang of Pour site and my own eponymous blog. You might see some more of that down the road, as well.
Reporting from Day-twah,
geo