January 28th, 2014 |

Author:
George Heritier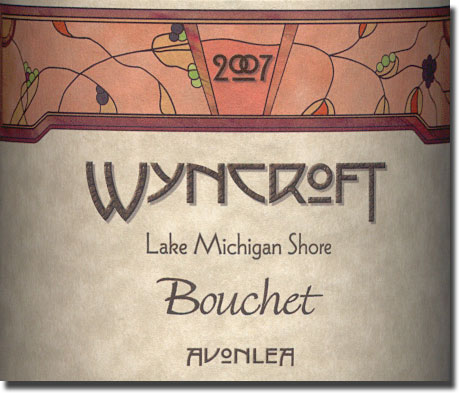 I find it quite interesting to compare my current notes on this wine to those of two years ago when we first tasted it with Wyncroft owner-winemaker Jim Lester. At that time, he told us that he had intended to make "a Joguet Chinon-styled Cabernet Franc," and it was clear that he had succeeded. Since then, the wine seems to have put on some weight, and what Jim described as a "Chianti-like cedar character" from spending 30 months in a one-year old Bordeaux barrel, has become even more accentuated. Mr. Lester left a bottle with us, and we managed to keep our hands off until just recently, when I decided to pull the cork and taste how this is coming along.
2007 Wyncroft Lake Michigan Shore Bouchet Avonlea, 13% alc.: Clean, dark color, with a lovely, perfumed nose that has a shade of something like rock 'n rye or root beer that adds a nice touch to the rich, earthy black fruit; the flavors echo and expand beautifully on a full bodied frame, with some cedar and saddle leather accents. This is structured for several more years of development, and it has a density and character that more than holds it own to the 2012 Bonny Doon Clos de Gilroy that we reported on previously and enjoyed on the same occasion. Hands down the best Michigan Cabernet Franc we've had to date, and a great example to support the argument that it is indeed possible to make world class reds in the Mitten State. (I added the following "Find this wine" link because that's what we do here, but in truth, with only one barrel having been made, chances are slim there's any out there to be found. Still, just in case some magically appears…) Find this wine
On a final note, I love those old label shots like the one above that we used to create. I wish we could have saved that old scanner that we used, because the new one just doesn't come close to that kind of image quality for this specific purpose. We actually find our "borrowed" labels from the old scanner on other wine sites fairly regularly. I suppose we should take this a compliment of sorts. Instead, we contact the appropriate webmasters and politely ask them to take our content down or provide attribution.
Reporting from Day-twah,
geo t.
Related posts: