May 5th, 2017 |

Author:
George Heritier
Remember that 2013 The Furst Pinot Blanc I told you about in early March? Well, I liked it so well, I went back for more, but the shop was out and indicated that they couldn't get any more.
Boo!
I kept an eye out for more of it during my explorations over the next few weeks, and found the following three instead. I brought them home to see if they are as good as the Pinot Blanc, and I'm pleased to report that they mostly are.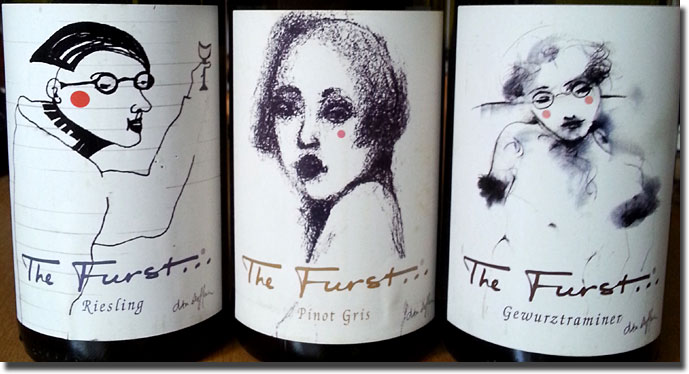 "All of The Furst… wines are made by Cave Vinicole de Kietzenheim-Kaysersberg. The Cave is a small consortium of wine growers located on the foothills of the Vosges mountains. Participating growers generally own small vineyards, averaging 3 to 5 acres in size. Such small holdings would not permit each grower to produce enough wine to be commercially viable and certainly not to have enough quantities to export wines. Therefore, the "Cave Vinicole de Kietzenheim-Kayserberg" was created.
The group limits the number of participating growers as well as Cave employees – there is only one wine maker and an agronomist on staff who make all of the necessary decisions in order to guarantee quality and consistency in production." ~ Eagle Eye Brands Website
2014 The Furst… Riesling Alsace, 13% alc., $11.99: Clean, medium color, with an expressive nose of slightly herbaceous green apple and mineral; the pungent flavors echo and expand, with wet stone minerality. Medium bodied, with some of that characteristic Alsatian oiliness, brisk acids and good length on the finish. This wine has quickly become my go-to QPR white, period. I've already gone through half a case, I like it that much. Find this wine
2012 The Furst… Pinot Gris Alsace, 13% alc., $14.97: Clean, pale gold color; rich, fairly intense and showing a bit of residual sugar. A friend described this as "flabby," but there's deceptive nervosity present, perhaps disguised a little by the oily texture. Lots of apricot and some ripe golden delicious apple dominate the wine's character; medium bodied and more, with the aforementioned acids and good length on the finish, where some mineral makes itself known. Not too complex, but pleasant and enjoyable for what it is. Find this wine
2014 The Furst… Gewürztraminer Alsace, 13.5% alc., $14.99: Medium straw-pale gold in color, and unmistakably gewurz in both flavor and aroma, all litchi shaded with rose water. Rich and flavorful, medium-to-medium-full bodied, and a little oily, with ample acids and good length. Good value for what's in the bottle; I've already had a couple of bottles, and will be procuring more of both this and the Riesling. Find this wine
I like the fact that there are still a few quality Alsatians out there that can be had for relatively few dollars, though they are precious few to be sure, and the four that I've recently encountered from The Furst… all fit that bill. (I also like the artsy labels and easy-to-open STELVIN® closures.) Now, if I could only find more of that Pinot Blanc…
The Furst… imported by Eagle Eye Brands, Chicago, IL
Reporting from Day-twah,
Bastardo
Save
Save