May 15th, 2013 |

Author:
George Heritier
I have been loving being a born again Detroit Red Wings fan these past few months, and, of course, the red Rhônes that we sample while rooting on our home town heroes are always carefully selected and quite enjoyable. Red Wings fans everywhere were extremely pleased to see the boys wearing the winged wheel on their jerseys qualify for the NHL Stanley Cup Playoffs in a must-win situation on the last game of the regular season, qualifying for their 22 consecutive post-season appearance, the longest current streak in the league. Red Wings fans everywhere were also thrilled to see the boys win their first round series against the Anaheim Ducks, in seven hard fought, no-quarter-given games, moving on to tonight's second round appearance, with a classic matchup against another Original 6 team, the Chicago Blackhawks. Let the fun continue!
In this first of three reports on our selections, I'll focus on the three wines currently available in Day-twah from a producer that we've been fans of for some years now, Domaine Sainte Anne. We actually consumed the regular Côtes-du-Rhône during that playoff clinching regular season finale against the Dallas Stars, while the two Côtes-du-Rhône Villages provided some serious red Rhône mojo for the big overtime win in Game 2, on Anaheim ice.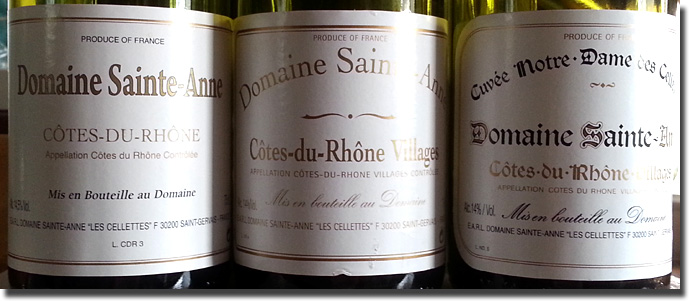 2011 Domaine Sainte Anne Rouge Côtes-du-Rhône, 14.5% alc., $12.99: I've been looking for a wine like this dark garnet lovely since about 1990. Back then, we were getting an inexpensive Côtes-du-Rhône from Tim McCarthy's Cost Plus Wines in Detroit's Eastern Market. I believe the producer was Chapelle Saint-Martin, and it had the most delightful violet character that we found beguiling, and indeed, it was the wine that made us true fans of Rhônes in the first place. It couldn't have cost more than $8 a bottle, and we went through cases, but eventually, it sold out. So, imagine our delight in finding another wine with that same floral-violet character! This one has a solid core of berry and plum fruit, equal parts red and black, with the requisite earthiness underneath. Full bodied, without being in any way heavy, it's structured for at least a few years in the cellar, but it's so good right now, it's hard to keep our hands off; the fact that we've already gone through almost half a case in the last few weeks should be ample proof of that. An appealing wine in every way, and yes, it's very food friendly. Find this wine
2010 Domaine Sainte Anne Rouge Côtes-du-Rhône Villages, 14% alc., $14.99: Clean, garnet color; even prettier than the Côtes-du-Rhône, with an almost perfumed violet character on the nose that fleshes out on the palate with a solid core of black and red plum and berry, and again, the solid earth and mineral terroir. Full bodied and nicely structured, with good length on the finish. This will be silky in a few years, but it still has some tannins that need to soften up a bit. A lovely wine with a very nice future ahead of it. Find this wine
2009 Domaine Sainte Anne Rouge Côtes-du-Rhône Villages Cuvee Notre-Dame des Cellettes Rouge, 14% alc., $18.99: Clean, dark garnet in color, and much deeper and darker than either of the preceding two wines. There's only a hint of the violets initially, with lots of earth, iron, briar and bramble over a deep core of black plum, currant and berry. Full bodied and very well structured for several years of development, and, as it opens with air, more and more of the floral quality that I love emerges. This is a 10-year wine, no sweat; it will quite likely go well beyond that with even decent storage conditions. Find this wine
Domaine Sainte Anne imported by AHD Vintners, Ltd., Warren, MI
Reporting from Day-twah,
geo t.
Related posts:
2 Responses to "Red Wings and Red Rhônes 2013 ~ Playoffs, Baby!!!"