October 3rd, 2009 |

Author:
George Heritier
Kim and I have been shopping at Ferndale's Western Market for more than 20 years now. The produce, meats and prices have always been good, but we had wished that they sold beer and wine. Well, that changed about 3 years ago, when they got their license to do just that. At first, their offerings were of the mundane, "usual suspect" varieties. Enter Jared Gild, who gained a deep appreciation for "real" wines like those imported by Louis/Dressner and Kermit Lynch through his association with our friend and colleague Putnam Weekley. (He also confesses to being a regular reader of these pages…) Jared has worked wonders in upgrading Western's beer and wine department over the last few years. For instance: we stopped in a few weeks ago for some meat and veggies and ended up walking out with 5 bottles of wine to boot, including the following 3, which we had yet to try.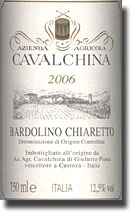 2006 Cavalchina Bardolino Chiaretto, 55% Corvina, 35% Rondinella, 10% Molinara, 12.5% alc., $9.99: Flint and smoke over under-ripe strawberry set the tone for the character of this peach colored rose; medium body plus, with good cut and length. Nice stuff! Find this wine
Imported by Vin Divino, LTD, Chicago, IL
2007 Clos Roche Blanche Touraine Sauvignon No2, 12.5% alc., $17.99:You'll never mistake this medium straw colored Sauvignon for something from New Zealand; there's none of that ultra-ripe yeast infected fruit here, but rather some nice lemon and yellow apple flavors and aromas shaded with subtle minerality that are restrained in comparison to their Kiwi cousins, but hardly austere in their own right. Medium to medium full bodied, with good balance and acids, along with a certain creamy quality to it. This one is even a bit different from its cousins in Sancerre and Pouilly-Fume, and nicely so. More, please! Find this wine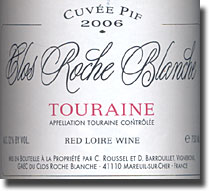 2006 Clos Roche Blanche Touraine Cuvee Pif, 12% alc., $16.99:Showing good dark color, and deep, dark, earthy black currant and blackberry flavors and aromas that show just a hint of the barnyard initially, and an almost perfumed quality to counter-balance the earthiness. Full bodied and very well structured for several years in the cellar, yet opens nicely with air for current drinking, so give it an hour in a decanter if you can't wait. A wine with great depth and personality. A blend of Cot (Malbec) and Cabernet Franc. Find this wine
Clos Roche Blanche imported by LDM Wines Inc., New York, NY
Reporting from Day-twah,
geo t.
One Response to "Available at Your Friendly Local Retailer~Western Market"