January 10th, 2017 |

Author:
George Heritier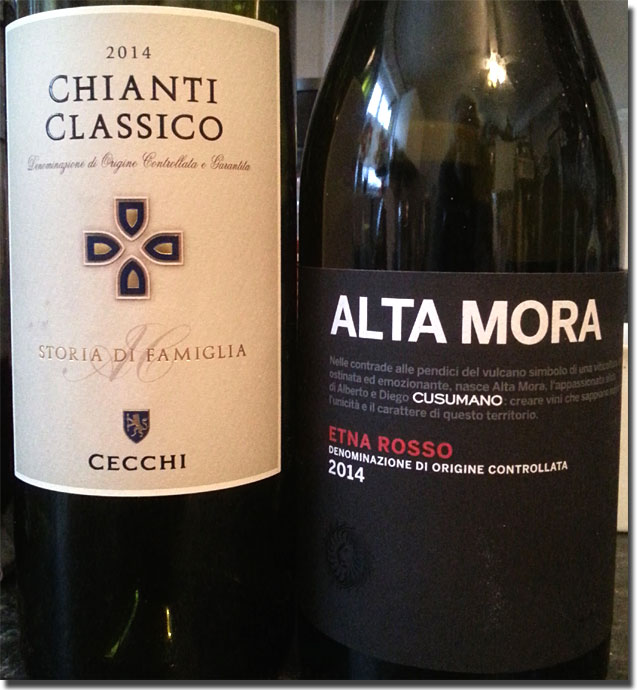 For our first entry of the New Year, we hereby submit our third and final report on the review samples sent to us by Donna White Communications, two Italian reds from decidedly different locales. We don't drink as much Italian wine as we might like here at Gang Central, so it's always a treat to taste something worthy that's out there, and these are both solid selections.
Cecchi Chiantis were always a mainstay in the inventories of the wine retail outlets that I worked in not so very long ago, and I had a chance to try a few back then. The low-end Chianti was serviceable, if boring, as I remember, while the Chianti Classico was, as one would expect, a good deal more taster friendly. The current CC model reinforces those earlier impressions.
2014 Cecchi Chianti Classico, 90% Sangiovese, other grape varieties 10%, $22.00 SRP: Clean, dark color; typical sticks-y dried cherry aromatics lead into a fairly generous entry with echoing earthy fruit and underbrush, and finishing with drying tannins. Full bodied and structured for at least five years in the cellar, and a good match for Kim's mostaccioli. A second glass after dinner was good, but not as good as the first was with dinner, so while this doesn't "need" food, it wants food, likes food and will show best with food. Find this wine
Like the Cecchis, I've also tried some of the wines from the Sicilian producer Cusumano, and even reviewed one some years back, although, in retrospect, that Nero d'Avola suffered from being placed at the end of a long afternoon of tasting. Happily, we got to spend plenty of time with this one.
2014 Alta Mora Etna Rosso DOC, 100% Nerello Mascalese, 14% alc., $24.00 SRP: A new project from the Cusumano family, this wine shows clean, dark color, and offers a pleasant, if slightly muted cherry berry nose, following through with earthy dried cherry and underbrush flavors, and while my descriptors may seem similar to those of the Chianti Classico noted above, the wines are rather different in character. Full bodied and structured for at least three-to-five years of aging and development, this is rich and flavorful, finishing totally dry. It's a versatile wine that will pair with a wide variety of foods, including just about any grilled red meat, pasta with a tomato sauce, pizza and our choice, a mushroom, onion, red pepper and cheddar dinner frittata. This seems like a fine alternative to the red Rhônes that I love so well, and I will buy it the next time I see it on a retail shelf. Find this wine
Both wines are imported by Terlato Wines International, Lake Bluff, Il.
Happy New Year!
Bastardo
Save
Save
Save
Related posts: