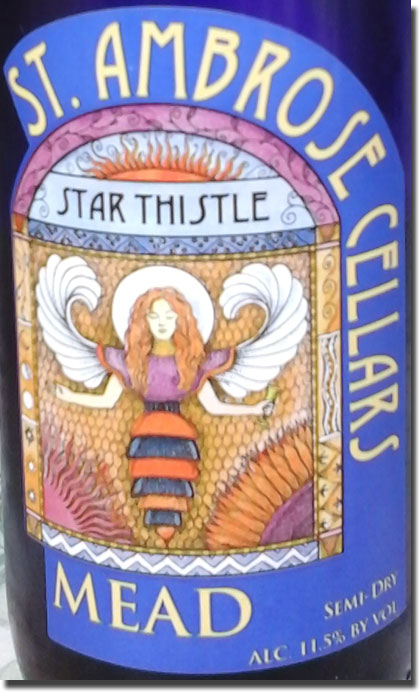 A few months ago, we got a private message on our Gang of Pour Facebook page from Matt Frollo, the winemaker at St. Ambrose Cellars, in Michigan's Benzie County, asking if we'd like to sample some of his wines for review. I'd never heard of this producer before, but Matt filled me in on some of their background information. It turns out to be a small winery operating from the former shipping department of Sleeping Bear Farms. They started making meads in 2010 (Kirk Jones, founder and owner of Saint Ambrose Cellars, is a bee-keeper, and, coincidentally, his Star Thistle Honey is my absolute favorite) and moved into wines in 2011. Frollo came on board as winemaker in 2012, after making wine at Peninsula Cellars on the Old Mission Peninsula for the previous 6 years. He tells me that the business is growing exponentially, and that a new winery and tasting room will open next door sometime this summer. From pictures that I've seen on their Facebook page, that may have already taken place, with a Grand Opening scheduled for September 13.
We took our time getting around to trying the four wines and one mead, as we've had a backlog of review samples to get through, but we've finally tasted them all, and here are our impressions. (Click images to enlarge.)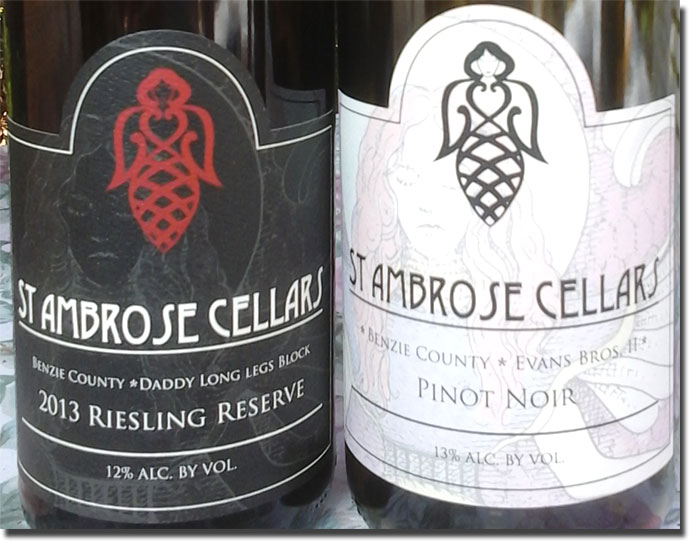 2013 St. Ambrose Cellars Benzie County Riesling Reserve Daddy Longlegs Block, 12% alc., $19: Clean pale-to-medium color, with some mineral-laden green apple on the nose, and a more generous dose of the same in the mouth, along with hints of lime, kiwi and a certain herbaceous note. Medium bodied, with good depth and decent acids and length. Shows true varietal character; there's no mistaking this for anything but Riesling. If I'd like just a little more zip to the acids and a little more focus, those are minor complaints. It pairs nicely with mung bean kim-chi pancakes and a spicy tofu-green bean stir fry. Fermented in Hungarian Oak then aged in stainless steel; Matt tells me that this is the first crop from this vineyard. The 2011 vintage price is listed on the website; one may or may not assume that this one costs the same? Find this wine
St. Ambrose Cellars Benzie County Pinot Noir Evens Bros. II NV, 13% alc., $20: Clean ruby garnet color, with smoky black cherry and a kiss of oak on the nose; more of the same on the palate, but with a stemmy, somewhat bitter edge to it. Medium bodied, with a sharp tannic, acidic bite to it, and tannins clamping down some on the finish. The flavors don't quite pay off on the promise of the bouquet, and while the sharp notes tone down some with an hour in the glass, it's not enough to make this pleasurable now. A few years in the cellar might change that, as I think that it does hold some promise. It'll never be a great wine, but I get the sense that it has the goods to be at least a decent one. It turns briary with extended air, and never loses that pretty nose. We paired this with a nice Salade Niçoise, thinking that it would be more fruit forward, but such is not the case. We saved half the bottle, and on night two, it had softened up a little, but that tannic-acid bit is still there. So we know it has some structure; the question is, will it develop into something interesting with time in the bottle? As there is no vintage date to be found anywhere on the bottle, or on the website, one has to assume that it's a blend of more than one vintage. Find this wine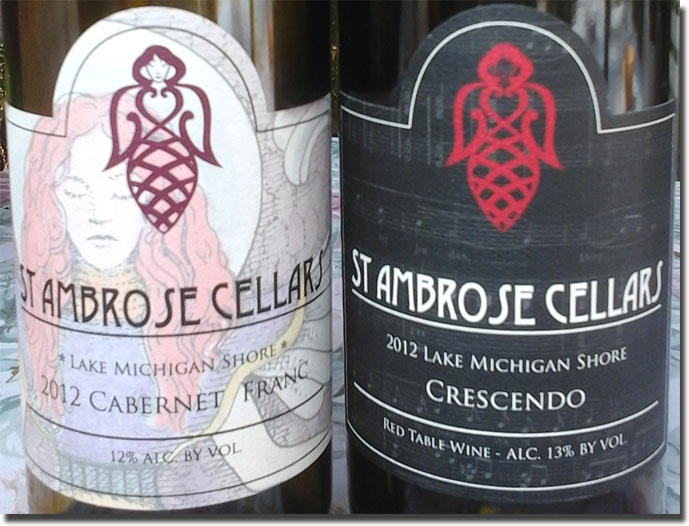 2012 St. Ambrose Cellars Lake Michigan Shore Cabernet Franc, 12% alc., $24: Deep, dark color, with lots of oak and ripe fruit on the nose; both aspects tone down some on the palate, but still make their presence known. Like a bowl of ripe berries, plums and cherries, cloaked in a mantle of the aforementioned oak. Medium-to-medium-full bodied, with good structure for at least a few years in the cellar, or to pair with hearty grilled red meats now. More oak than I care for here, but plenty of fruit to soak it all up. Unfortunately, the fruit is rather riper than I care for too. Your mileage may vary. Find this wine
2012 St. Ambrose Cellars Lake Michigan Shore Crescendo, 50% Merlot, 25% Cabernet Sauvignon, 25% Syrah, 13% alc., $NA: Deep, dark color, with less overt oak than the Cabernet Franc, and not quite as substantial or intense. It offers pretty plum and berry fruit, both red and black, with a good kiss of oak. Medium-to-medium-full bodied and structured for a few years in the cellar, with good length. A more-than-decent red blend that will pair well with a variety of red meats, grilled, roasted or however you might otherwise wish to prepare. Not listed on the winery website, so the price is unknown. Find this wine
St. Ambrose Cellars Star Thistle Mead NV, 11.5% alc., $12: Pretty medium straw color, with the most glorious honeyed nose. Labeled as semi-dry, this certainly does have some sweetness to it, but finishes nicely off-dry. The nature of the star thistle honey used to make this sets the tone here; as I mentioned, it's the best honey I've ever tasted, and that's largely because it's not overly sweet, and has both lovely floral and herbaceous notes to it. These qualities shine through beautifully in this mead, which I find utterly beguiling. I have no idea what I'd pair this with, food-wise; it might do well with something spicy Asian, with its semi-sweet character and good acids, but I just love it for sipping on its own. What makes this all the nicer is the very reasonable price, so nice, in fact, that I'm going to find more of this post haste. Find this wine
The Star Thistle Mead is the star (no pun intended) of this set from St. Ambrose Cellars, hands down. The wines all show promise and it will be interesting to see how their efforts progress in the future. My personal favorite of those is the Riesling Reserve, because it lives up to the generally accepted notion that white wines, and Riesling in particular, are what we do best here in Michigan. I should mention that Matt Frollo also included a 32 oz. container of their Star Thistle Honey (Sunshine in a Jar). If you've never had it, get some soon!
Reporting from Day-twah,
geo t.
Related posts: