November 28th, 2016 |

Author:
George Heritier
In August of 2015, we were contacted by Donna White Communications to see if we were interested in meeting Luke McCollom, the winemaker and viticulturist of one of their client wineries in Oregon, Left Coast Cellars. We were, we did and we quite liked Luke and the wines he opened for us. Fast forward to last month, when DWC contacted us again to ask if we would like to receive samples from wineries in the Terlato Wines portfolio. We're always up for trying new things, so of course, we replied to the affirmative, and a few weeks later, we received three separate packages. Three of the wines were from California, so we'll file the first of three reports on these. (There are two others from Italy and a pair from the aforementioned Left Coast Cellars.)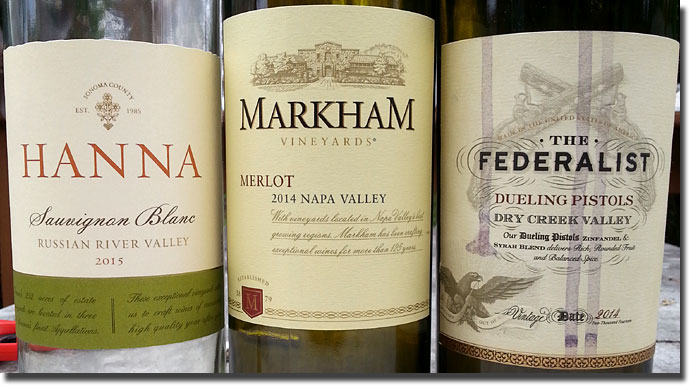 As far as I can recall, the last time we had a Hanna Sauvignon Blanc was during the epic "Blast Me Off to Sonoma" adventure in '97. That one was from the '95 vintage, and was delicious. This one proved to be just as impressive.
2015 Hanna Sauvignon Blanc Russian River Valley, 13.2% alc., SRP $20.00: Clean medium color, with a grapefruit, boxwood and garlic sweat nose; the rich flavors echo with intensity, a hint of lime and some underlying mineral. More than medium bodied, with zippy acids and good length. Drinks just as well on the second night as it does on the first, and is a good match for the usual fish and fowl suspects. A fine example of California Sauvignon that I could drink on a regular basis, which should come as no surprise, as it's from the Russian River Valley. Find this wine
Back in the early '90s, our favorite affordable Cabernet Sauvignon was the '89 Markham, a surprisingly luscious wine from a less-than-stellar vintage. Back then, they had a rep for producing really good Merlot as well, but I can't recall if we ever tried any, so I was quite curious to find out what this one had to offer.
2014 Markham Vineyards Merlot Napa, 86% Merlot, 12% Cabernet Sauvignon, 2% Petite Sirah, 14.2% alc., SRP $26.00: Clean dark color, with an effusive bouquet of black currants, berries and cherries shaded with toasty oak that leads into an equally engaging fruit bowl of flavors that really delivers on the promise of the nose. Smooth, rich, full bodied and structured for more than a few years in the cellar, which will resolve some tannins and tone down the oak a bit. More depth to this grilled red meat kind o' wine than I was expecting and a pleasant surprise in that regard. Hey Mikey, he likes it! Find this wine
I've been aware of The Federalist wines for a few years now; our company, Professional Pours, Inc. has demoed the following selection and their Zinfandel on a few occasions, but this was our first chance to actually try one of them.
2014 The Federalist Dueling Pistols Dry Creek Valley, 50% Syrah, 50% Zinfandel14.5% alc., SRP $29.00: Clean dark color, with classic Dry Creek aromatics of sweet oak over black raspberries, cherries and plums. Big flavors echo loudly, and despite the 50/50 blend, the Zinfandel seems to dominate the character of the wine. Full bodied, but not "heavy," and structured for at least a few years in the cellar. It's drinking well now, and while it'll go well with burgers, pizza, pasta and such, it might pair best with BBQ ribs, or even BBQ chicken. It's not a style I tend to favor, but it IS a solid effort for what it is, and fans of said style should like it quite well. I liked it well enough to pour a second glass, and that's a good thing in my book. Find this wine
Reporting from Day-twah,
Bastardo
Save
Save
Related posts: