Archive for February, 2010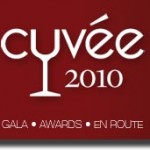 This past weekend, 19th – 21st of February brought "Cuvée" to Niagara. Cuvee is something akin to the Oscars, bringing folks all deftly robed in their Sunday best to the Fallsview Casino to taste their way through some of the best food and wines the region has to offer. Trophies and awards are of course given out, and for the category of "Best Limited Edition Red Wine and "Cuvee Gold Designate" went to Niagara College's Teaching Winery Canadian Oaked Pinot Noir 2007. How cool is that? As of today, the complete list of Cuvee awardees has not been posted, but once it is, I will link it. Read the rest of this entry »

Living through a Canadian winter can be, at times, hard to endure. This winter though has been a breeze. The temperatures have been unseasonably mild and Niagara has seen little if any snow. That was until Monday night, the same night I was slotted to leave to drive to London and taste for the next two releases, scheduled for March 13th and 27th. Heavy snow then freezing rain changed my plans to drive, thus I have no notes on either of the releases. Stay tuned for next month though as I am certain Mother Nature will be kinder to me.
In the meantime, I have something else that you might enjoy coming through in the next couple of days. Stay tuned.
Cheers
CK

The Brownbag Irregulars gathered for their second meeting last week to blind taste and consider another dozen wine selections from around the world. Some tasters had been at the previous event, while there were some new attendees as well, including our own Kim Adams; all were "in the biz," as the saying goes. As was the case previously, there were no sales pitches, just some good palates checking out some new wines. We got things going with the two whites in the lineup. Read the rest of this entry »

Lunch with Steve Edmunds and his new releases
This is becoming a regular occurrence. I call Steve Edmunds and coerce him into opening his soon to be released wines – he agrees and we meet for lunch at Café Rouge in Berkeley.
It works for me.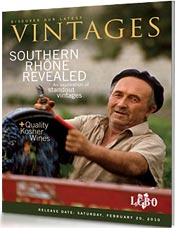 Sorry to say that there was not a lot of wine to sample for this release. At least my pocket book will not go through a similar devastation that it took two weeks ago. The theme for this release is wine from the Southern Rhone and Kosher wines. Sadly the latter group had just a couple for sampling. Many of the Rhone wines were missing, but what I did taste for the most part was exemplary. I probably will buy those that I did not get to try as they are well priced and well touted by the pro's, at least according to the write ups in the catalogue. Read the rest of this entry »

Our friends at Wines of Distinction held a trade tasting last week focused primarily on their portfolio of wines from the Southern Rhône, with particular emphasis on the stellar 2007 vintage. Most of the wines were from the J et R Selections book, which has long been a favorite of ours. There were a few from Hand Picked Selections as well, another importer that we're quite fond of.  The tasting was held at the Oak City Grille in Royal Oak, which provided a cozy setting and a tasty spread of victuals to go with the wine selections. As Kim and I entered, we were greeted with a glass of bubbly to boot up our palates and we were off to tasting. Because of the crowd and the number of wines presented, my notes are necessarily of the very brief "snapshot" variety. Read the rest of this entry »

I got an email a few days ago informing me of a new blog that should be of great interest to serious bubble-heads everywhere. The message was from "The Dom Pérignon team," and read as follows:
"… we thought you would be interested in knowing that Richard Geoffroy, chef de Cave at Dom Pérignon, is launching his personal blog, which is an unprecedented initiative for a prestigious Champagne house's creator. Read the rest of this entry »

For a guy who runs with the likes of Keith Richards and Mick Jagger, Luca Carrado is about as down-to-earth and friendly as one can get. Luca was in the neighborhood last week to promote his family's Vietti wines, and I enjoyed his last visit so much, I made a note on my calendar as soon as I heard of his impending return. This time around, the boys at Cloverleaf Fine Wine and Liquor hosted a tasting with Carrado on hand to talk about all things Vietti, so Kim and I hopped in the car and drove over to Royal Oak to partake in the festivities. A goodly sized crowd turned out and Luca held court for about four hours. We hung out for about an hour and a half, talking with him, noshing on an excellent spread of food that was provided by pure food 2 U, and of course, tasting the wine. Read the rest of this entry »

Moments after joining Facebook's "I hate wine ratings" group, my Vintages catalogue arrived in my mailbox and guess what, the theme of the release is "North of Ninety," showcasing a plethora of wines that critics believe warrant ninety points or higher. Good news is there are many exceptional wines to be found and if you are a numbers buyer, then this is the release for you. I also tasted several Northern Rhone Valley wines from the 2007 vintage that rock. Well priced, well balanced and really tasty. Do feel free to read on……… Read the rest of this entry »

Check this out!  Our own Chef Kerr will be traveling to Mexico in early March as a celebrity chef for The Little Mexican Cooking School in Puerto Morelos.
Bueno!!