February 27th, 2015 |

Author:
George Heritier
As a wine producing region, France's Loire Valley flies under the radar of a lot of North American wine drinkers. I'm willing to bet that most would not recognize the names of any of the Loire appellations, with the possible exception of Sancerre, and many wouldn't not know that region is located in the far eastern end of the 170 mile long river valley. While probably best known for the Sauvignon Blanc and Chenin Blanc produced there, there's a good deal of red wine coming out of the area as well. We've been drinking a lot of Loire Cabernet Franc lately, one coming from Bourgueil and the other from Chinon. Both wines offer exceptional value, and are deserving of greater recognition. (Click image to enlarge.)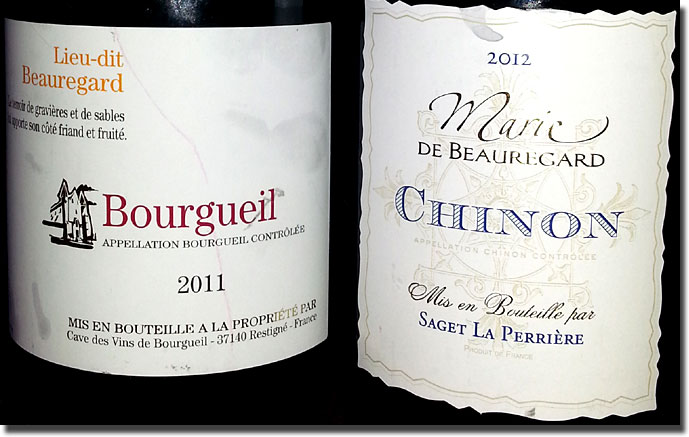 I first heard about the wines of Bourgueil, approved as an AOC in 1937, about 6 or 7 years ago; the buzz at that time was that these well-priced reds were all the rage in Paris bistros. We tried a few at that time, but never really found one that caught our fancy until we happened upon this little gem at Ferndale's Western Market, from a cooperative that was founded in 1931.

2011 Cave des Vins de Bourgueil Lieu-dit Beauregard Bourgueil, 12.5% alc., $11.99: Clean, dark color, with a nice black fruit nose that shows hints of underbrush/briar/bramble; these qualities flesh out on the palate to show plenty more of the same, with a solid core of black currant, blackberry and a bit of pepper to boot. The brambly character really sets the tone to this full bodied, nicely structured wine; it has improved over the last 6 months or so, and I expect that to continue over the next few years. Last October, I shared a bottle of this with two very fine singer-songwriters, Julianne Ankley and Michelle Chenard, and they both loved it. I especially liked Julianne's comment that "it tastes like Christmas." That's better than tasting like Halloween, if you ask me… Find this wine
Imported by A.H.D. Vintners, Warren, MI
I discovered the wines of Chinon in 2004, in the form of various bottlings from Charles Joguet. I really liked them a lot, but the good ones cost $30-40 then, and certainly haven't gotten any cheaper, so we haven't exactly been buying them by the case. I found the following selection in our friendly neighborhood Costco, of all places, so it was an easy choice to bring home and try out, especially given the relatively low price.
Saget La Perrière's importer, Pasternak Wine Imports, describes them as "the leading premium Loire Valley winery… 9th Generation Family owned and managed." "Marie de Beauregard" is homage to the first owner's wife of the water mill where the wine is aged. Grapes are sourced from "two producers who reserve the production of several of their best plots of Cabernet Franc every year for Saget La Perrière."
2012 Saget La Perrière Chinon Marie de Beauregard, 13% alc., $13.99: Clean, dark color, with black fruit, barnyard and leather aromas that echo and expand on the palate. This is a bit richer than the Bourgueil noted above, but it's tighter too. Full bodied, with good structure and length; this really likes air, and drinks much better about an hour after opening, so decanting is advised. It has the stuffing to age and improve for a good five years or more, so socking a few away in the cellar seems like a really good idea, especially at this price. Find this wine
Imported by Pasternak Wine Imports, Harrison, NY
Kim and I both like these two wines a lot. Their very food friendly, and also drink well on their own. We've gone through multiple bottles of both of these solid, old school Cab Francs, and will continue to do so as long as there's some left on retail shelves or in our cellar.
Reporting from Day-twah,
geo t.
Related posts: